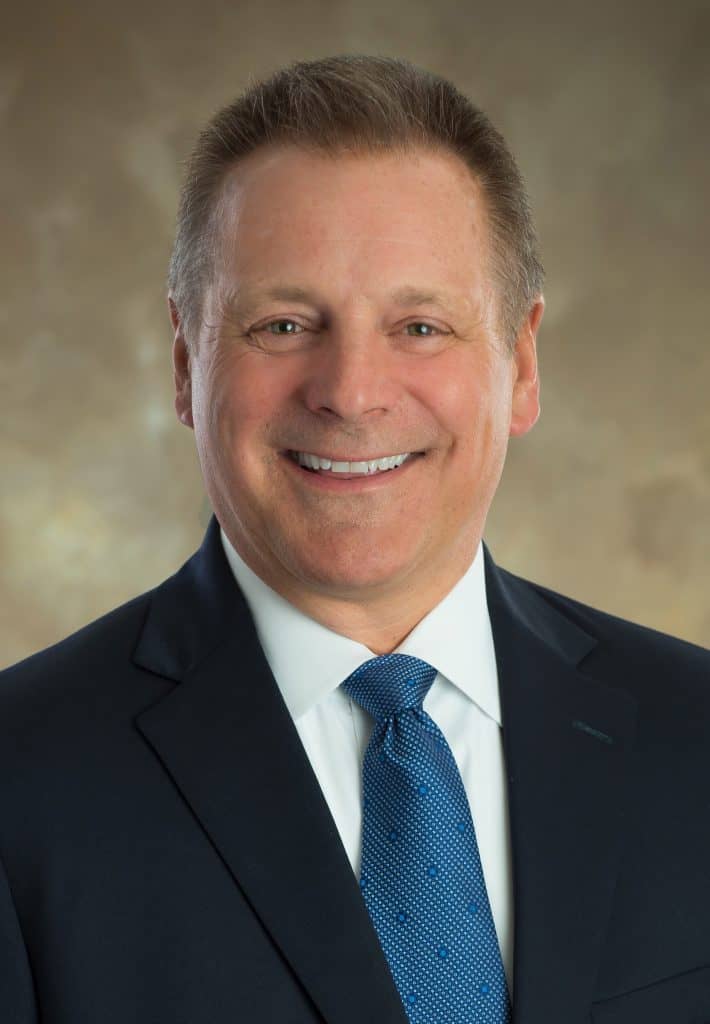 Richard "Rick" Borofski has been named as the new Chief Executive Officer of Mary, Queen of Angels Assisted Living Facility and Villa Maria Manor apartments for the elderly, Brian Cooper, Chancellor and Chief Operating Officer of the Diocese of Nashville, has announced.
"Mr. Borofski will be the successor to Mr. David Glascoe, who earlier in the year announced his plans to retire after an incredibly successful and distinguished 40-year career with the Diocese of Nashville, including the founding of Mary Queen of Angels," Cooper said in a letter announcing the hiring.
Glascoe's retirement will take effect at the end of December, and Borofski will officially begin his new position on Jan. 4, 2021.
"A lifelong Catholic, Rick is an accomplished healthcare executive, with over 25 years' experience in both national and regional integrated health systems," Cooper said. "During this time, Rick has held several senior executive roles in virtually all areas of senior living – skilled nursing facilities, memory care and assisted living, and as chief operating officer for the largest owner of memory care units in New Jersey, directly overseeing 21 senior living communities across four states.
"He is a proven and skilled administrator, health care innovator and strategic thinker – also a genuine person of mission," Cooper added.
Borofski comes to the Diocese of Nashville after most recently directing new business operations for Trinity Health, headquartered in Livonia, Michigan, Cooper said. "Trinity Health is one of the largest multi-institutional Catholic health care delivery systems in the nation, serving more than 30 million people. In his role there, Rick was responsible for managing operations, business development, and advancing new services and senior living plans, working with several different bishops and leaders from across the Church," he added.
"Rick brings a track record of dynamic leadership, experience and innovation for us to build continued success, building on the excellence that has already been created in our senior living enterprises, and positioning them to address the future," Cooper said.
Borofski will become a member of Bishop J. Mark Spalding's Senior Staff council, representing all senior living interests of the diocese.
"Rick and David are working together to develop a coordinated transition plan to ensure continuity of effective leadership within our senior living residences," Cooper said.
"Special thanks go to David for his leadership and grace, insight and wisdom throughout his years of servant leadership to the diocese," Cooper said.
"A national search process yielded a host of extremely qualified candidates from health providers across the country – a clear testament to the attractiveness and success that has been achieved under David's exceptional leadership and compassion," Cooper said.
The search for "the absolutely best candidate available," led to four outstanding finalists, Cooper said. "We have been blessed and are grateful to being afforded the opportunity of choosing 'the best of the best.'"
Assisting with the search for Glascoe's successor were Julie Perrey, Director of Human Resources/Chief Mission Integration Officer and Vice Chancellor of the diocese, and an advisory panel consisting of members of the Board of Trustees of Mary, Queen of Angels and Villa Maria Manor, Ned Spitzer, Bill Stejskal, Lori Copeland, Jim McCann and David Johnson.
Borofski received his master of science degree in environmental health, from East Tennessee State University. He and his wife, Karen have four adult children: Alex, Emma, Anne and Jackson.
"Most importantly, please join Bishop Spalding, myself and the entire Diocesan leadership in sending prayers for the health and well-being of our senior residents and expressing profound gratitude for the excellence of our caregivers," Cooper said. "These dedicated and skilled associates are led under the very capable leadership of Executive Directors, Ms. Lyndsey Gower (of Mary, Queen of Angels) and Ms. Iris Rilea (of Villa Maria Manor)."
"With Mr. Borofski's new leadership firmly in place and a potential end in sight to the pandemic, we are properly positioned to not only endure the current challenges at present but also to seize the opportunities of the future, building on a successful legacy," Cooper said.