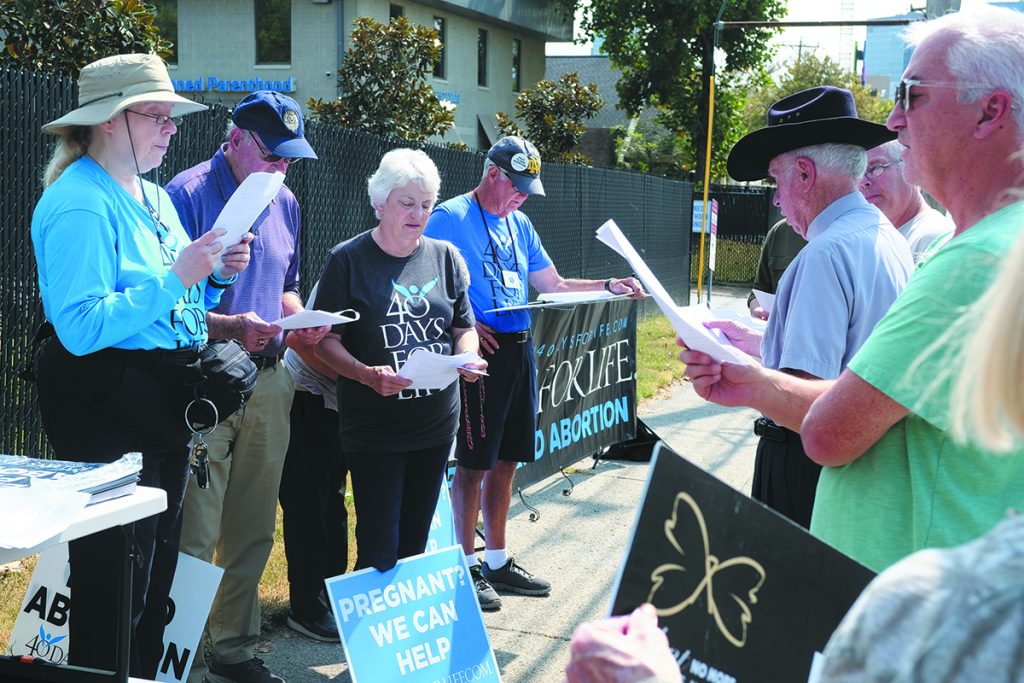 The fall campaign of 40 Days for Life Nashville officially kicked off on Wednesday, Sept. 27, with a prayer service on the sidewalk outside Planned Parenthood, 412 Dr. D.B. Todd Jr. Blvd., in Nashville.
The campaign will continue through Sunday, Nov. 5.
"With the closure of carafem in Mount Juliet last June, Planned Parenthood is the site of the only 40 Days for Life campaign in the Nashville Area," said Kathy Walsh, lead contact for the fall campaign. "While current Tennessee State law does not allow abortion except to save the mother's life or to prevent irreversible impairment of a major bodily function, Tennessee lawmakers are trying to change this life-saving law, and last week, an organization based in New York filed a lawsuit against the Human Life Protection Act.
"The Center for Reproductive Rights, whose stated mission is to use 'the power of law to advance reproductive rights as fundamental human rights around the world' filed suit on behalf of three women and two doctors and their patients," she said. "If the abortion group is successful, Tennessee's Human Life Protection Act would be completely nullified."
That's why all are encouraged to sign up for prayer during the campaign, which holds a peaceful vigil of prayer daily from 7 a.m. to 7 p.m.
To sign up for prayer, visit www.40daysforlife.com/NASHVILLE.
The opening prayer service included various readings led by Deacon Ken Levinson and Father John Sims Baker, pastor of Holy Rosary Church, as well as a personal testimony from Louise Davis, a parishioner of St. Henry Church and member of the Silent No More Awareness Campaign, who told the story of the abortion she regrets having as a teenager. Then, after Walsh led everyone in the praying of the Divine Mercy Chaplet, they ended the service with the Prayer for Life.
"Father and maker of all, you adorn all creation with your splendor and beauty, and fashion human lives in your image and likeness. Awaken in every heart reverence for the work of your hands, and renew among your people a readiness to nurture and sustain your precious gift of life."
While the campaign is focused on keeping 12 hours of constant prayer daily for all 40 days, there will also be several special events throughout the campaign. They include:
• Mass at 12:10 p.m. on Saturday, Oct. 7, at St. Mary of the Seven Sorrows in downtown Nashville. 
• America Needs Fatima National Rosary Rally at noon on Saturday, Oct. 14. 
• A Jericho March at noon on Saturday, Oct. 28, which will begin with a reading from Scripture before participants walk around Planned Parenthood seven times as they pray. 
• Procession and Stations of the Cross, beginning at 2 p.m. on Sunday, Nov. 5. The procession will begin at the Cathedral of the Incarnation, 2015 West End Ave., and end at Planned Parenthood where participants will then pray the Stations of the Cross. 
For more information about events, resources, to sign the statement of peace, or to sign-up to pray, visit www.40daysforlife.com/NASHVILLE.
"Roe is no more because you prayed. But, Planned Parenthood is still open and is referring mothers to get abortions out of state," the website states. "We will hold 40 Day campaigns until they close for good in our city."