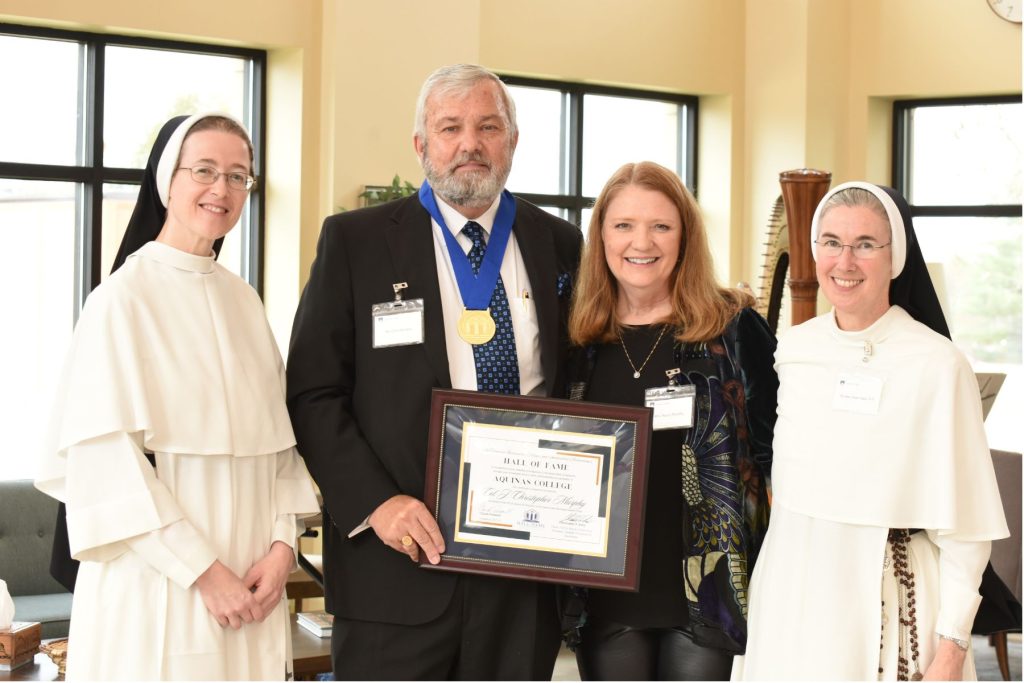 During its annual Gratitude Mass and Lunch on Tuesday, Nov. 7, Aquinas College honored Col. Christopher Murphy, a 1976 graduate of Aquinas who has been chosen for the Tennessee Independent Colleges and Universities Association (TICUA) Hall of Fame. The TICUA Hall of Fame was instituted to honor the distinguished alumni of its 34 member institutions while highlighting their contributions to our state, nation, and world. This is the fourth year that alumni have been inducted into the TICUA Hall of Fame.
Retired Alabama State Trooper Col. J. Christopher (Chris) Murphy lives out the mission of Aquinas College in his lifelong commitment to law enforcement and protection as he tries to live out his Christian values. He first came to Aquinas College as an advanced placement transfer from high school and was awarded an Associate of Science degree in liberal arts in 1976. His decision to attend Aquinas, according to his Commencement Address for Aquinas' 2022 Graduating Class, had a lasting effect on his career choices and philosophy of life.
"This college, her faculty, and your [Dominican] Order helped me to take on life with solid academic knowledge and the firm foundation of Christ," Col. Murphy said.
After completing his studies at Aquinas College, Col. Murphy earned a Bachelor of Science in Criminal Justice from Auburn University and a Master of Science in Criminal Justice Administration from Troy University. He has completed numerous professional programs, including the FBI's National Executive Institute, Scotland Yard's National Negotiator's Course, and the Naval Postgraduate School's Executive Leaders Program. During his years of study, Col. Murphy said he learned how God uses one's natural strengths and interests to lead His sons and daughters into a life of meaningful service.
After a time in municipal law enforcement and as a Special Agent with the Tennessee Bureau of Investigation, in 1985, Col. Murphy joined the United States Secret Service, serving as a special agent in the St. Louis and Philadelphia field offices. He also served as an instructor in the Office of Training and as a protection agent on the Vice-Presidential Protection Detail, where he became a supervisor on Second Lady Tipper Gore's protective detail. Murphy then accepted progressively more advanced management positions in Montgomery, AL, Houston, TX, and Birmingham. AL.
In 2002, he was promoted to Special Agent in Charge of the Birmingham district office, with responsibility for both Alabama and Mississippi. In his 21-year career with the Secret Service, Col. Murphy worked protection for seated presidents and vice presidents from Ronald Reagan through George W. Bush. He also protected former presidents, presidential candidates, and a host of foreign heads-of-state, including St. John Paul II. Col. Murphy's responsibilities required extensive travel throughout the United States and in 20 foreign countries.
In 2019, Col. Murphy published his memoir, "In His Majesty's Secret Service." In his book, he describes when, due to various health issues, his parents were told to prepare for Chris's death when he was a child. Remarkably, Col. Murphy recovered, a circumstance that he attributes to God's greater plan. With a deep faith in the God of second chances, Col. Murphy writes about his life in the Secret Service and how his faith imbued his work there.
Upon retirement from the Secret Service, Col. Murphy served on Alabama Governor Bob Riley's Cabinet as director of the Alabama Department of Public Safety. At the conclusion of his service to the state of Alabama, Col. Murphy accepted his current position as the Chief Security Officer for Great Southern Wood Preserving, a two plus billion-dollar wood industry company. He and his wife Nancy are blessed with three sons: Christopher, Michael, and Patrick.
Throughout his long and distinguished career, Col. Murphy has embodied the Christian values of self-sacrifice, commitment to the common good, and esteeming others as greater than oneself. His life embodies the motto of Aquinas College by living out truth and charity.
Sister Cecilia Anne Wanner, O.P., president of Aquinas College, expressed her appreciation of Col. Murphy's accomplishments. "Chris is a shining example of the qualities we strive to nurture in our students. His commitment to service, leadership, and living out his deep faith is an inspiration to us all. We are delighted to honor him with this induction into the TICUA Hall of Fame."
"With each new class of the TICUA Hall of Fame, we discover even more of our alumni changing the world, some whose names we know and others we are just now becoming familiar with," said TICUA President Dr. Claude Pressnell. "Each of the inductees demonstrates how valuable one's college experience is to your life and the impact a liberal arts education has on molding your future."For more information about the TICUA Hall of Fame, visit ticua.org/page/halloffame_2023