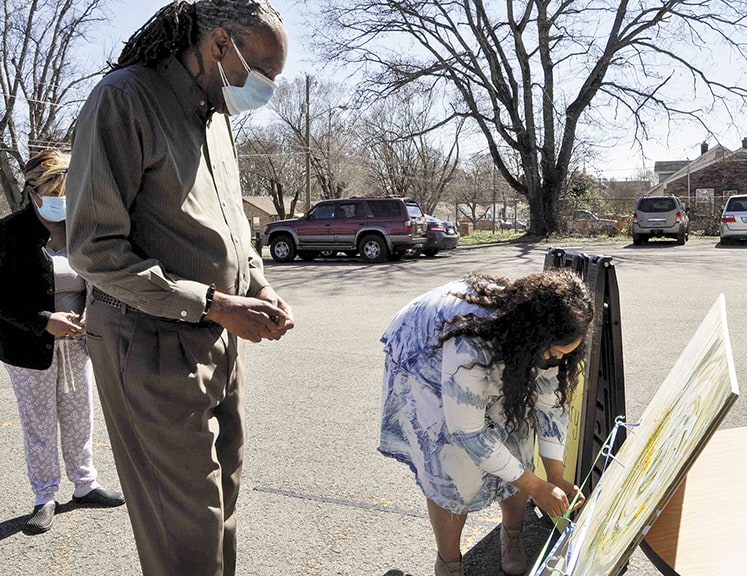 It's been one year since a line of devastating tornadoes tore through Middle Tennessee, killing 25 people, destroying homes, and upending lives.
As the powerful winds blew through North Nashville in the early morning hours of March 3, 2020, Jackie Gordon huddled in her hall closet. When she emerged, she found a large tree had crashed through the front porch and into her living room. "Power was out for about three weeks, it tore down all the power poles on the block," she said.
Gordon, an employee at the nearby McGruder Family Resource Center, managed by Catholic Charities, came to work the next day because "I knew people needed help. A lot of people were going through this same kind of crisis."
Immediately following the tornado, volunteers descended on the McGruder Center, which operated with no power for days, to help storm victims get needed supplies of clothes, non-perishable food, cleaning and hygiene products.
That same scene played out over and over again across Middle Tennessee in North and East Nashville, Donelson, Mt. Juliet, Lebanon, and Cookeville, some of the hardest hit communities. Members of diocesan parishes and schools sprang into action to help, collecting supplies such as bottled water and baby formula for tornado victims. The Knights of Columbus marshaled its members to donate money and manpower to relief efforts.
In the hours and days that followed the tornado that claimed the lives of 19 people in Putnam County, the hardest hit area in the state, the people of Cookeville, Putnam County and the surrounding area mobilized to provide comfort to those suffering the most.
They helped neighbors clear away the debris, repair damaged homes, recover family photos and heirlooms from the rubble, and provided food, clothing and shelter for people who lost nearly everything.
St. Thomas Aquinas Church served as a sorting center for clothes donated for the tornado survivors.
The community's response was "a message of hope," parishioner Ray Holbrook said at the time. People let themselves "be the hands and feet of Christ."
Although none of those killed or hurt were parishioners at St. Thomas Aquinas, several families lost their homes, said Beatriz Alvarez, the parish secretary.
St. Frances Cabrini Church in Lebanon also mobilized parishioners to support tornado survivors and continued to offer support for a full year. Last spring, the church received a $30,000 grant from the Community Foundation of Wilson Country to help families in the county recovering from the deadly tornado.
"We just disbursed all the funds," as of early March 2021, said St. Frances Parish Secretary Nikki Gann. "We paid utility bills for some families multiple times."
Signs of the tornado damage are still evident driving around the area, Gann said. "People who had to rebuild from bottom to top are still not back in their houses, not back to normalcy," she said.
Trauma, compounded
Catholic Charities offered material support and counseling to tornado survivors from day one, which continues one year after the storm. "We have clients whose homes were totaled," said LaShunda White, Catholic Charities' North Nashville outreach case manager based at McGruder. "We're still paying bills for people who haven't caught up since the storm."
In the North Nashville neighborhood where McGruder is located, "a lot in our community do not have a lot of resources," White said. "We have people who maybe already had some trauma," and the one-two punch of the tornado and the coronavirus pandemic "compounded it," she said.
"This is an economically deprived area," said Catholic Charities client Louis Holiday, a retired North Nashville resident and a parishioner at the Cathedral of the Incarnation. "People can't just go to the bank and ask for a loan."
After the tornado, when he lost power for nine days, Holiday stayed in his house, keeping warm under layers of blankets and clothing and eating the food from his refrigerator before it spoiled. While he didn't feel safe at home at that time, "at least I had a roof over my head," he said.
Holiday said he's seen crime and violence in the neighborhood increase since the tornado and thanked the Catholic Charities and McGruder staff for their presence there. "They have been extremely helpful to me," he said. "Without them, I don't know how people in this community would make it."
While home repairs are still underway in North Nashville, developers continue to target homeowners in the historically Black neighborhood to buy their property. Gordon, who has rented her home for 13 years, said she's seen a number of hand-written solicitations to buy the house arrive in the mail.
A year after the tornado, her landlord has decided to sell, and she has to find a new place to live by the end of the month. "It's hard to find something in my price range," she said. "Right now, I'm battling every morning when I wake up and look at the date."
Even a year after the tornado, some residents are struggling to bounce back from the tornado. That's why Catholic Charities counselors continue to stand by to offer support and a listening ear.
White described one client, who had to demolish and rebuild the house she grew up in. "Even a year later, she still needs that support," White said. "There's still a level of trauma that she had from being in that home for so long and seeing it destroyed."
On March 3, 2021, Catholic Charities invited the Nashville community to reflect on their "Pathway to Recovery" on the one-year anniversary of the 2020 tornadoes. Three community locations in East Nashville, North Nashville and Donelson, displayed a sheet of plywood for survivors to share the stages of their grief and recovery.
Each location also had suggestions of how to engage with the piece, art supplies, and a trained professional to support survivors through the reflection process. The pieces from each location will come together to create a central work of art for the community, which will be displayed at various locations throughout the month of March.
"If people are still in need, we're here," White said. "We're not going anywhere."
Starting Tuesday, March 9, from 5:30-6:30 p.m., Catholic Charities therapist Kamrie Reed, LCSW, will host the first of a series of ongoing weekly virtual meetings for tornado survivors, where participants "will be invited to find support and reflect on their experience in a safe space."
For more information, contact Reed at kreed@cctenn.org.
If tornado survivors still need construction, food or financial assistance, they can visit www.tornadorecoveryconnection.com, or call 615-270-9255.