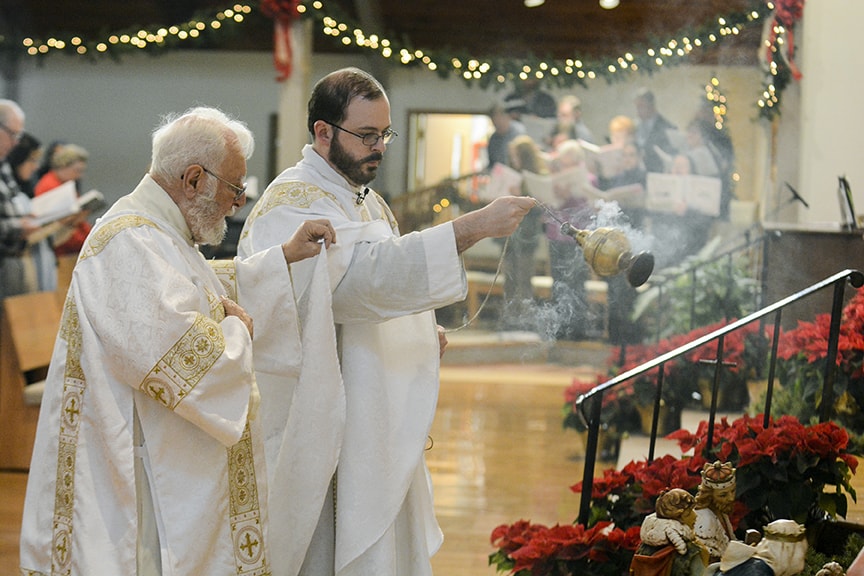 In the 1830s and 1840s, Catholics were spread across Tennessee in small pockets, where Mass was celebrated in people's homes whenever a circuit-riding priest would be traveling through the area.

One of those small pockets was in Clarksville, then a small city, at the confluence of the Cumberland and Red Rivers, surrounded by farms.

In December of 1844, Bishop Richard Miles, O.P., the first bishop of the Diocese of Nashville, arrived in Clarksville to dedicate the city's first Catholic Church, St. Mary's, a building roughly 20 feet by 40 feet.

In the 175 years since, that small city on what was still considered the American frontier has become a growing, bustling city of more than 150,000 people. As Clarksville has grown, the Catholic parish, renamed Immaculate Conception Church in 1875, has grown with it and is now one of the largest in the diocese.

"I can't believe where all these people are coming from," said Charlie Dean, 86, who grew up in the parish, moved to Texas with his job, and later returned when he retired.

On the Feast of the Immaculate Conception in December, the parish marked its 175th anniversary with a Mass celebrated by Cardinal Justin Rigali, the former Archbishop of St. Louis and later Philadelphia, who now lives in retirement in East Tennessee.

Cardinal Rigali was filling in for Bishop J. Mark Spalding, who was in Rome at the time for his ad limina visit with the pope.

"It was really exciting," said Father Jacob Dio, MSFS, pastor of Immaculate Conception. "People were really happy (Cardinal Rigali) came over here to celebrate mass. Most of the people were seeing a cardinal for the first time. That was a special kind of treat."

The parish will host several activities and take on projects in the coming year to mark the jubilee, said Father Dio, who was assigned as Immaculate Conception's pastor in August 2019. He would like the parish to take on the project of replacing and repairing the pews and flooring in the church.

"Spiritually, my goal for this year is to arrange a series of spiritual events," Father Dio added. "We have not drawn out a clear picture, but we are talking about it. … In the coming months we'll come up with a special program of how to make this a special year."

Tight-knit community

In its early years, the parish persevered through the Civil War and Reconstruction, economic depressions, and devastating fires. Despite those setbacks, the parish grew, built a school, and in 1880, dedicated a new church, which still stands today and is used by the parish as a chapel.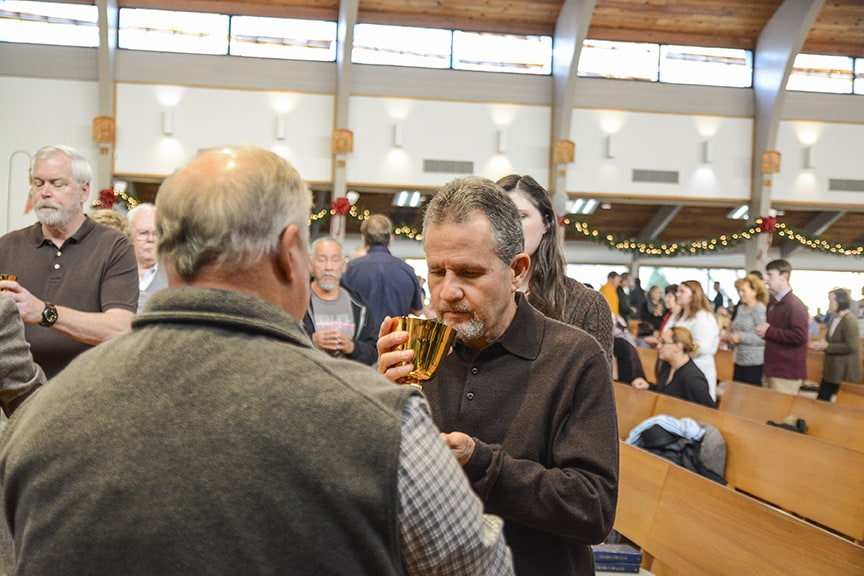 The old church was home to many of the older parishioners who grew up in Clarksville and whose families have been there for generations.

"At Sunday mass you pretty well knew everyone," said Tom Vaughn, a lifelong member of the parish. "Even though there wasn't assigned seating, all the families pretty much had their own pews they always sat in."

Though small, Immaculate Conception in the early and middle parts of the 20th century was a tight-knit community. "Everybody knew everybody," Dean said. "If somebody had a problem, all you had to do was put the word out and somebody showed up."

Vaughn and his wife Margaret "Peggy" Sites Vaughn both grew up in the parish and attended the old St. Mary's School before it closed in 1965 due to a lack of enrollment and financial troubles.

The school was staffed by the Dominican Sisters of St. Cecilia in Nashville, who lived in the school, Vaughn recalled.

"At recess time, one of my recollections was watching these nuns playing kickball with us" dressed in their full habits, he said. "They could run the bases just as fast as all of us could."

Fort Campbell's impact

Clarksville, and Immaculate Conception with it, began to transform when the U.S. government bought 33,000 acres on the Tennessee-Kentucky state line just north of the city to build what would become Fort Campbell, today home to the Army's 101st Airborne Division (Air Assault).

At the height of World War II, more than 100,000 men and women were stationed at Fort Campbell. With them, the city's Catholic population began to grow.

Kathy DeWein and her family moved to Clarksville nearly 60 years ago when her father was stationed at Fort Campbell. "We have 10 in my family. We took up almost a whole row" at church, she said.

DeWein, who is now president of the Immaculate Conception Council of Catholic Women, started sixth grade at St. Mary's School when her family arrived in Tennessee. "My fondest memory was hot chocolate and donuts on First Friday," said the retired teacher.

"You build community and you have friends and grow up together and become one big family," she said.

Deacon Dominick Azzara arrived in Clarksville in 1967 as a young second lieutenant stationed at Fort Campbell.

He was a cradle Catholic from Brooklyn, New York, who had been an altar server "from 9 to 19 when I went into the Army."

After he left the Army in 1971, he decided to stay in Clarksville to pursue a college degree and met his wife Regina. Deacon Azzara ultimately served as the executive director of the Community Action Commission in Clarksville before working for the parish for the last 30 years and being ordained a deacon in 1999.

Immaculate Conception parishioner Irene Buck, who is active in the Legion of Mary at the parish, arrived in Clarksville about the same time Deacon Azzara was leaving the Army. A native of Yorkshire, England, Buck met her husband, Edward, while living with relatives in New Jersey. When he got out of the Navy, they came back to Clarksville where he had grown up.

"As I was thinking a couple of years back of how I ended up in Clarksville … I thought about my childhood," Buck said. The church she attended as a child was St. Mary of the Angels, the school she attended was named Notre Dame, and the college she attended was staffed by the Ladies of Mary.

"In Clarksville I ended up at Immaculate Conception, so I'm seeing a thread there," Buck said. "I think our Blessed Mother had a hand in things."

Longtime parishioners have seen many changes in the city and the parish in the years since they arrived in Clarksville.

"Since 1970 so many more industries have located here because it has a rail head and it has a river and it's right on Interstate 24," Deacon Azzara said. Clarksville lies along an interstate system "that can take you from Key West to Chicago," he said.

Clarksville also has become a popular place for former military personnel to retire. They can use the services and the hospital at Fort Campbell, and the area offers relatively mild winters and lots of activities for outdoorsmen, Deaon Azzara noted. "Clarksville is a great place to come back to."

A vibrant parish

In the 1970s and 1980s, the parish began to outgrow its facilities.

"The parish had been growing in size from a couple of hundred families to by then it was over a thousand," Deacon Azzara said.

The parish built a family life center, called St. Mary's in 1975. And in 1987, the family life center was renovated for use as the parish's church. "The basketball goal was where the altar is," Dean said.

The parish bought a building across the street from the old church, renamed it the St. Joseph Center, and it holds the parish offices and classrooms. A new family life center was built across the parking lot from the current church.

In 2000, the parish reopened St. Mary's School, which was renamed Immaculate Conception School in 2011.

As the parish facilities were expanding, so were the ministries sponsored by the parish.

"We were there pre-Vatican II" and saw the parish evolve with the rest of the Church, said Peggy Vaughn. "I would say we became more active as Vatican II kind of opened some doors."

Over the years, the Vaughns have been involved in several ministries at the parish. A few years after they married in 1981, the pastor then, Father Robert Roeser, asked Mrs. Vaughn to serve on the first parish council. The Vaughns were part of the parish's marriage preparation team for engaged couples and they've hosted a small faith group for the last 10 years. Mrs. Vaughn is a Eucharistic minister who weekly takes Communion to and visits with parishioners in area nursing homes. Mr. Vaughn served on the parish's strategic planning committee.

"We're very vibrant," Mr. Vaughn said of the parish. "I think our strength is in our size and diversity."

The parish has around 50 different ministries, including an active Knights of Columbus council, Council of Catholic Women, Legion of Mary, RCIA core team, Haiti ministry and volunteers who visit homebound parishioners and those in the hospital, and nursing homes. It has 145 students in the parish pre-school program and 100 in the religious education program, Father Dio said. Immaculate Conception School has 129 students, he added. "We are working on that, trying to grow," he added.

As the city and parish has grown over the years, the parish has done more outreach to the broader community, Mrs. Vaughn said. The parish is active with the Room In The Inn ministry and Loaves and Fishes, she said. "We're very involved in the community."

The parish's Council of Catholic Women, "they are a powerhouse," Buck said. "Those ladies are unbelievable. Their ongoing contributions to the parish, you just can't measure it.

"That's just scratching the surface. We have our pre-school which is one of the best in Clarksville. We have our school, which is a hidden gem," she added. "We're a vital parish. Regardless of not being in the limelight, we just go ahead and roll up our sleeves and get things done."

Over the years, Immaculate Conception's pastors have encouraged the laity to be active in parish ministries, DeWein said. "Everybody has a different gift, but everybody has a gift," she said.

Cultural diversity

Immaculate Conception is also one of the most culturally diverse parishes in the diocese. Besides a large and active Hispanic ministry, the parish hosts regular Masses for the city's Korean and Vietnamese Catholics.

"When Father Theo (Ebulueme) was here, we found a population of African immigrants," Deacon Azzara said. "That population continues to grow."

Much of the multi-cultural dimension of the parish is the result of the military's influence on the parish, as soldiers marry spouses they meet when stationed overseas and bring them back home to the United States, Deacon Azzara said.

The growing number of multi-national companies locating in Clarksville and Austin Peay State University also bring foreign-born people to the parish, he said.

The parish celebrates this diversity with an International Festival every year. "We have a lot of different communities, but they all come together on International Day," DeWein said. "It's great. It's like going around the world."

"Once you get to know the people, you find even though we're from so many different backgrounds we still have so much in common," Buck said.

'A wonderful community'

Father Dio came to Immaculate Conception from St. Luke Church in Smyrna, where he was the pastor. Immaculate Conception with about 1,600 registered families, and about 500 more Hispanic families that are not registered, is the largest parish where he has served as pastor in the diocese, he said.

But he's settling in. "It's very exciting. It's a wonderful community," Father Dio said. I'm enjoying it."

As a native of India, Father Dio appreciates the parish's cultural diversity. "I see a lot of people from different parts of the world. It adds a lot of colors to the community."