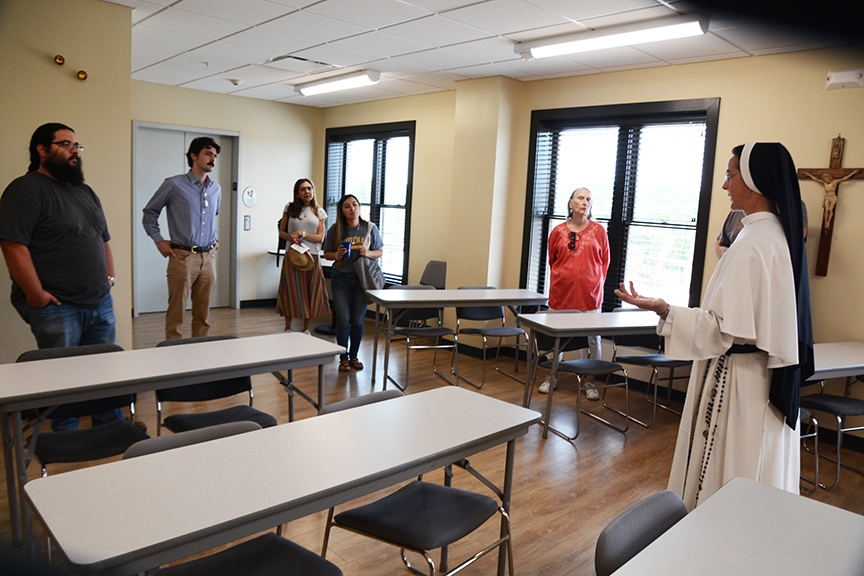 Aquinas College has launched a new outreach effort to support the Church and Catholic education: the Siena Conference Center.
Beginning in May, the college, owned and operated by the Dominican Sisters of St. Cecilia Congregation has been offering Siena Conference Center, a former dormitory on its campus, as a site for conferences and workshops, complete with overnight accommodations and meeting rooms.
The Veterum Sapientia Institute, an organization that promotes the learning of Latin and Greek for clergy, seminarians, religious and laity, was the first to use Siena Conference Center with a Latin immersion workshop May 22-29.
The new venture for the 42,000 square foot building, located on the Dominican Campus on Harding Road, is the latest of many since its completion in 2016.
Its history
Siena Hall "was built six years ago as a women's residence hall for Aquinas College," explained Sister Cecilia Anne Wanner, OP, president of Aquinas College. "It was used for just one year, after which residential life was discontinued on campus, leaving us with an absolutely gorgeous building and the task of discerning how the Lord wants us to make use of this space in furthering the mission of Aquinas."
The vision of Aquinas College, as stated in its strategic plan "Sent to Witness," is "to be a leader in the formation of educators who are sent to teach, preach and witness to Truth and Charity, for the salvation of souls and the transformation of culture."
And, while the college did initially try to host some conferences and retreats in the building in order to provide support for Catholic educators, COVID-19 hit, putting those plans on hold.
"But something interesting happened," Sister Cecilia Anne said. Ascension Saint Thomas West Hospital "contacted us, asking if we could assist in providing temporary housing for doctors, nurses and other caregivers, so that they could be available to serve the sick without putting their own families at risk.
"We have enjoyed a positive relationship with Ascension Saint Thomas for many years. So, we were grateful for the opportunity to assist in this way," she said. "It was a blessing to see how the Lord used Siena Hall to meet this need, a need that had certainly never been anticipated when constructing this building."
In August 2020, the ongoing pandemic presented another need for the nearly two dozen Dominican sisters who were teaching in the Nashville-area Catholic schools.
"Our Catholic schools believe so strongly in in-person education," Sister Cecilia Anne said. "Our sisters are all teachers, so we wanted to go back into the schools and teach in person. However, our infirmary where our elderly sisters reside is at our Motherhouse, the same place where our sister teachers live, so we couldn't risk having our sisters go out and teach at the schools, then bring the virus back to our most vulnerable sisters."
Thus, the sisters teaching in the Catholic schools lived in Siena Hall for the school year.
"The Lord knew from the beginning that these were reasons Siena Hall was built. He revealed them to us in his own time, as the needs presented themselves," Sister Cecilia Anne said.
But as COVID numbers fell and things returned to normal, the question came again, "What does the Lord want of Siena Hall now?"
This led to the decision to offer the space to host conferences, workshops, retreats and events that "are faithful to the mission of Aquinas College," said Sister Cecilia Anne.
Recent and upcoming examples include a workshop for new teachers of diocesan Catholic Schools; the Come Follow Me conference, which focuses on catechesis and training catechists; and the Institute for Catholic Liberal Education's "Spirit and Craft of Teaching in the Catholic Liberal Arts" workshop.
Its offerings
Siena Hall offers an all-inclusive package to non-profit 501(c) 3 organizations to use as space for their events, so while cost is on a sliding scale based on the number of nights and the number of people attending, the use of the common spaces on all four floors of the building are available to the organization.
"All fees go toward the building itself, utilities, upkeep, insurance and any other needs to maintain the building," said Sister Cecilia Anne. "This is not a for-profit venture. It is a way to continue to maintain the building so we can provide it for events that support the Church and Catholic education."
Along with accommodations for up to 100 overnight participants, or 50 for private, single person rooms, Siena Hall also includes a large conference room, lounges, a board room, a full-size commercial-style kitchen, classrooms, mini-kitchenettes on every floor, a third-floor patio, and a laundry area. Free and ample parking is also available throughout the organization's stay.
Groups may choose to use the kitchens to cook and provide food for their attendees. Resources for catering options are also available.
All of this can be coordinated by Mandy Broderick, Siena Hall coordinator and a St. Henry parishioner.
"My role as the coordinator begins months in advance of the conference. From start to finish of the event, I am available to help with the on-site planning, logistics, signing the contracts, providing catering options, local information and recommendations, pricing, and personalizing the experience to each group's needs," Broderick said. "While they're here, I am a liaison that's available daily. I like to think of myself as their personal point of contact while they're here."
When the conference is over, "I follow up with a survey, and we take those opinions to heart, especially since we're just starting out," she said. "I'm very invested in seeing Sienna Hall be an amazing space that becomes a household name around the Nashville Catholic community and beyond."
"We're hoping Siena Hall Conference Center can become a valuable resource to non-profit organizations in line with our mission, especially those related to Catholic education and catechesis," added Sister Cecilia Anne.
Siena Hall is currently taking reservations through the next year. All overnight bookings must be made at least 30 days in advance. Daytime reservations are also accepted. All events are limited to adult participants.
For more information about Siena Hall and booking opportunities, e-mail Broderick at siena@aquinascollege.edu or visit https://www.aquinascollege.edu/siena-hall/.