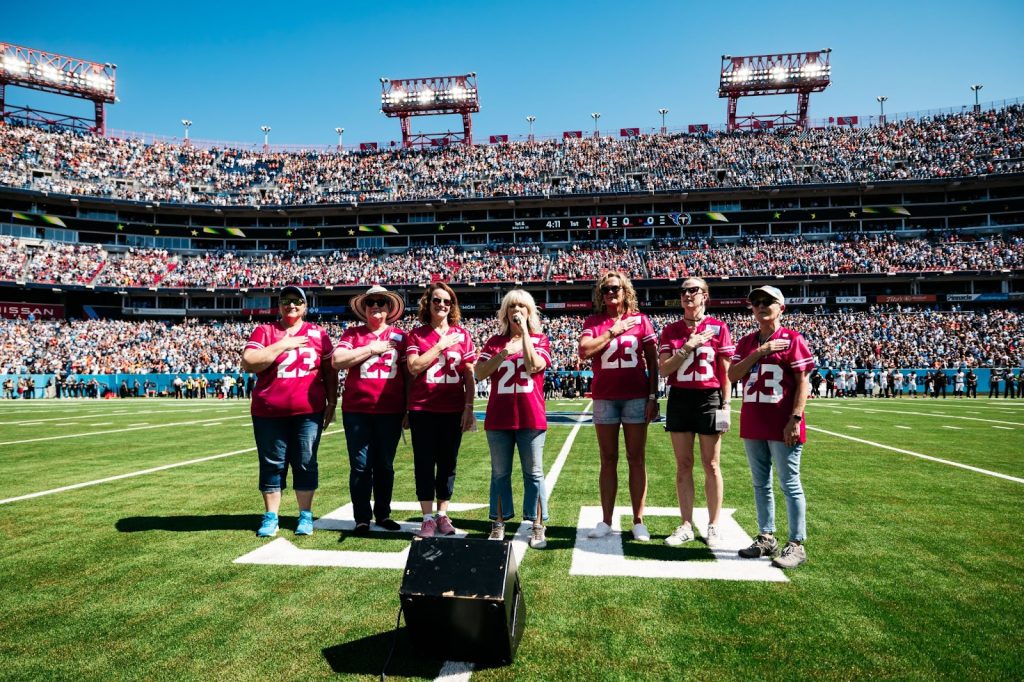 The Tennessee Titans and Ascension Saint Thomas honored breast cancer survivors during the National Football League's Crucial Catch game on Sunday, Oct. 1, at Nissan Stadium.
This is the 14th consecutive year that the Tennessee Titans and Ascension Saint Thomas have worked together to support the fight against cancer. The breast cancer patients, including Polly Fulton, Wendy Martin, Charlene Williams, Lori Witman, and Lesa Mulcahy, were celebrated on the field while donning their specialized pink jerseys. While these women come from different backgrounds and experiences, they all share a unique bond through their diagnosis.
The Crucial Catch game is a special day set aside for each survivor and their physicians from Ascension Saint Thomas and Tennessee Oncology to be honored. This initiative has also expanded to raise awareness and encourage early detection and risk reduction.
"It is an honor to stand alongside The Tennessee Titans and the NFL's Crucial Catch mission in the fight against cancer," said Fahad Tahir, president and chief executive officer of Ascension Saint Thomas. "This past weekend, we celebrated the strength and resilience of these remarkable survivors, reminding us all that with unity and unwavering care, we can overcome any challenge. Together, we celebrate their strength and stand united in our collective mission to reduce the impact of cancer in our communities."
"The Titans are proud to work with our longstanding partners and friends at Ascension Saint Thomas as we team up to increase education surrounding Breast Cancer Awareness month. Crucial Catch is one of our most valued NFL initiatives, and we look forward to it each season," said Adam Nuse, Titans' chief revenue officer. "Breast cancer survivors, like the women honored at our Crucial Catch game, are shining examples of resilience and great courage in the face of fear. Their strength is certainly an inspiration to our team and organization."
Survivors were cared for by Ascension Saint Thomas physician partners from practices throughout Middle Tennessee. Physicians include Dr. Lisa Bellin, Dr. Lindsey Keith, Dr. Laura Lawson, and Dr. Eduardo Dias, Dr. Nancy Peacock, Dr. Stephen Scleicher, and Dr. Victoria Gian.