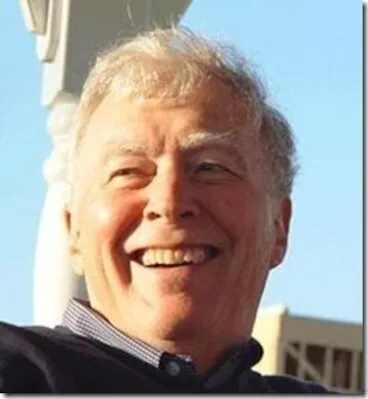 William Pierce "Bill" Puryear III, one of the founding members of the board of trustees for Pope John Paul II Preparatory School, died on Thursday, Feb. 16, 2023. He was 89 years old.
A funeral service was held on Friday, Feb. 24, at Gallatin First United Methodist Church.
Deeply influenced by his mother's legacy as a teacher, Mr. Puryear was a lifelong supporter of education and helped to found three schools in his native Sumner County. He was the founding chairman of Sumner Academy in Gallatin, a founder of St. John Vianney School in Gallatin, and the founding treasurer of the board for Pope Prep in Hendersonville.
"It is hard to conceive of the school coming into being without this uniquely gifted, educated, and committed man," said Hans Broekman, the school's founding principal.
In helping to establish Pope Prep, Mr. Puryear worked closely with Bishop Edward Kmiec, Bishop David Choby, who was then pastor of St. John Vianney Church in Gallatin, and the other board members.
"Bill Puryear was together with Bishop Kmiec, the father of Pope John Paul II High School when it opened in 2002," recalled Broekman. "Even as a founding member and treasurer and part of a remarkable board, Bill made a unique and immeasurable contribution in several ways.
"He and his wife were recent converts to Catholicism, having been inspired by Pope John Paul II and Father, later bishop, Choby," Broekman said. "His enthusiasm for the faith and its cultural, educational, and intellectual heritage and potential was enormous."
As a lifelong resident of Sumner County and Nashville, Mr. Puryear "knew everyone and everything, making connections and friendships that could literally move mountains and open even the most closed doors," said Broekman, now the principal of Liverpool College in Liverpool, England. "He had founded a school in Sumner County before, Sumner Academy, and was therefore well acquainted with the perils, challenges, and opportunities in educational start up enterprises. He was a financial and political wizard, able to design, understand and build consensus around financial plans for the new school.
"His commitment was total," Broekman said. "All but abandoning his lucrative accounting partnership, he seemed in those early years to work full time on all matters related to JPII High School, driving from meeting to meeting, appointment to appointment in a green Cadillac which contained in his briefcase the entirety of the plans, hopes, dreams and financial papers of the project.
"He and his wife Claudia and their home by the Cumberland were the base of operations, hosting board members, bishops and clergy, Sumner county notables, and driving the dream forward at every turn with gracious and civilized hospitality, making friends along the way," Broekman added. "The bishop did not hesitate to name the library of the new school in honor of Claudia and Bill Puryear because he valued enormously the essential contribution they made to the school."
"For me as the first principal, Bill was a second father, a mentor, a guide, an ally, and despite an age difference of more than 30 years, a great friend," Broekman said. "I learned from him, admired him, loved him, and knew from the first moment I met him on my first visit to Nashville that with this man in our corner, the school, at that point a rather speculative dream, would indeed rise and be infused with a spirit of faith, wisdom, and excellence. His person, his talents, his wisdom, and his indefatigable spirit were providential gifts to the Church and to the school he helped found. Our gratitude to him is only matched by the love we had for him."
Mr. Puryear was born Aug. 17, 1933, in Gallatin, to the late Judge William P. Puryear, Jr. and Judelle (Reynolds) Puryear. He graduated from Gallatin High School in 1951 and later from Vanderbilt University. He was a veteran of the Korean Conflict, serving with the Army's 24th Infantry Division along the Korean DMZ. After graduating from Vanderbilt, he worked at Price Waterhouse, earning his CPA designation.
In 1961, he founded the independent CPA firm William Puryear and Co., which continues today as Puryear & Noonan. He served his profession as a lobbyist for the Tennessee Society of CPAs, both in the Tennessee Legislature and the U.S. Congress. During this time, he also taught business management and accounting at Vanderbilt, Fisk University and the University of Tennessee Nashville. He was elected president of the Nashville Estate Planning Council.
In 1965, while still maintaining his active practice of accounting, he joined others as founding treasurer and trustee of newly formed Nashville Memorial Hospital. He later became chairman of its Board of Trustees and continued in that position with its successor, The Memorial Foundation, a charitable foundation funded from the proceeds of the sale of the hospital in 1994. Since its formation, The Memorial Foundation has distributed more than $190 million in grants to charitable institutions in Middle Tennessee and continues to give generously today and into the future. After 50 years of service, he was elected by the board of the Memorial Foundation as Chairman Emeritus, an active position he maintained until his death.
Mr. Puryear was a Renaissance man, said his family. As a historian, he authored or co-authored several books of historical interest, including the landmark series "Founding of the Cumberland Settlements," "Thoroughfare for Freedom," and "The First Southwest" in 2012. He served as chairman of The Sumner County Library Commission and a board member of the Sumner County Historical Society as well as the Tennessee Historical Commission.
He was also a practicing artist his entire adult life. His paintings and watercolors hang in museums, private homes, and institutions throughout Nashville and beyond. The convergence of his love of writing, art, and poetry resulted in a monthly website called the Artist's Almanac, published online from 2004 until his death. A compilation of writings from this journal was published under the same name in 2017.
His last painting just a few months ago was a portrait of Claudia, his wife of 60 years and the love of his life. After her passing in 2015, he published "Letters to Claudia," a story of their love and life featuring the letters between them during their courtship and the story behind their wonderful journey.
"Bill's very full life resulted in a great deal of good being done for a great many people," said his family. "He was kind, compassionate, and welcoming to all, and made genuine service his mission. For our family, however, his greatest achievement was the warm, stable, and happy life that he gave to all of us. He was a loving son, husband, father, grandfather, and great-grandfather whose first thoughts were always how he could better serve his family. His complete devotion to our mother was an example for all of us, and his loving, wise, and gentle counsel to his children was the gift of a lifetime. He will be missed by all, yet we rejoice in the certainty of the Resurrection and celebrate a life of joy, service, and goodwill that will live on forever."
Mr. Puryear was preceded in death by his parents, his wife of 60 years Claudia Owen Puryear, and his brothers Reynolds Puryear and Brady Puryear (Elaine).
Survivors include his children, William Owen Puryear (Cheryl) of Gallatin; David Puryear (Robin) of Nashville; Lina Puryear Marler (Jim) of Gallatin; John Puryear (Laura) of Gallatin; and Dan Puryear (Sarah) of Nashville; 15 grandchildren, Pierce Weber (fiancé Abby Ratliff), Kate Puryear Brown (Justin), Ellen Weber of Brooklyn, New York, Caroline Marler Zampino (Dan) of Clearwater, Florida, Erin Puryear, John Christian Puryear, Grace Puryear Hencey (Carl), Hayden Puryear (fiancé Erica Larson) of Sonoma, California, Sara Puryear Hunziker (Jeremy) of La Jolla, California, George Weber, James Puryear (fiancé Amelia Maxfield), Claire Marler (fiancé Christian Bennett) of Centerton, Arkansas, Anna Puryear, Hays Puryear, and Evelyn Puryear; and two great-grandchildren, Luke Brown and Nolan Bennett.
The family expresses their heartfelt gratitude to the caregivers who lovingly cared for Mr. Puryear in his final years. Their devotion and dedication will always be remembered.
Memorial contributions can be made to: The Memorial Foundation, 100 Bluegrass Dr #320, Hendersonville, TN 37075; First United Methodist Church, 149 W. Main St, Gallatin, TN 37066; Highpoint Hospice, Sumner Medical Plaza, 300 Steam Plant Road #220, Gallatin, TN 37066; or the charity of your choice.
Alexander Funeral Home and Cremation Center in Gallatin was in charge of arrangements.