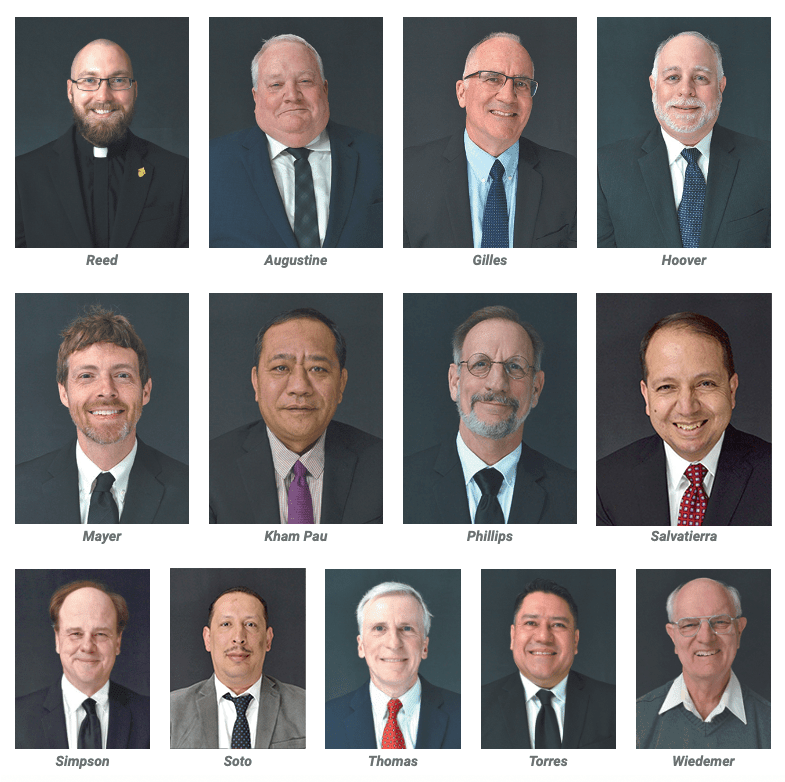 Bishop J. Mark Spalding has announced assignments for the 12 men who will be ordained as permanent deacons at a Mass at 10 a.m. Saturday, April 1, at Sagrado Corazón Church in the Catholic Pastoral Center.
The deacon candidates are completing four years of formation and are the first cohort to complete the diaconate formation program since it was revamped. Under the current format, a new cohort of men will begin the formation program every two years. The second cohort, currently in formation, is scheduled to be ordained in 2025.

This is also the first time the permanent deacons and a transitional deacon will be ordained at the same Mass. After seminarian Seth Reed is ordained as a transitional deacon on April 1, he will return to St. Meinrad Seminary in St. Meinrad, Indiana, to complete his studies as he prepares for his ordination as a priest in the spring of 2024.
The assignments for the men to be ordained permanent deacons will become effective on May 1. They include:
• Joseph Augustine will be assigned to St. Joseph Church in Madison. Augustine works as a general manager and has three adult children, Jean, Michael, and Maria.
• David Gilles will be assigned to Holy Family Church in Brentwood. Gilles is a retired U.S. Navy officer and a consulting engineer. He and his wife Susie have four children, Jessica, Katie, Emily, and Margaret, and three grandchildren, Patchen, David, and Griff.
• Christopher Hoover will be assigned to Holy Rosary Church in Donelson. Hoover is a certified public accountant. He and his wife Christina Dziubich Hoover have four children, Amanda Hoover Spanoudis, Hannah, Joshua, and Angela, and two grandchildren, Oliver and Josephine. His mother is Charleen Hoover.
• Collen Mayer will be assigned to St. Ann Church in Nashville. Mayer is the chief operating officer of Safe Haven Family Shelter, which serves homeless families. He and his wife Aimee have three children, Amat, Zoe, and Jonah.

• Francis Kham Pau will be assigned to ministry to the Zomi Community. He currently works as the pastoral leader of the Zomi Catholic Community. He and his wife Ngai Gung Vulgvung have four children: Cing Saan Lun, Thang Sian Muang, Huaiy Lam Nuam, and James S. Liam.
• Shawn Phillips will be assigned to St. Patrick Church in Nashville. Phillips is a college chemistry professor. He and his wife Pam have three sons, Joshua, Jacob, and Joseph.
• Carlos Salvatierra will be assigned to St. Ann Church in Nashville. Salvatierra works as a software engineering consultant. He and his wife Belyiny "Genie" Salvatierra have three children, Carlos, Giovanni, and Diego.
• Christopher Simpson will be assigned to St. Frances Cabrini Church in Lebanon. Simpson is an organic livestock farmer. He and his wife Suellen Simpson have six children, Laura, Jonathan, Alex, Melissa, Stephanie, and Michael.
• Salvador Soto will be assigned to St. John Vianney Church in Gallatin. Soto works as a safety and environmental coordinator. He and his wife Maria have three children, Miguel, Angel, and Salvador.
• Craig Thomas will be assigned to serve at University Catholic. Thomas works as a sales engineer. He and his wife Alyson have four children, Catherine, Michael, Peter, and David.
• Martin Torres will be assigned to Our Lady of the Lake Church in Hendersonville. Castro works as an electrician. He and his wife Margarita have three children, Paul, Eunice, and Sarah.
• Mike Wiedemer will be assigned to St. Paul Church in Tullahoma and St. Mark Church in Manchester. Wiedemer is a retired general in the U.S. Air Force. He and his wife Pam have a son, Matthew, and a granddaughter, Rubina. Their son Christian is deceased.