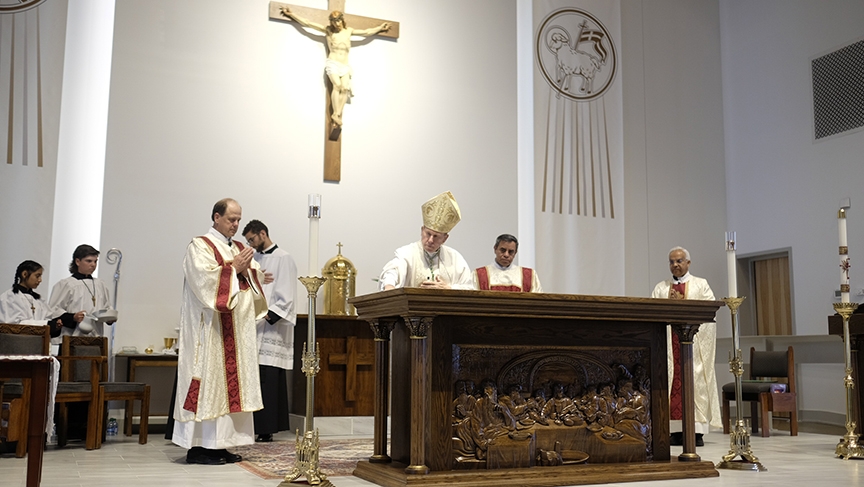 The new altar for St. Frances Cabrini Church in Lebanon took a long and winding road, but it finally arrived and was dedicated by Bishop J. Mark Spalding on Tuesday, May 9.
"The people were dreaming for a new altar and a new crucifix and a new ambo," said Father James Panackal, CMI, the pastor of St. Frances Cabrini.
"It's been such a long process," said Steve DePass, who was the parish council chair when the project originated. "We knew it could take up to a year but we didn't really think it would, but it did."
With help from the Holy Land Art Co. of Florida, the parish commissioned Mark Hurley of Fargo, North Dakota, to build the altar, the front panel of which is carved with the scene of the Last Supper.
The bishop was scheduled to dedicate the new altar twice before, but had to reschedule because of delays in receiving it, DePass said. One of the delays came when a snowfall of four feet caused the roof of the Hurley's workshop to collapse, causing some damage to St. Frances Cabrini's altar.
"Thank God the most detailed portion, the panel and the cornices or the columns were not damaged," DePass said.
Eventually, Hurley was able to complete the altar, DePass said. "It all came together," he said. "We're eternally grateful for the bishop, Father James, the parish council, and all the different people who have participated in this effort. It's truly a change for the best for this parish."
Along with the new altar, the church now has a new crucifix and a new ambo. Carvings of the four Gospel evangelists, Matthew, Mark, Luke, and John, decorate the ambo. "It basically goes with that altar," DePass said. "It matches it."
Parishioner Christine Sy made two large banners that decorate the sanctuary and were unveiled for the dedication Mass, Father Panackal said.
And the tabernacle was replated and moved from a side chapel to a spot behind the altar. "It looks brand new, and it's gorgeous," DePass said.
The old altar was stained to match the new altar and ambo, and it now holds the tabernacle.
The improvements to the sanctuary are a reflection of St. Frances Cabrini's growth, Father Pananickal said.
"When I came here it was around 500" registered families, Father Panackal said. "Now it's 720 plus."
The church's religious education program has 250 children enrolled, he added.
The church leaders have started long-term planning for a new and bigger parish hall, with a large kitchen and much needed classroom space, Father Panackal said.
St. Frances Cabrini's growth is "because of the hard work and prayers and the Holy Spirit guiding us," DePass said.