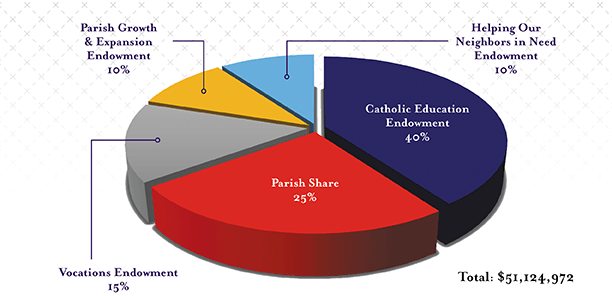 As the Chrism Mass came to an end on Tuesday, April 4, Bishop J. Mark Spalding had a special announcement for the more than 3,100 people, including priests, deacons, religious, and laity in attendance.
"We've been working a lot in the diocese for this Legacy of Faith, Hope, and Love Campaign, and I want to tell you, we made the decision to go for this campaign in the middle of COVID," to which many responded that it was a crazy endeavor, especially when the $50 million goal was set, he said. "I will tell you. The experts in some ways said, $50 million, you're not making it. I want to admit, we didn't get $50 million. We got 51."
"We come here united in Christ, the man of Communion, always overcoming what separates us to bring us one into Christ," Bishop Spalding said. "With our combined strength, we can accomplish great things, we can build His kingdom on earth."
As of Monday, April 3, the Legacy of Faith, Hope and Love Campaign has reached $51,124,972 with time to push that amount even higher. It's the largest amount of money raised in the diocese for a single campaign, according to Ashley Linville, director of stewardship and development.
"That's going to help us with our vocations, that's going to help us with our schools, that's going to help with our parish growth, and Catholic Charities, and all the other things within the parishes. Be generous, and look what happens," Bishop Spalding said. "People that look at us and say, 'You can't make that.' With God's help, all things are possible.
"So let us rejoice in that this evening," he said. "We accomplished this remarkable task together as a Christian community in communion with one another, and we always come together, united in Christ."
The Legacy of Faith, Hope, and Love Campaign is a diocesan-wide fundraising initiative to build up endowments to support in perpetuity parishes, schools, ministries, vocations, and agencies of the diocese. The funds will be split up as follows: 40 percent to schools, 25 percent for parish shares, 15 percent for vocations, 10 percent for Catholic Charities, and 10 percent for parish growth and expansion.
The campaign was rolled out at churches across the diocese in three waves, with a different group of churches in each wave. A few parishes in wave three are wrapping up their activities and pledges remain to come in.
Of that more than $51 million raised, $19,513,876 has already been received.
"From the very beginning over two years ago, we felt the support of the Holy Spirit and from pastors and parishes," said Brian L. Cooper, Chancellor and chief operating officer for the Diocese of Nashville. "The success of the Legacy of Faith, Hope and Love Campaign is simply the most ambitious undertaking accomplished by the Catholic community.
"As the pledges from the faithful are collected and invested, these endowments will, over time, provide unimaginable, permanent advantages towards the future growth of vocations, schools, Catholic Charities, and all of our parishes," he added.
"By serving others, God has provided all of us in the Diocese of Nashville with an abundance of blessings," Cooper said.
Linville said reaching the goal was a feat that had been accomplished in just the past few weeks.
"The last three weeks, there have just been so many generous people. We've had a few that have made new gifts, some of our donors who have already made a gift upped their support, and then we had a few parishes that raised additional funds, too," Linville said. "It has just really been amazing to see the community come together for this important campaign to help us reach and then exceed the goal.
"It seemed like we were getting close, getting close, getting close, and then all of a sudden, all these gifts started coming in. It was truly the work of the Holy Spirit because not only were we hoping to hit fifty, it went above and beyond in a very short amount of time," he continued. "Then, to be able to have Bishop Spalding announce that we hit goal at the Chrism Mass was amazing.
"Chrism Mass, it's truly one of those events where people come from all over the diocese, and this effort has truly been a diocesan effort," Linville concluded. "We had all of our pastors there last night, which they were instrumental in us meeting our goal because they worked the Legacy Campaign hard at their parishes."
For anyone who would still like to give to the campaign, visit give.dioceseofnashville.com/legacy/.