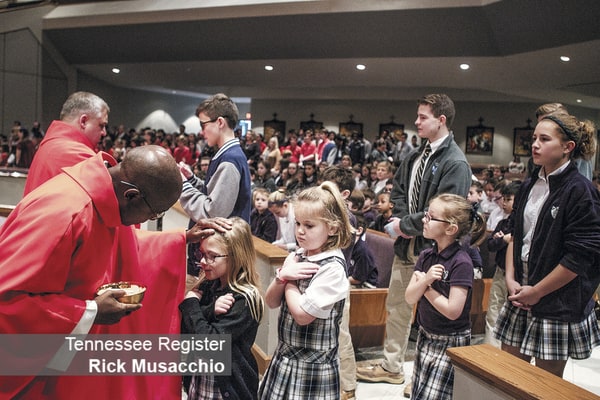 The 2019 Bishops Annual Appeal for Ministries has exceeded its goal of $2.7 million, the second year in a row the Appeal has met the goal and set a record for the amount of money raised to help pay for a wide variety of ministries in the Diocese of Nashville.

"God is good," Diocesan Stewardship Director Ashley Linville said.

"There are so many generous people throughout this diocese who support our ministries," Linville said. "I'm just amazed as I think about this year and all the people who have helped us reach goal: pastors, church staffs, parishioners. It's truly been a group effort."

"I know Bishop Spalding is grateful," Linville said of Bishop J. Mark Spalding.

"When he's around at different parishes, he's talking about (the Bishop's Annual Appeal) and the importance of it," Linville said. "He truly knows the money raised is going to ministry, is going to impact the lives of others. It's a way for us to be the hands and feet of Jesus. It's how we can share with others directly and invest in the future of the Church and invest in others."

The diocese received $2,712,175.70 in pledges and donations for the 2019 Appeal. The goal was $2,700,411.09. In 2018, the Appeal received $2.6 million in pledges and donations, exceeding the $2.5 million goal.

"I think meeting the Appeal goal two years in a row when the goals were increased, it shows that our parishioners connect with the ministries and want to join in to make a difference in the lives of others throughout Middle Tennessee," Linville said.

"It means that more lives can be touched, more people can be reached, more good news can be shared," he added.

Among the ministries supported by the Bishop's Annual Appeal are: seminarian education to prepare the priests of the future, religious education and the work of the Office of Faith Formation, youth ministry, Catholic Charities of Tennessee, and Catholic schools.

"I think it shows that the Catholic faithful are excited about the future of the Church, especially in Middle Tennessee," Linville said. "It's truly a vibrant and growing Church here.

"Speaking with other diocesan leaders throughout the country, that's not always the case," he said. "A lot of dioceses are closing churches. … But our ministries here are vibrant and strong and can continue to be through the generosity of our committed supporters."

Linville credited the effort of pastors and parish staffs promoting the Bishop's Appeal with the campaign's success.

"I can't say enough about the role that our parishes have played," he said. "They talk about the Bishop's Appeal in their parish. They really spread the word about the Appeal and the ministries of the Appeal and how it makes a difference."

The total raised in the 2019 came from more than 7,213 donors, "which is amazing," Linville said, even though the number of donors fell short of the goal of 8,511.

"The more people you have participating, the greater the impact," Linville said. "And it shows solidarity."

"Through this Appeal, you can see God really uses people. They really rise up. They were faithful stewards," Linville said. "It's exciting to see the opportunities it brings for our ministries."

Of the 59 churches and ministries participating in the Bishop's Annual Appeal in 2019, 33 – or 56 percent – met or exceeded their goal. Four raised more than 90 percent of the goal, 13 were at 80-89 percent of their goal, six were between 70 and 79 percent of goal.

A total of 56 of the 59 churches were at 70 percent of goal or higher. No church was below 62 percent.

Churches that met or exceeded their goal were: Cathedral of the Incarnation, 117 percent; Christ the King, 126 percent; Church of the Korean Martyrs, 104 percent; Divine Mercy Coptic Ministry, 167 percent; Divine Savior Mission, Celina, 101 percent; Holy Family, Brentwood, 125 percent; Holy Family, Lafayette, 103 percent; Holy Name, 120 percent; Holy Rosary, 109 percent; Iglesia Sagrado Corazon de Jesus, 107 percent; Immaculate Conception, Pulaski, 100 percent; Our Lady of Guadalupe, 104 percent; Our Lady of the Lake, Hendersonville, 120 percent; Our Lady of Lourdes, Springfield, 100 percent; Sacred Heart, Loretto, 100 percent; St. Andrew, Sparta, 109 percent; St. Anthony, Fayetteville, 126 percent; St. Christopher, Dickson, 159 percent; St. Elizabeth Ann Seton, Tennessee Ridge, 136 percent; St. Francis of Assisi, Dover, 101 percent; St. Gregory, Smithville, 114 percent; St. John the Evangelist, Lewisburg, 127 percent; St. Joseph Church, St. Joseph, 123 percent; St. Margaret Mary Mission, Alto, 103 percent; St. Mary Myanamar (Zomi) Catholic Community, 425 percent; St. Mary of the Seven Sorrows, 110 percent; St. Matthew, Franklin, 111 percent; St. Michael Mission, Cedar Hill, 100 percent; St. Patrick Church, McEwen, 126 percent; St. Patrick Church, Nashville; 150 percent; St. Stephen, Old Hickory, 110 percent; St. Vincent de Paul, 112 percent; St. William Church, Shelbyville, 102 percent.