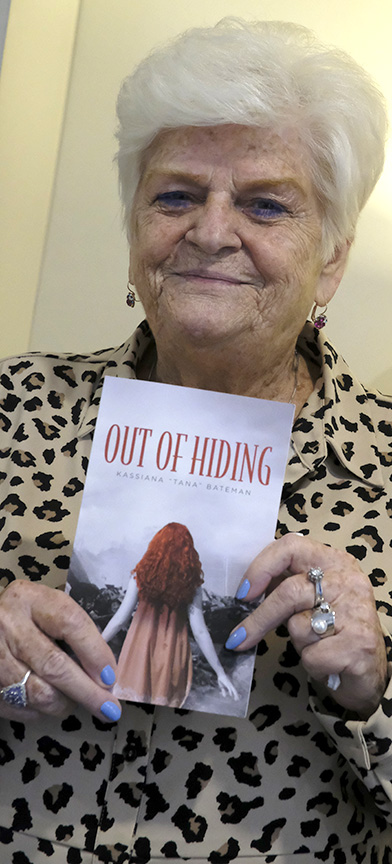 A resident of Mary, Queen of Angels Assisted Living Facility is making sure the world understands why hate is such a dangerous thing, as she tells her story of surviving the Holocaust in her new book, "Out of Hiding."
Kassiana "Tana" Bateman was born into the state of war in Germany, under the oppression of the Nazis, on May 23, 1940.
"When Hitler started out in 1929 … there was a small group of people preaching hate. 'Hate the Jew. Hate the Jew. They lie. They steal. They eat your children. They drink your blood,'" Bateman said. "That's how it started, and it turned out to be that 6 million Jews were murdered in a most horrible fashion.
"Hate is the worst word in any language," she said. "It should not even exist."
That's why Bateman chose to tell her story not just as a Holocaust survivor but the child of a Holocaust survivor.
"The thing about survivors is that my generation is the last generation that has physically been touched by the Holocaust, and by the Nazi time, and the post war, and the war itself," Bateman said. "It was my generation that was physically attacked or suffered because of the Nazis."
Born into war
From the moment of her birth, Bateman's life was under the control of the Nazi regime.
"When I was born, my mother, by order of the Nazis, had to give me a Jewish first name. They made a list of nine girl names and nine boy names, so she could not originally name me Kassiana" in honor of Bateman's father's Greek ancestry, Bateman explained. "Tana was the name she chose."
"I was born in a Jewish hospital in Berlin, which was also a condition of the Nazis that every Jewish mother had to give birth in a Jewish hospital," Bateman said. "That way they had control over who was born, where the baby goes, where the adults go, when they pick them up, and whether they take them to a concentration camp or a labor camp. Basically, it's just a matter of controlling."
Bateman never met her father as he was deported back to Greece in September of 1939 and was eventually killed when Germany overran Greece in 1941.
"My mother, at the time when my father was deported, she did not know that she was pregnant with me, so I was a very big surprise to everybody," Bateman said.
Upon her birth, Bateman lived with her mother with a family named Storm. Six weeks after Bateman's birth, her mother was forced into a labor camp where she remained for two years. Bateman continued to stay with the Storms.
Later, after her mother was released from the labor camp and was awaiting a letter telling her when she'd be picked up and transported to a concentration camp, a German soldier, named Arthur, helped Bateman escape the war zoned Berlin at the request of her mother.
"They met in a restaurant somehow and he, of course, knew she was Jewish because of the yellow David star that Jews were forced to wear" marking them as Jews to all, Bateman explained. "They started talking and he asked if he could help. My mother said, 'If you can take my daughter out of Berlin and put her somewhere safe, I would appreciate that.' That's exactly what he did."
It was one of many moves that may have well kept Bateman alive, because not long after Arthur took her away, the Storms were taken by the Nazis. Her mother, who had gone to see them, watched them be picked up and loaded into trucks, as they called out each other's names.
"That was the end of the Storms," Bateman said. "That was my first family that I had, but I didn't know about" until years later.
This story and more are all included in the book, which she self-published with Palmetto Publishing. Other examples include how claiming to be a half-Jew ensured her mother's survival, and how her step-cousin Magda Ritschel, went from being raised Jewish to marrying Joseph Goebbels, minister of propaganda for the German Third Reich.
"Everything I have in this book is provable. Nothing is made up," Bateman said. "Everything can be proven. Today with Google and everything else that's available, it's all out there. It's just nobody ever bothered to mention it except the German historians who put it on television one time when I was in Germany visiting my mother. That's how I knew I wasn't making up anything. It was true.
"Just about anybody who has read my book is saying it is something you don't want to put down. It's an easy read," she said.
Leaving Germany
She also writes about her strained relationship with her mother, the physical and emotional abuse she succumbed to post-war, and how she finally left Germany forever and immigrated to Israel where "I met some very fabulous people who were just amazing … and became my guiding light."
"When I made my way to Israel, I finally was starting to become who I am and that is thanks to the people that I dedicate the book to – Family Hermann and Mr. Schragenheim," she said.
And she has made a point not to be a victim of her past. Instead, she has more than 20 years of experience in counseling and helping the homeless and participating in suicide prevention organizations.
Additionally, she self-educated herself after eighth-grade, has traveled into more than 50 countries through her work as a stewardess for an Israeli airline, and speaks five languages.
Bateman came to the United States at the age of 32, after meeting her husband, Jessie Jackson Bateman, in Israel, who had come to the country for work. After his job was complete, they moved back to Dickson, Tennessee, his home city, and she became a U.S. citizen in 1975. They have one son, Lee. Bateman is entering her 11th year at Mary, Queen of Angels having moved in after her husband's passing.
The Holocaust Commission
Along with the book, Bateman is also sharing her story with students from schools across the state through the Holocaust Commission of Tennessee. She has since received more than 100 letters from students thanking her for sharing her story, for being alive, being positive, and even being funny.
"I want people to understand, particularly young people, it doesn't matter what you went through in your life or how hard your life might have been," Bateman said. "At one point, you need to leave that behind, look forward, and make the best out of you. You cannot carry the bad things on your back and try to be something better if you don't let go.
"That's my message. No matter what happens to you, you can come out of it, and you can be productive, and you can be wonderful," she said.
"I was forced to leave school in eighth grade. The German government did not allow me to continue my education. I was 14. I was without family. My mother was MIA, and I was in an orphanage, and nobody cared about me," Bateman admitted. "I was left alone, by myself, without money, without knowledge, without education, without support, and I made it. You need to listen to your own force, to your own being for what you can do.
"'Out of Hiding', it's my personal voyage on my own to become who I am today," Bateman concluded. "It was a long road, and I'm darn proud of it. I'm at peace with myself. If I die tomorrow, I've done the best I can do for others, not just for myself. And that's reward. That counts."
Bateman's novel "Out of Hiding" is available on Amazon.com and BarnesandNoble.com for $18.99.
To learn more about the Holocaust Commission of Tennessee or to book Bateman for a talk, email Ken Gluck at ken.gluck@tnholcom.org or call 615-527-8135.