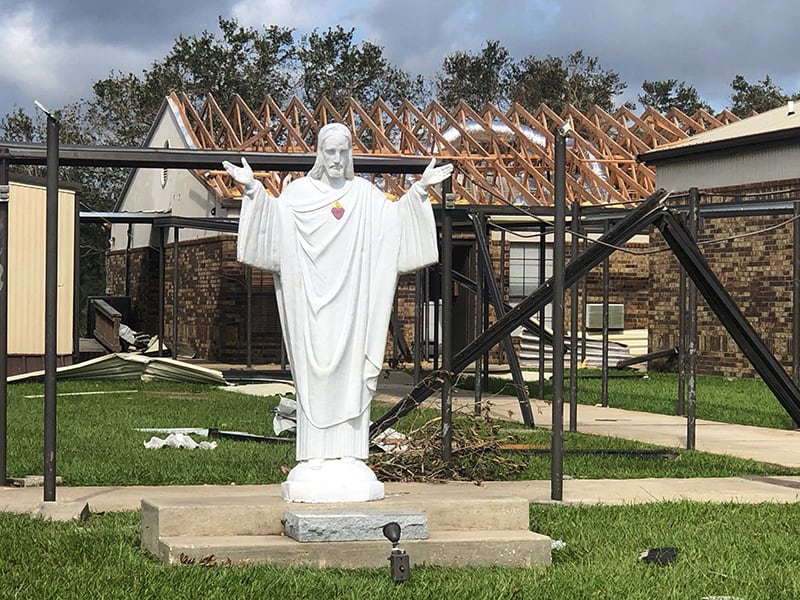 After deadly tornadoes claimed lives and decimated neighborhoods in Middle Tennessee on March 3, 2020, volunteers from near and far quickly jumped in to offer support, in the form of supplies, labor and monetary donations. 
"During our own experience of recovering from natural disaster when tornados moved through our diocese in March, we were so blessed by the incredible outpouring of support from the Catholic community throughout the nation," Bishop J. Mark Spalding wrote in a message to pastors on Sept. 9. "Now, we have an opportunity to respond to that kindness with charity of our own to those in great need."
"We received a lot of gifts from other Catholic Charities agencies after the tornado, and now we want to pay it forward," said Judy Orr, executive director of Catholic Charities of Tennessee.
To support those in disaster-stricken areas, the U.S. bishops are urging dioceses across the country to take up a special collection, and Catholic Charities agencies will be accepting material and monetary donations to help with recovery efforts.
As wildfires rage in the western United States, and Gulf Coast residents assess the damage from Hurricane Sally, Catholic Charities of Tennessee is focusing its local relief efforts on assisting those affected by Hurricane Laura, which caused significant damage to the Gulf Coast of Louisiana and Texas in late August.
Through Sept. 24, Catholic Charities of Tennessee will be collecting supplies to drive down to Catholic Charities of Southwest Louisiana in Lake Charles, Louisiana, which is offering direct assistance to residents impacted by Hurricane Laura.
"COVID has kept relief efforts and volunteers at lower levels and they still need as much help as possible," said Keith T. King, Catholic Charities of Tennessee's community relations director.
The Diocese of Nashville's Youth Office issued a "Chaplains' Challenge" to encourage students at the two diocesan Catholic high schools, Father Ryan and Pope John Paul II, to donate tarps to relief efforts.
"Our students in both schools make me proud again and again when they respond positively with simple charity, taking extra time to help someone, even someone miles away," said Father Andrew Forsythe, chaplain at Pope John Paul II High School. "It's another mark of the world-changing impact of a good Catholic education that goes beyond the borders of a home, classroom, parish and diocese."
"I am always surprised by the immediate generosity of our students and their parents," said Father Mark Simpson, chaplain at Father Ryan High School. "They responded with urgency to the challenge. They truly exceeded my expectations."
Father Simpson said that the coronavirus has not hampered the Ryan community's generosity, and "I am humbled by their desire to serve others."
The tarps collected by the high school communities will be directed to Catholic Charities for Hurricane Laura relief efforts.
Catholic Charities is still collecting the following items:
Tarps
Sanitizer
Household cleaners
Diapers
Baby food
Wipes
Toilet paper
Hygiene products
Non-perishable food items
Pen and paper
File folders
Gallon-sized Ziplock bags
Donations will be accepted through Thursday, Sept. 24, 9 a.m.-3 p.m. at the Catholic Pastoral Center, Door #5 (located to the right of the building near the large trailer), 2806 McGavock Pike, Nashville, Tennessee, 37214.
Catholic Charities of Tennessee is also collecting monetary donations from the community to make a cash gift to Catholic Charities of Southwest Louisiana. Please mail checks to the above address or make a donation online.
Catholic Charities is a member of the area Voluntary Organizations Active in Disaster (VOAD) group, which follows the Federal Emergency Management Agency, Tennessee Emergency Management Agency, and Nashville Office of Emergency Management plans for disaster response protocols.
For more information and for updates on donation drop-off sites and volunteer opportunities, follow Catholic Charities' social media pages.
For more information, contact King at 615-982-2695, or ktking@cctenn.org.