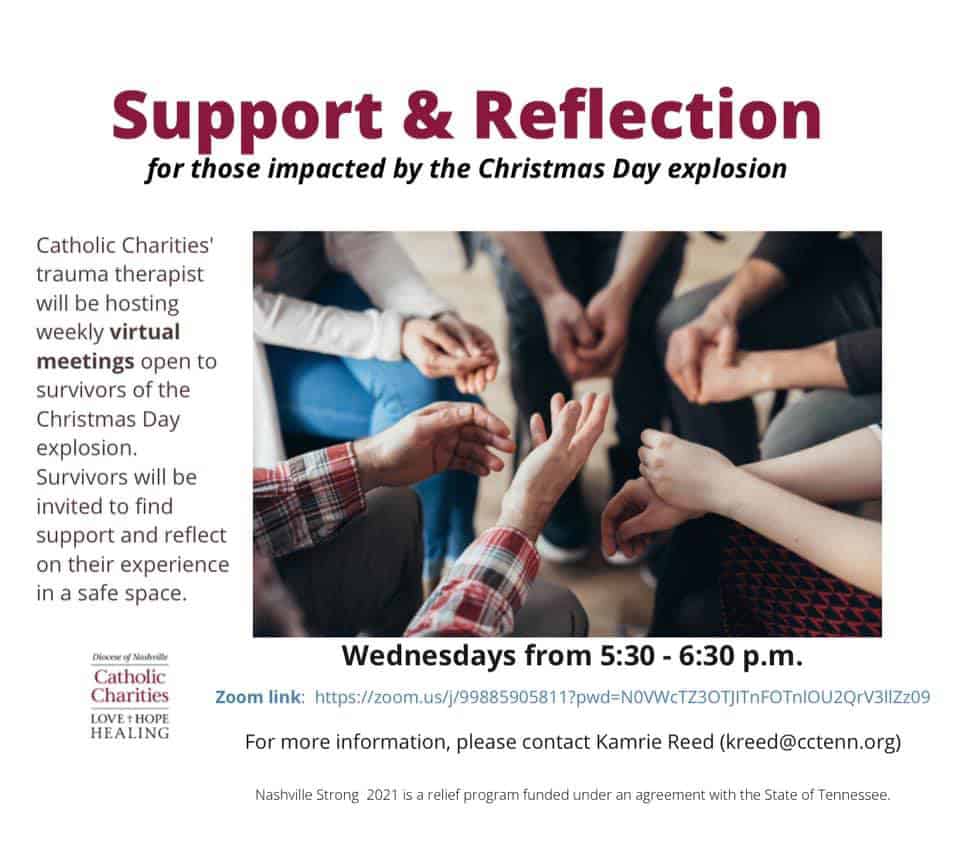 Responding to the unprecedented events of the past year — a global pandemic, a deadly tornado, and the Dec. 25 downtown explosion — has kept Catholic Charities counselors busier than ever.
"We've had a lot of people reach out who have not had counseling before," said Kim Morris, LCSW, Clinical Services Director at Catholic Charities in the Diocese of Nashville. "We're a safe place for people to talk about what they're going through. We meet clients where they are."
Prompted by the stressors of the past year, especially the collective challenges of COVID-19, more people have begun to be open about their mental health. "To ask for help is becoming seen more as a sign of strength instead of weakness," Morris said, who has worked with Catholic Charities for 16 years.
"The current events have helped to normalize the fact that we all go through events in our lives that can feel very challenging or overwhelming," said Morris. Having "a neutral party to partner with can help get us back on a path of stability, healing and success."
Stress, anxiety, and depression levels are high right now, and "that can create a perfect storm," where people are less able to manage strong emotions and think clearly about solving problems, said Morris. And that's when a counselor can step in and help individuals and families cope.
Some of the most common topics they help with are:
Decision making and family communication
Crisis and disruptions in daily life
Depression and anxiety
Grief
Isolation
Personal history of abuse
Changes in family structure
Dynamics and effects of chemical dependency
Right now, Catholic Charities counselors are meeting clients in person as well as scheduling online telehealth sessions or talking over the phone. Catholic Charities counselors are also available for students in eight of the Diocese of Nashville's Catholic schools.
One of the watchwords for the counselors is "flexibility," said Kamrie Reed, LCSW, who works primarily with clients who have experienced trauma.
"We can help clients prioritize their need wherever they are in their recovery," she said. "We walk with them through the process."
Counselors not only act as a sounding board for clients to talk with but can also help with the logistics of recovery. They can help clients get connected with food and housing resources if they have experienced displacement due to a disaster like the tornado or the downtown explosion.
"Mental health services are a key component of comprehensive support service models, such as that of Catholic Charities," said Judy K. Orr, LMSW, executive director of Catholic Charities.
Reed also emphasized how she and her fellow counselors are available for immediate and long-term assistance. "Trauma isn't just one and done," she said. "Things can feel fine and settled, then something comes up and people may need help again."
That is especially true around a trauma anniversary, like the upcoming date of March 3, when deadly tornadoes tore through Middle Tennessee last year. "It's really normal that emotions come up around a trauma anniversary," Reed said.
Catholic Charities is planning to mark the tornado anniversary in some way, "to publicly affirm that we have not forgotten those who still need help," said Orr.
People who have experienced a trauma event, like the tornado, or more complex trauma over time, such as spousal abuse, "it makes them feel powerless," Reed said. "We want to empower people."
That starts with giving people choices as simple as how and when to speak with a counselor, she said. If it feels too overwhelming for someone to book an hourlong, in-person session, "we can talk on the phone for five minutes," Reed said. That flexibility in the length and format of counseling sessions can help draw people in who may be reluctant to seek counseling, she added.
The affordable cost of Catholic Charities' counseling sessions is also appealing to people new to counseling. Ongoing support from donors is essential to providing "an extremely generous sliding scale," said Morris, and some clients only have to pay $5 to $20 per session. "We want to make sure anyone who needs counseling has access," Morris said.
As the lead agency in Nashville offering case management and counseling to those affected by the Dec. 25 bombing, Catholic Charities has taken on one of its most public roles ever, and more people are becoming familiar with the counseling services it has offered for many years.
To continue its service to the community, Catholic Charities is hosting free online virtual meetings on Wednesdays, which started Feb. 17, for anyone impacted by the bombing. Therapists will "create safe spaces where survivors of trauma can find support, reflect on their experiences, and begin healing."
Each session will take place from 5:30-6:30 p.m. These free sessions are open to anyone via Zoom.
"Support groups are a really great way to hep normalize what people are going through," Morris said. She also suggests the following tips to cope with stress and improve mental wellness:
Exercising, especially "whole body movement," like swimming, dancing, walking or running
Maintain social connections with friends and family, even if it's online and not in person
Doing something for others: "It gives you a connection to others. It is also both internally rewarding and empowering when you see that you can have a positive impact on the world."
Limiting news and social media
Practicing mindfulness, being intentional about the present moment
Maintaining routines and rituals, to create a sense of normalcy and safety
"We really want to help people maintain their mental health at this time rather than being in a lurch," Reed said.
More information on Catholic Charities counseling services is available at www.NashvilleStrong2021.org and www.cctenn.org
---
Catholic Charities to commemorate tornado anniversary with art
Catholic Charities invites the Nashville community to reflect on their Pathway to Recovery on the one-year anniversary of the tornados of 2020.
On March 3, 2021, from 9 a.m.-7 p.m. three locations spread throughout the community will provide an art canvas for survivors to create, express, and reflect on their experience. Each of these sites is located in a neighborhood that was heavily damaged by the tornado.
Catholic Charities counselors will be available that day to offer assistance.
Locations include:
McGruder Family Resource Center, 2013 25th Ave. N., Nashville, 37208
East Park Community Center, 600 Woodland St., Nashville 37206
St. John's Lutheran Church, 3259 McGavock Pk., Nashville, 37214
After March 3, the canvases from each location will be brought together to create a central work of art for the community. The art will be displayed at various locations throughout the month of March.
For more information call 615-352-3087.