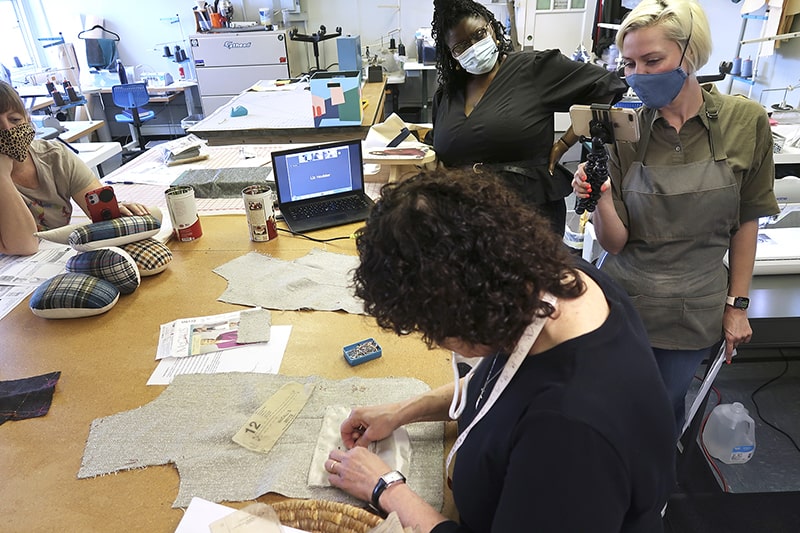 When Judy Orr took the helm as executive director of Catholic Charities of Tennessee in the spring of 2019, one of the first programs she toured was the Sewing Training Academy at the McGruder Family Resource Center. 
"I made a beeline for it," said Orr, an avid seamstress who previously made her own clothes and restored garments for the Country Music Hall of Fame.
On that first visit to the Academy, she had a casual conversation with the program director, Trishawna Quincy, about possibly teaching a course in the future. Now, Orr is getting that chance, teaching an advanced custom tailoring class to students interested in taking their craft to the next level.
"It's been an incredible experience to share my knowledge with this group," Orr said. "This is my favorite hobby."
Teaching at the Sewing Training Academy has given Orr the chance for immersive participation in a Catholic Charities program, a rare opportunity for someone in her position. Overseeing the entire Catholic Charities of Tennessee agency, with offers such a wide range of services, Orr doesn't often have a chance to directly connect with clients this way.
In class or over Zoom, she said, "we talk about our anxieties of tackling a new project," as peers, which levels the playing field.
Teaching the class at McGruder, with a limited number of in-person students and additional students joining the class virtually, has been a new experience for Orr. "People are watching over your shoulder doing a really complicated sewing maneuver," which can be a challenge, she said, but it's worth it in the end when everyone shares their finished products.
The class was learning to make a tailored jacket, which involved a number of difficult techniques, including sewing pockets, a lining, and lapels.
For the project, Orr drew on her experience from sewing her "masterpiece," a decade ago, a lavender wool gabardine coat. "It was the most difficult thing I've ever made," she said.
After she completed that, Orr set aside major sewing projects and went back to school at the University of Tennessee to earn her master's degree in social work. About three years ago, she finally cut the pattern for a new jacket, but had to set it aside again when she took on a new role at Alive Hospice.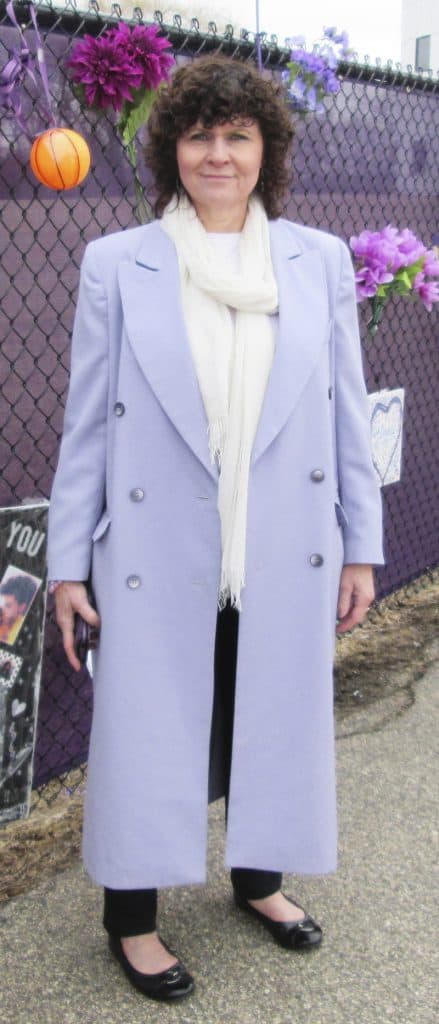 By teaching the Sewing Training Academy class, she has been able to "get the rust off" and finally complete that jacket.
Orr's love of sewing goes back to her childhood, learning from her German grandmother when she was in middle school. "She taught me the basics, and I took my first lessons between seventh and eighth grade." When Orr was a college student, she started sewing tailored garments and doing alterations for friends to earn extra money.
When Orr worked at the Country Music Hall of Fame and Museum as the director of publications, she began to expand her alterations side gig, and was even recruited to help with restoring some performers' garments so they could be displayed in the museum. Around that time, she also restored and altered a wedding gown, and sewed custom bridesmaid's dresses. "That was quite a project," she said.
For a time, Orr made her own clothes for work, as well as special occasion dresses, including her own mother of the bride dress when her son got married.
"I've always made dresses for fancy events, so I've gotten to do some sparkly fun stuff," she said.
Since 2015, Catholic Charities' Sewing Training Academy has been an important part of its workforce development offerings, training sewers to work in Nashville's burgeoning fashion and apparel industry.
The Academy has also become an incubator for entrepreneurs. After developing sewing skills through these classes, "there is the potential to have a home business on the side," Orr said. "If childcare is an issue, this is something you can do and stay home with kids," as she did when she was raising young children.
People who can sew can repair their own clothes, make them last longer and get more wear out of them, Orr noted. "It's a way to save money, it's a really valuable skill and a way to be frugal."