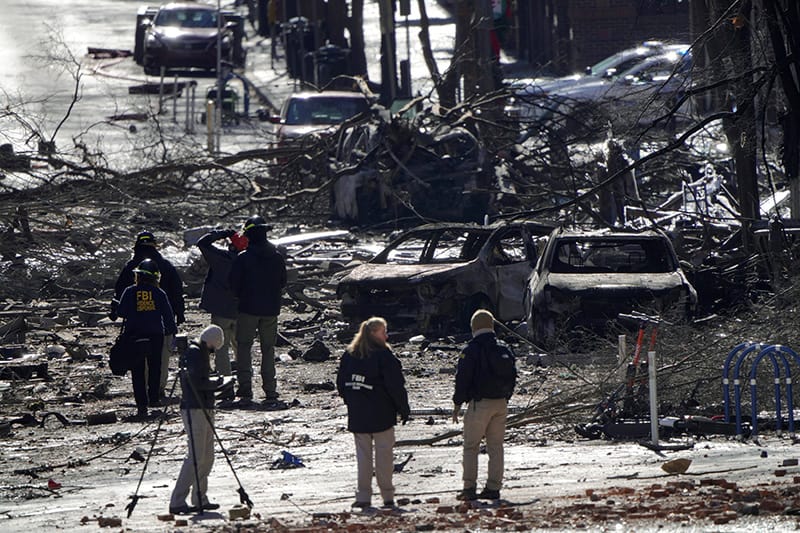 Catholic Charities of the Diocese of Nashville has received a $2 million grant from the federal Victims of Crime Act (VOCA) to assist individuals, families and business owners directly impacted by the bombing that occurred the morning of Dec. 25 in Nashville.
The program is part of the Nashville Strong initiative involving a number of government and non-profit organizations participating in response and recovery efforts.
"We want to thank the FBI for making the VOCA funds available so quickly," said Catholic Charities Executive Director Judy K. Orr. That enabled the agency to respond to the disaster with "extraordinary rapidity," she said.
The Christmas morning explosion that shook downtown Nashville killed the bomber, Anthony Quinn Warner, 63, of Antioch, Tennessee, and injured eight people, according to press reports. It also damaged more than 40 buildings in the historic downtown entertainment district, including an AT&T transmission facility that provides wireless service to much of the region.
Catholic Charities is working with local and federal agencies as well as other local nonprofit organizations to provide direct assistance to those in need. The Red Cross and Salvation Army "were on the ground immediately for emergency needs," Orr said. Hands on Nashville is assisting with volunteers and donations. And Catholic Charities is the lead agency offering case management and counseling to those affected by the bombing. "We are the only ones who have been funded so far for this disaster," Orr said.
Catholic Charities began processing applications for assistance on Monday, Jan. 4, and had already received more than 170 requests for help by the end of the day on Wednesday, Jan. 6. "We want to distribute the available funding as quickly as possible," Orr said.
To qualify, applicants must have worked or resided in the impacted area in downtown Nashville, which is defined as being bound by James Robertson Parkway, 4th Avenue North, Broadway, and the Cumberland River.
The types of assistance available to individuals and families include:
• Rental payment assistance for employees who lost wages or residents displaced from a primary residence.
• Utility payment assistance for employees and residents.
• Food assistance in the form of staples and prepared meals.
• Counseling to alleviate the trauma, anxiety, stress and other emotional conditions.
• Replacement of technology used for work or school.
The application is available online at www.NashvilleStrong2021.org, a brand-new website created specifically for this purpose. Applicants will have to prove they lived or worked in the impacted area; more information on how to apply for assistance is available on the new website.
Catholic Charities has shifted some of its Refugee Services caseworkers to the Nashville Strong initiative, including Spanish and Arabic speakers, and has re-hired some temporary caseworkers who recently helped with Catholic Charities' COVID-19 relief efforts. They will manage applications, provide counseling, and help applicants navigate the many steps toward recovery.
Orr emphasized the importance of counseling, especially for a traumatic event like the explosion.
"We know from our work with the 2010 floods that the psychological impact will last years for some people," Orr said. "Traumatic events can leave significant emotional scars if people don't seek help."
The vast majority of the applicants so far, she said, are those who have lost jobs at downtown dining and entertainment venues temporarily closed due to damage from the explosion, who need immediate assistance paying rent and supporting their families.
"We've had a number of requests for counseling," Orr said. "This is a great sign that people recognize the need for professional help to recover from a traumatic event."
Recovering from the trauma of a crime, rather than a natural disaster, said Orr, a licensed master social worker, "can have even more layers of recovery time."
The Catholic Charities team includes counselors experienced at working with victims of crime.
Catholic Charities recently helped screen applicants and distribute more than $1.5 million from the Nashville COVID Response Fund as well as CARES Act funding from the State of Tennessee and Metro Nashville to those impacted by the COVID pandemic. It was also instrumental in tornado recovery efforts for North Nashville.
While the CARES funding has been exhausted, Catholic Charities is still working with clients who have not fully recovered from the March 3, 2020, tornadoes that devastated neighborhoods across Nashville and Middle Tennessee.
Local residents who have endured so much in 2020 "have had yet another rug pulled out from under them," if they were impacted by the Dec. 25 explosion, Orr said. She added that Catholic Charities will be available for long-term help. "We're just getting warmed up," she said.
Catholic Charities of the Diocese of Nashville was founded in 1962 as the social service arm of the Diocese of Nashville. The organization serves people of every religious, ethnic, cultural, and racial background in 38 Middle Tennessee counties that comprise the Diocese of Nashville.
Assisting more than 12,000 people per year, Catholic Charities provides a range of services that help clients through crises and toward self-sufficiency. Services include emergency financial assistance, counseling, job training, housing stability, hunger relief and more.
St. Mary's sustains minor damage from blast
Theresa Laurence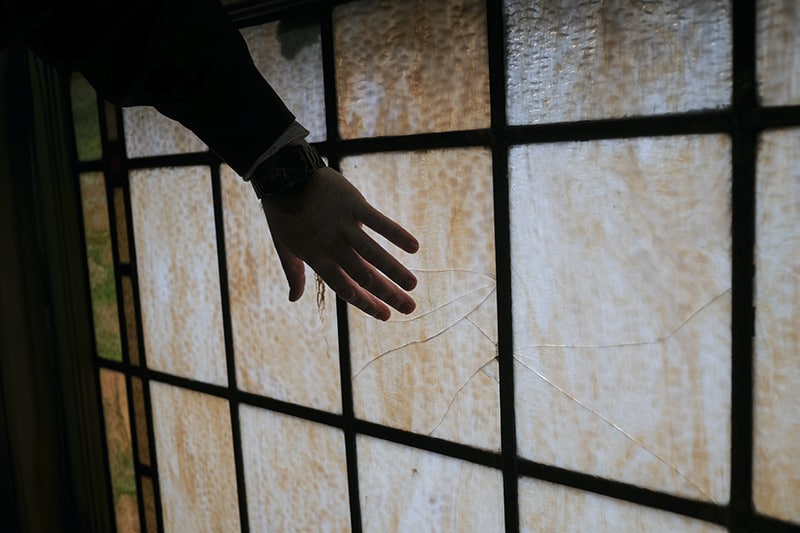 Father Jayd Neely, pastor of St. Mary of the Seven Sorrows Church in downtown Nashville, had celebrated Midnight Mass at his parish on Christmas Eve and was up early on Christmas morning when he "felt the building shake" and wondered what the explosion was.
Having previously lived at the Cathedral of the Incarnation on West End, he was no stranger to construction noise and demolition blasting, but this was different, and the timing was definitely odd.
When Father Neely looked outside, "I didn't see anything out of place," he said, and didn't yet know that a bomb had been set off just a few blocks away.
Because of the damage to the nearby AT&T transmission facility, St. Mary's lost phone and internet service for several days, and later, Father Neely discovered that some of the historic church's stained-glass windows had been cracked and damaged in the blast.
The church, built in 1847, is one of the oldest Catholic churches in Tennessee, and served as the cathedral of the Diocese of Nashville from 1847 to 1914. The stained-glass windows were at least 100 years old, Father Neely said, and some were already in need of repairs before the Dec. 25 blast.
Regular church services were not greatly disrupted by the explosion, although some streets were temporarily blocked off nearby and musicians and many church members were unable to get to the church. The Christmas Day Mass proceeded as scheduled, though without music and with a only small number of attendees.
Father Neely was able to celebrate a wedding at St. Mary's on Dec. 26.
He was not aware of any parishioners who had been affected by the bombing, most of whom do not live near the church.