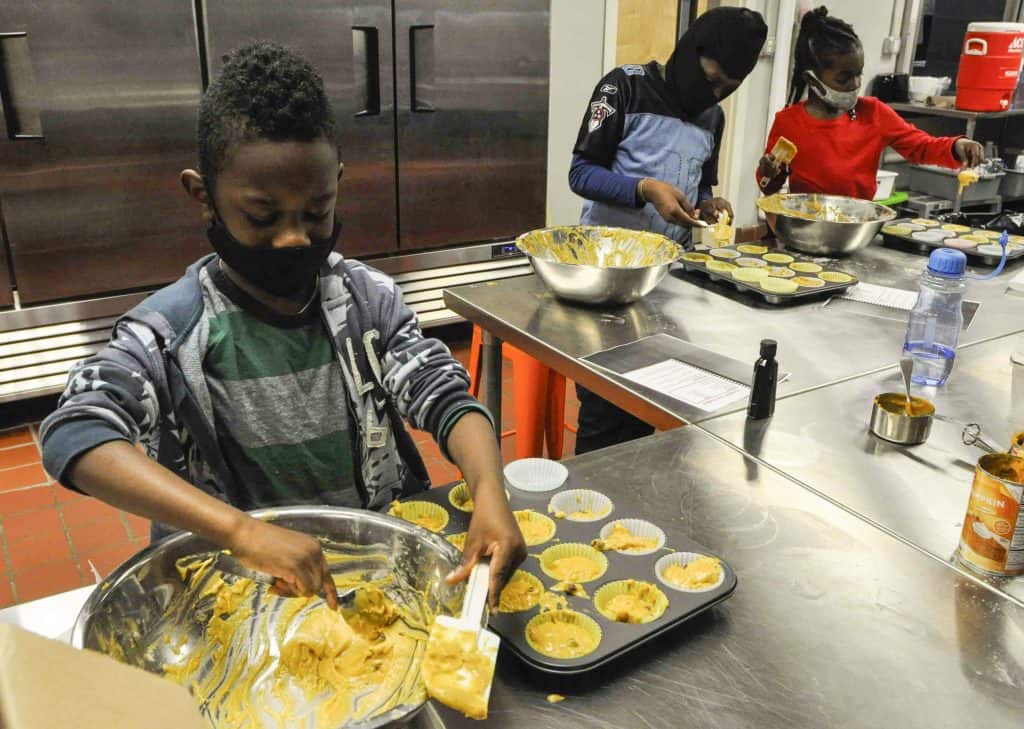 On a recent weekday, children measure and mix batches of pumpkin muffins in the commercial kitchen at the McGruder Family Resource Center in North Nashville. It's the same space where the Culinary Training Academy has class, and where commodity food boxes are stored for people in need.
The Center, managed by Catholic Charities of Tennessee, is slowly starting to host in-person activities again after a COVID-induced hiatus over much of the spring and summer.
Typically, the Center would be bustling with activity on weekdays, and soon, some of that activity will be replicated at the "intergenerational, arts inspired community" developed by Urban Housing Solutions, located near McGruder on a 6-acre site at Clarksville Pike and 26th Avenue North.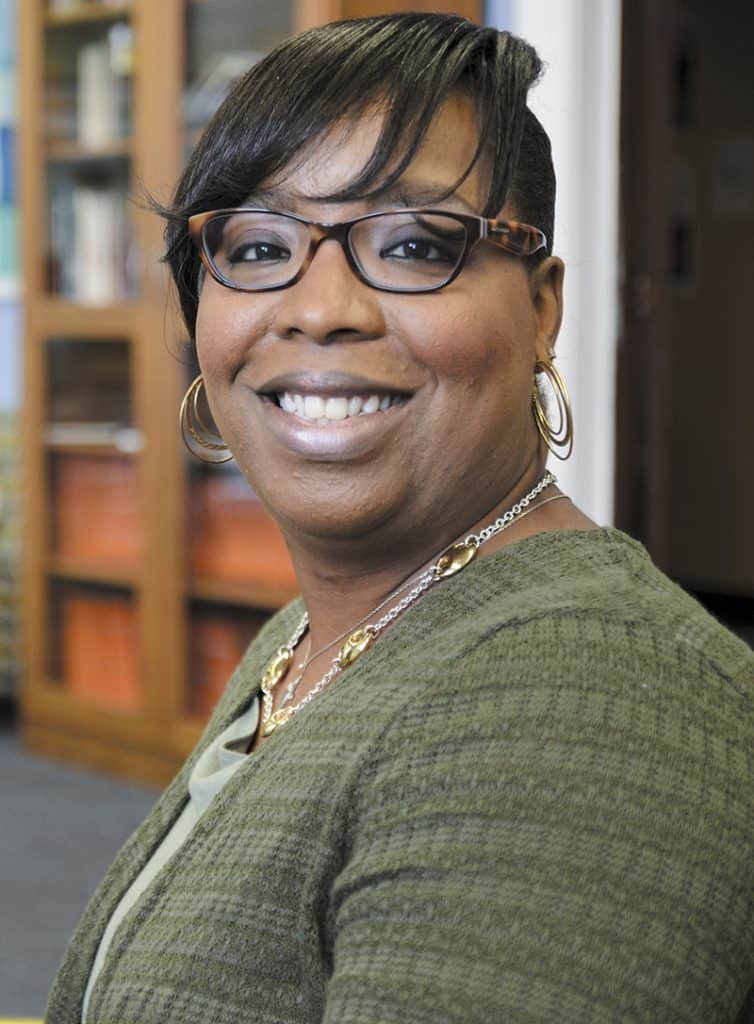 "We will bring the services that people would have a hard time finding if we weren't in the picture," said Alisha Haddock, Community-Based Services Director for Catholic Charities of Tennessee. "Now we're literally bringing to your doorstep access to those services."
When Catholic Charities sets up shop in the 1,700 square foot community center located in the Clarksville Pike development, it will offer food boxes, cooking classes, educational speakers, counseling, and more.
"This is a great opportunity to have a presence in the community beyond McGruder," said Judy Orr, executive director of Catholic Charities of Tennessee. "McGruder is a very busy building," she said, and the Catholic Charities staff and volunteers based there welcome the opportunity to "take some of those services out to the community and see how it goes."
The full slate of services and programming is not finalized yet, because "we want to integrate the community's voice into the programming," Haddock said. People, many of them senior citizens, are still moving into the affordable apartments.
Haddock has some ideas, such as an intergenerational baking class, that she would like to see happen at the Urban Housing Solutions site. They will likely start slow with in-person activities. "We are cognizant of the vulnerabilities of older folks, especially African Americans," who will be living there, Haddock said.
When Orr recently toured the property, she was impressed with how "completely fresh and beautiful" the space is. With modern design touches, new landscaping, and a prominent mural painted by an artist-in-residence at the McGruder Center, the Urban Housing Solutions development should be a beacon in the neighborhood.
As one of the broadest-reaching social service agencies in Middle Tennessee, with a well-established presence in North Nashville, Catholic Charities was a natural fit to partner with Urban Housing Solutions in this new endeavor.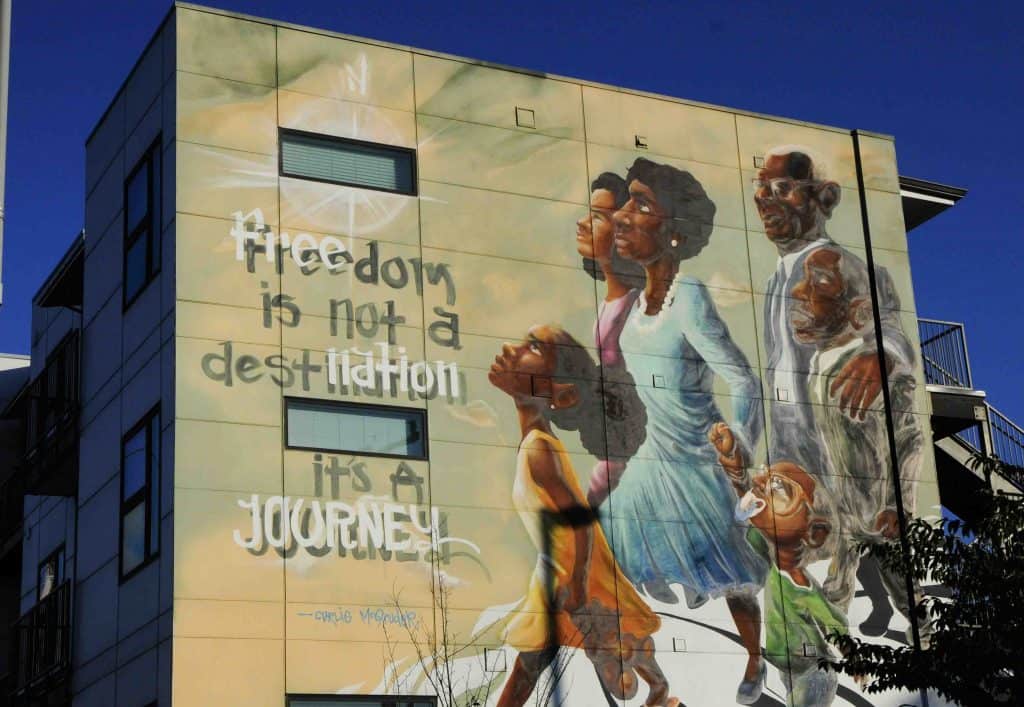 "We always wanted our community center to serve the whole neighborhood. With this great partnership with the McGruder Center and Catholic Charities, this will happen," said Rusty Lawrence, founder and executive director of Urban Housing Solutions. "With their expertise and connection to the community, they will create a vibrant community resource in this building."
"Urban Housing Solutions takes care of the hardware," Haddock explained, building, buying and rehabbing affordable apartment buildings. "And we're the software," she said of Catholic Charities.
The "software" focus at the McGruder Center includes: basic needs like food and financial counseling; youth development; workforce development and entrepreneurship; arts and culture; and civic engagement.
Urban Housing Solutions "is a key player in Nashville's affordable housing landscape," Haddock said, tackling "the number one issue in Nashville, the housing crisis."
Affordable housing is so needed in North Nashville as gentrification creeps in at an astonishing rate, pushing out long-time residents, said Haddock, who grew up in the neighborhood.
This new development will be the most ambitious effort yet by Urban Housing Solutions to serve the community beyond supplying the "hardware." By forging partnerships with organizations like Catholic Charities, Vanderbilt University School of Nursing, the YWCA, and others, they can offer "wraparound services" to residents, Haddock said.
As the largest nonprofit provider of affordable housing in the city, Urban Housing Solutions has been building and rehabbing properties since 1991, "but this one is different," Lawrence said of the new development at 26th and Clarksville.
"We really want to be open to the community, members and nearby residents," said Lawrence. "We don't have a gate on the property," so no one will be denied access, he added.
Nurse practitioners from Vanderbilt, who are particularly focused on the health needs of senior citizens, will have a presence in the Urban Housing Solutions complex. "This will be a great opportunity to work with Vanderbilt," Orr said.
The apartment complex, with a mix of services available at the community center and courtyard, "is like living in a village," Orr said.
This is especially important for seniors "to break down isolation as much as possible," by offering opportunities for social interaction as well as basic needs, said Haddock. "We're looking to serve the community holistically."