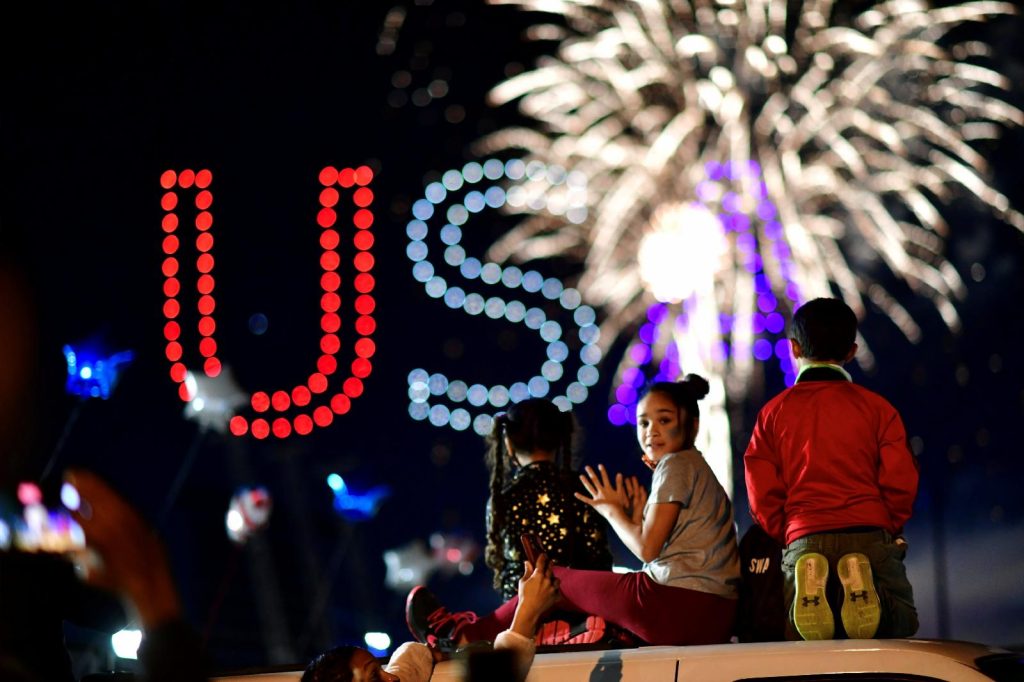 With more than 300 U.S. mass shootings recorded halfway into 2023, Americans looking forward to a patriotic Fourth of July holiday parade – or a summer spent outdoors – may instead find themselves feeling jittery and watchful.
While the shock of gun violence incidents across the country might seem to confound easy predictions, there are still precautions that can be taken in public situations and venues, experts told OSV News.
Deacon Greg Gitschier – who spent six years as a Louisville, Kentucky, police officer, 21 years in the U.S. Secret Service protecting six presidents, has safeguarded diplomats and VIPs worldwide, and is a police chaplain to five departments – is the author of "Sneakin' Deacon: From Secret Service to Sacred Service." Ordained in 2010, he is currently a deacon serving at Louisville's St. Patrick Catholic Church.
"Situational awareness is something that we were taught – whether as a police officer or a Secret Service agent – and that's just to be aware of your surroundings," said Deacon Gitschier. "Whether you're at a Fourth of July picnic, or a parade, or at the mall, or at a kid's ballgame – we no longer live in Mayberry, where we never had these concerns. So now you have to be aware of what is going on around you."
"The next thing," Deacon Gitschier advised, "is 'what if.' What if something happens? What if there are gunshots? What if there are people screaming and panicking and running in one direction? What if there was an explosion, or fire, or whatever?"
He proposes planning ahead: "How would I get out of this situation? If I have my spouse, or if I have kids or grandchildren with me – what would I do? Is there an exit strategy? Are there doors, or gates, or stairwells, or do I need to look for cover – hide momentarily – during this situation, or hide as long as you have to, to survive."
A final consideration, Deacon Gitschier said, is "what are my options? Should I run? Should I hide? And the last thing I teach is – if you have to – fight."
He also suggests taking a picture of your group before going to an event, in case of separation. Children too young to have a cell phone can be given an AirTag tracking device.
"Be very much aware of the crowd, and what's going on," Deacon Gitschier suggested. In case of a crowd surge, "Keep moving with the crowd, and try to work your way to the outside of the crowd – keeping your hands in front of you to give yourself space, so you're not crushed," he said.
Phil Andrew – former director of Violence Prevention Initiatives for the Archdiocese of Chicago and current principal of the Pax Group LLC, a security, crisis and conflict consultancy – agrees with Deacon Gitschier.
"Just taking a few moments to think through a plan for the specific environment and communicate with others can help a lot in the initial confusion and chaos that accompanies an attack," Andrew said. "Open public events have proven hard to defend from a planned attack with a high-capacity assault-style weapon, even with law enforcement and security presence."
He said, "In the event of an attack, the ability to find cover and create distance quickly is critical – so having a plan, knowing escape routes with safe places to shelter, and the mindset to defend yourself and help the injured is critical."
Andrew is a trained lawyer who has 21 years of experience as a special agent with the FBI and he received the U.S. House of Representatives Award for Outstanding Courage and Heroism. He's also a survivor of the 1988 Winnetka, Illinois, Hubbard Woods Elementary School shooting that killed Nicholas Corwin, age 8, and wounded five of his classmates. After fleeing the school, mentally disturbed shooter Laurie Dann took the Andrew family hostage – including 20-year-old Phil, home from college – and set a fire in their house before committing suicide.
"It's an unfortunate long-term failure in public policy that has created this untenable public safety risk," Andrew said. "It's important to put it into context. Mass shooting attack deaths represent less than 2 percent of all of the nearly 50,000 Americans killed by gun violence each year. Because nearly all of these attackers have predictable patterns of behavior, they are preventable – and prevention and preparation are the most effective measures."
In a 2018 survey, U.S. Catholic magazine reported that of 1,388 readers surveyed, 86 percent own a gun or know someone who does. Nonetheless, they were overwhelmingly concerned about gun violence: 88 percent said they worried about it on a regular basis, while 87% worried about the safety of schoolchildren.
Almost 30 years ago – in 1994 – the U.S. Conference of Catholic Bishops issued the pastoral message "Confronting a Culture of Violence: A Catholic Framework for Action." Its opening lines are a reminder of the persistence of American bloodshed: "Our families are torn by violence. Our communities are destroyed by violence. Our faith is tested by violence."
In 2022, the bishops again called for action – as they have several times since the 1994 message – sending a letter to the U.S. Congress that advised "a total ban on assault weapons and limitations on civilian access to high-capacity weapons and ammunition magazines."
A 2020 study in the journal Law and Human Behavior indicated that such measures could reduce the number of mass shooting victims by 38 percent, and lower injuries by as much as 77 percent.
Most recently, Cardinal Joseph W. Tobin of Newark, New Jersey, urged Americans to voluntarily refrain from unrestrained gun ownership for the sake of the common good. He also suggested prayer and advocacy.
In his May 26 newsletter, Cardinal Tobin observed that "today's news is dominated by senseless mass shootings that take the lives of innocent people, often the most vulnerable and unprotected. Gun violence," the cardinal wrote, "has become so prevalent that it risks becoming commonplace, and all of us are in danger of becoming indifferent to what is one of the most serious threats to our society."
For Marvin Sabido – operations director of Most Blessed Trinity Parish in Waukegan, Illinois – that threat became reality July 4, 2022.
A resident of Highland Park, Illinois, Sabido was serving the public as a police emergency responder volunteer, as he has for 15 years. When shots rang out roughly 15 minutes after the start of Highland Park's Independence Day parade, Sabido found himself only 30 feet away from the shooter, later identified as Robert Eugene Crimo III.
"That was evil that can never be comprehended," Sabido reflected in an April 2023 "Catholic Chicago" radio interview. "A lot of people did some extraordinary things … and I think because of that a lot less lives were lost."
Seven people were killed, and 48 others wounded. Crimo's motives were labeled a mystery.
Sabido's survival – and those he assisted – was undoubtedly aided by his safety training. Nonetheless, he did not emerge from the experience unscathed.
"I saw some things that human beings shouldn't see," said Sabido.