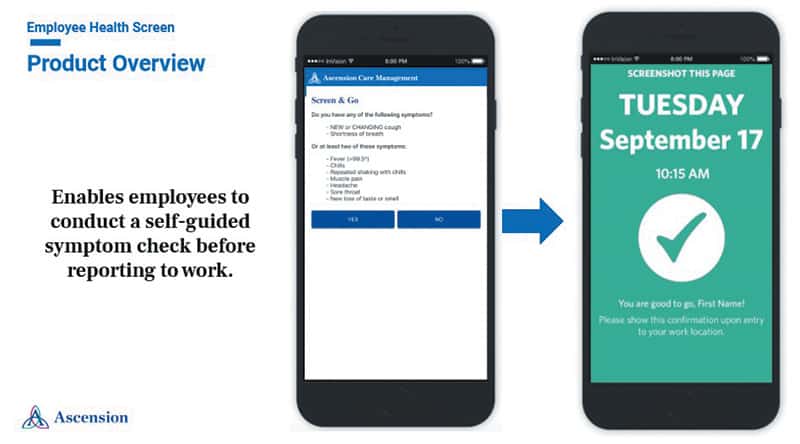 The offices at the Diocese of Nashville's Catholic Pastoral Center, which have been closed since March 23, will reopen on Monday, May 18. 
Diocesan leaders have been busy preparing the offices for staff to return safely, following protocols recommended by Gov. Bill Lee, the Tennessee Department of Health, the U.S. Centers for Disease Control and Prevention and the U.S. Occupational Health and Safety Administration.
To help ensure a healthy workplace, the diocese will be participating in the pilot phase of a new digital health screening product developed by Ascension Health, which allows employees to do an at-home daily self-assessment of their health.
"Screen & Go" has already been used by 50,000 Ascension Health employees nationwide "to empower our associates with a sense of security as they enter the workplace each day," according to officials with Ascension Health, the parent company of Saint Thomas Health in Nashville.
"We're really excited about this," said Julie Perrey, director of human resources for the diocese.
"We really appreciate Ascension offering this to us and allowing us to pilot it locally," she said. "This is really helpful to have our employees feel comfortable and confident about returning to the workplace."
The Catholic Pastoral Center is one of two Davidson County workplaces who are piloting Ascension's Screen & Go app.
Perrey learned about the "Screen & Go" app from her counterpart in the Archdiocese of Indianapolis, which has already been using it with success. The product is still only available on a limited piloting basis, but Ascension officials say they are "working swiftly to make the app more widely available as soon as possible."
Every workday, Catholic Pastoral Center employees will access the "Screen & Go" questionnaire online and answer a series of questions about their health, including if they have a fever, changing cough, shortness of breath, and if any family members have tested positive for COVID-19. If the employee answers "no" to all the questions, they will be electronically issued a color-coded badge for the day.
When they arrive on site, employees will have their temperature taken with a no-touch laser thermometer.
If the employee answers "yes" to any of the screening questions, or if they register a fever above 100.4, they will be asked to work from home or use sick leave. They may also be asked to seek medical attention and/or COVID-19 testing.
While in the building, employees are asked to wear a mask if they are in common spaces or meeting with other employees. They are also asked to maintain a 6-foot distance from others whenever possible in the building. Vigilant hand washing and sanitizing is also encouraged.
The Catholic Pastoral Center will be limiting visitors to the building as employees begin returning to work; employees are encouraged to utilize phone and video conferencing rather than in-person meetings. Visitors will be screened according to the Screen & Go protocols, and masks will be provided for them.
Some of Catholic Charities' essential services including the distribution of food boxes and other direct aid to people in need remained open during Nashville Mayor John Cooper's "Safer at Home" order and will continue to operate at the Catholic Pastoral Center.
During the "Safer at Home" period, when the Catholic Pastoral Center closed, diocesan employees were working from home. Perrey ensures that if employees are able to carry out their job duties from home and feel more comfortable staying home at his time, "it's absolutely an option to work from home," she said.
"For the employees who are ready to come back, they can do so," Perrey said. "A lot of folks are ready to come back and get some normalcy back.
"We feel that we are providing a safe working environment during an unknown time."