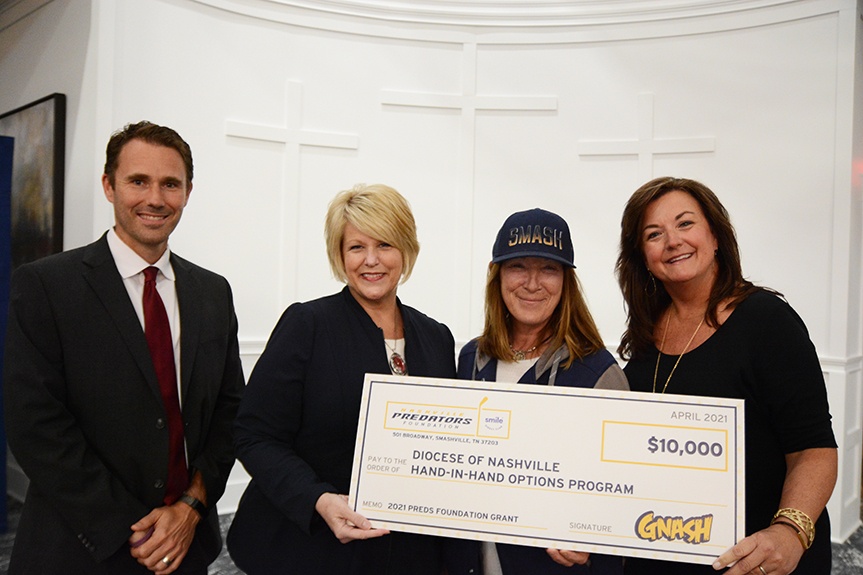 The Catholic Schools Office will use a $10,000 grant it received from the Nashville Predators Foundation to create a resource library teachers can use to help them provide services for students who need various levels of support.
The grant was provided for the Hand In Hand Options Program, which services children with intellectual and developmental disabilities. Three schools in the diocese have Hand In Hand Options programs: Pope John Paul II High School, St. Ann School and St. Matthew School.
"However, we have students with identified learning differences in all of our schools and are working very hard to provide the best support possible," said Kathy Boles, director of exceptional learners for the Diocese of Nashville Catholic Schools Office.
"Students learn in very different ways, and we are working to identify the needs of all of our learners," Boles said. According to the National Center for Learning Disabilities, one in five students has a learning difference and benefit from support, she noted.
"We're going to develop a resource library for our teachers to be able to access materials that they need to provide the best interventions for their students in the classroom," Boles said. The grant of $10,000 "is a great start to providing resources that will give teachers additional materials they need or to try materials they are interested in using before buying."
The library will be housed at the Catholic Pastoral Center in Nashville, and Boles plans to start purchasing resources with the grant money this summer. She has already been soliciting ideas from schools and learning specialists in the diocese about the types of resources needed so she can prioritize what to purchase first.
"We want this to be useful for the whole diocese," Boles said.
The resources will include items such as reading and math programs, tests, and other items that will be purchased and shared between all schools. "Having the funds to build this resource library will financially be an excellent way for schools to gain resources without incurring extra expenses," Boles said.
The diocesan Director of Development Ashley Linville helped the Catholic Schools Office apply for the Predators Foundation Grant. Paula Trujillo, director of the Scott Hamilton Skating Academy, visited the Catholic Pastoral Center to deliver the grant on behalf of the Predators Foundation.
The resource library will continue to grow, Boles said. "The Hand In Hand Options Board of Trust is working to identify resources in the community and beyond to benefit and support all students needing support in our Catholic schools," she said. "We will continue to raise funds to expand the selection of resources and provide professional development opportunities for all of our educators."
Anyone interested in supporting the resource library or students needing support in local Catholic schools should contact Boles at kathy.boles@dioceseofnashville.com.