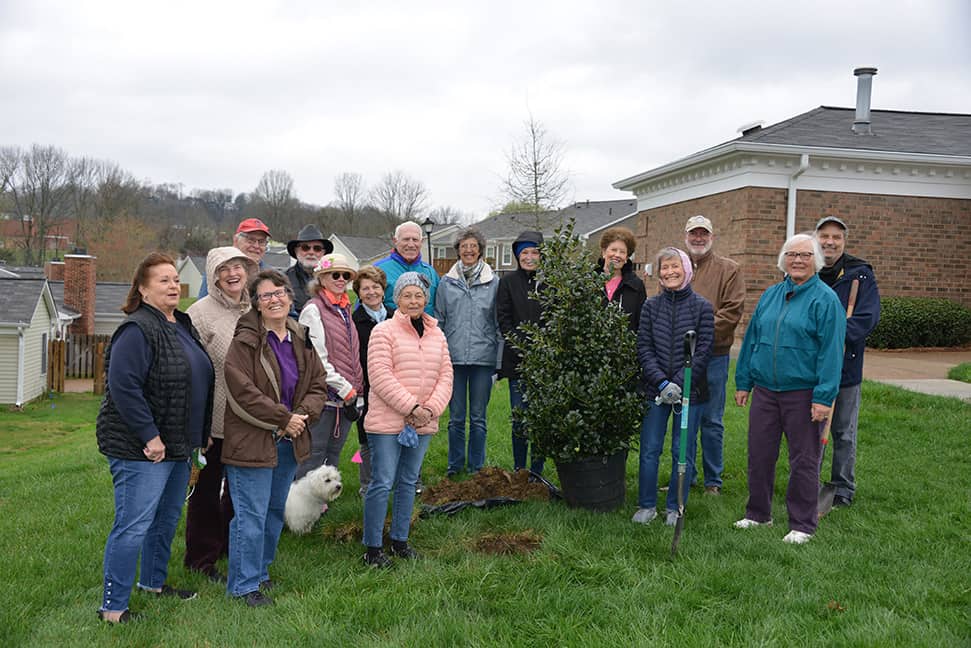 Residents of The Cloister at St. Henry, a community of Nashvillians 55 and older, are lifting their shovels to help re-leaf Nashville. On March 19, the eve of Tennessee Tree Day, the residents launched a five-year project to plant more than 100 trees in their community.
"Urban reforestation is part of a more universal goal to address climate change," said Bill Baker, the chair of The Cloister Tree Committee. "Tree planting programs are explicit, major goals among nations, states and localities, including Metro Nashville. Good citizenship and stewardship call for our Cloister community to do its part."
The Cloister Tree Project aims to plant 100 or more trees in the 240-residence community over the next several years. It is coordinating with Nashville Public Works horticulturist Jennifer Smith, The Nashville Tree Conservation Corps, The Nashville Tree Foundation, and Root Nashville Cumberland River Compact.
Baker said The Cloister project dovetails with local and state efforts. "We hope our work will inspire other communities to do the same," he said.
Over the last few years, the Metro region suffered extensive losses of its tree canopy from tornados, severe wind storms, flooding and even the Christmas Day bombing downtown that destroyed many of the trees in the entertainment district.
Re-leaf projects are underway across the Midstate, especially in hard-hit areas of North and East Nashville and Donelson. The efforts to restore the city's tree canopy — long a source of pride for Nashvillians — are part of a private and public partnership to improve Davidson County parks, such as Centennial, Warner and Shelby, as well as create new ones. Improving existing greenways and establishing new ones is also part of the greening of the Metro region.
The Cloister at St. Henry was built 40 years ago on land that was originally the farm of Henry and Emma Neuhoff. The rolling landscape had few trees at the time of construction of the village and has lost many over the years to storms and disease.
"It is important, particularly now, for all of us to pull together to help solve our existential climate problem," Baker said. "Trees are the lungs of our communities and our planet. They breathe in carbon dioxide and breathe out oxygen and water."
Tony Spence, a spokesperson for The Cloister project, said that the plantings will be in the community's common spaces, and project members are encouraging residents to plant additional trees in their individual lawns and gardens. The Project also has a Legacy Tree component, coordinated by Charles and Ann Riddle, in which residents can fund and support new trees in memory of people important in their lives.
The five-year project will focus on both canopy trees, such as maple, oak, ginkgo and holly, and understory trees, such as redbud, dogwood, and flowering crab and non-bearing fruit trees. Planners are considering other Southern trees as well.
Kim Shin, a member of the project and an environmental engineer, is working on a satellite photo time sequencing of the new trees as a chronicle of the project's success.
Spence said that residents have responded enthusiastically to the project, and it has spurred discussion of other projects to transform The Cloister landscape.
"The Cloister residents already are very engaged in their living environment, so it has been a happy situation to have their support for the Tree Project," he said.
"A rise and renaissance of The Cloister's trees will enhance the beauty of our community and improve the health and quality of our lives." Baker said. "It is our small step to better stewardship of God's creation."