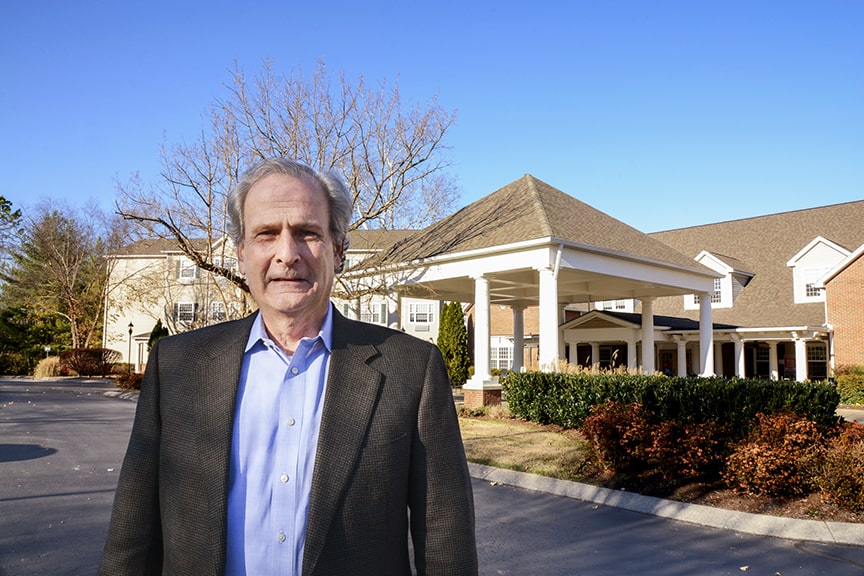 David Glascoe followed his drive to serve others to the Diocese of Nashville. After more than 40 years of serving refugees, working families, and the elderly, he will retire at the end of December.
"I was always drawn to the helping professions," said Glascoe, who is the chief executive officer of Mary, Queen of Angels Assisted Living Facility. "I felt like I would find my way to helping make the world a better place. But I had no idea I would be drawn into the management side of it."
Throughout his career with the diocese, Glascoe has held a variety of administrative positions, including running the diocesan refugee resettlement program, the St. Mary Villa Child Development Center, Villa Maria Manor, the St. Henry Property Development Corporation, and Mary, Queen of Angels.
"I initially thought (the passion to serve others) would lead me to help one person at a time. As time went on it became clear that what gifts I had should be used to manage on a larger scale and help a larger group of people at the same time," Glascoe said.
"It's clear that you're given gifts. You've got to be able to discern what those gifts are. Mine were managing and … making things work for people," Glascoe said. "I realized I had a knack for it, and that this was the way I was to make a contribution. And I've enjoyed that."
"Special thanks go to David for his leadership and grace, insight and wisdom throughout his years of servant leadership to the diocese," Brian Cooper, the chancellor and chief operating officer of the diocese, said in a letter announcing Glascoe's retirement and the hiring of Richard Borofski as the new chief executive officer of Mary, Queen of Angels and Villa Maria Manor.
A passion for helping
Glascoe grew up in Cincinnati, Ohio, and it was there that he first developed an interest in serving others.
"It came from an experience I had in high school," Glascoe said. "I did volunteer work and eventually worked in the summer in a facility that really doesn't exist anymore, a residential treatment facility for people with developmental delays and mental illnesses."
"That made it clear to me that by hook or by crook I had a passion for helping people," he added.
After graduating from Kenyon College in Ohio with a degree in philosophy, Glascoe came to Nashville where he earned a master's degree in educational psychology at Vanderbilt University.
He worked for a short time with the Tennessee Department of Corrections when a position with the diocese's refugee resettlement program became open in 1980.
"I was very interested in the plight of Southeast Asian refugees," who at the time made up the bulk of the refugees the program was helping to resettle, Glascoe said. "This opportunity came my way, so I was attracted to do that."
Early in that job, Glascoe split his time between some management responsibilities and being directly involved in resettling refugees. But after a year or so, he was named the director of the program.
"Rarely have I had just one job working for the diocese," Glascoe said.
After about five years running the refugee resettlement program, he took on the responsibility of managing St. Mary Villa, the diocese's childcare program. "I did both for a while, then we had the change to expand that program," Glascoe said.
"We were able to grow that agency quite a bit," Glascoe said, and with the growth of the child care program, he gave up responsibility for refugee resettlement. He ran St. Mary Villa from 1986 to 1998.
About 1990, he started managing Villa Maria Manor, which provides affordable independent living for the elderly through the U.S. Department of Housing and Urban Development's Section 8 housing program.
In 1995, Glascoe added to his duties managing the St. Henry Property Development Corporation, which had earlier developed the Cloisters condominiums and the West Meade Place nursing home behind St. Henry Church on Harding Road in Nashville. The corporation does not operate West Meade Place but only serves as a landlord, Glascoe explained.
In 1998, "since I still had the Manor responsibility and St. Henry Property responsibility, I left my responsibility with childcare so I could concentrate my time on senior living in the diocese," Glascoe said.
A need for assisted living care
It was through his involvement with senior living programs that "I imagined this thing called Mary, Queen of Angels," Glascoe said. "It became clear the community needed an affordable option for assisted living care," which provides more services than independent living facilities like Villa Maria Manor. but a lower level of care than a nursing home, he said.
"We talked to Bishop (Edward) Kmiec about that for several years," Glascoe said of the former Bishop of Nashville, who eventually gave the go-ahead for the project, which opened on White Bridge Road in 2001.
"We were able to develop the property without taking on a lot of debt," Glascoe said, in large part because the diocese already owned the land. The savings from a smaller debt in building the facility has been passed along to the residents in the form of lower rents and a modified sliding fee model, he explained.
"Some pay the market rate and some pay half the market rate," Glascoe said of the residents at the facility. "It all depends on their ability to pay."
Villa Maria Manor, with 214 apartments, and Mary, Queen of Angels, with 98 apartments, "have both been very successful," Glascoe said. But the past 10 months have been among the most challenging in his career as both facilities have worked hard during the COVID-19 pandemic to keep safe their residents, who are among the most vulnerable to the virus.
"We established very rigorous safety protocols," Glascoe said, and administered significant restrictions on people moving in and out of the building. That has included restricting the activities of residents and visits from their families, Glascoe said.
"We've tried to maintain a connection between residents and families using technology and outdoor visitations," Glascoe said. "It's hard on them, it's hard on their families, and frankly it's hard on the people charged with their care. … It's a tough deal right now."
'A wonderful opportunity'
Besides his official duties, Glascoe has served the diocese in other ways as well. He's on the board of trustees for Father Ryan High School and is a former board member of St. Bernard Academy.
"I'm a total believer in Catholic education," said Glascoe, whose son Austin graduated from St. Bernard and Father Ryan and daughter Olivia graduated from St. Bernard and St. Cecilia Academy. "I try to be an advocate of Catholic education. … We feel those experiences have been wonderful for our kids."
Glascoe has also served on the diocese Finance Board and Properties Board, among his other activities.
He has no big plans for his retirement. "I want to take some time for myself, take some time to decompress a little bit," Glascoe said. "I'll continue to volunteer on the boards that I serve. Three or six months from now we'll take another look at where we are."
He does hope he and his wife, Tracy, who are parishioners at St. Henry Church in Nashville, will be able to travel more after he is retired. "I want to spend more time with my kids, neither of whom live in Nashville."
"I haven't had a lot of extra time in the last 10 months to think about it," Glascoe said. "We've been laser focused on keeping people safe."
The 40 years Glascoe has worked for the diocese has given him a wide variety of opportunities to serve, he said. "Every opportunity to serve whether it was refugees, working families or seniors have brought their own special rewards. I feel good about all of them."
"I've been privileged to work with the professionals I've been fortunate to work with," he said. "They are really the ones who deserve the credit wherever there is credit."
"I've found working for the diocese has provided me diverse and interesting opportunities to serve people. I'm grateful for that," Glascoe said. "It's been a wonderful opportunity to serve in different ways."