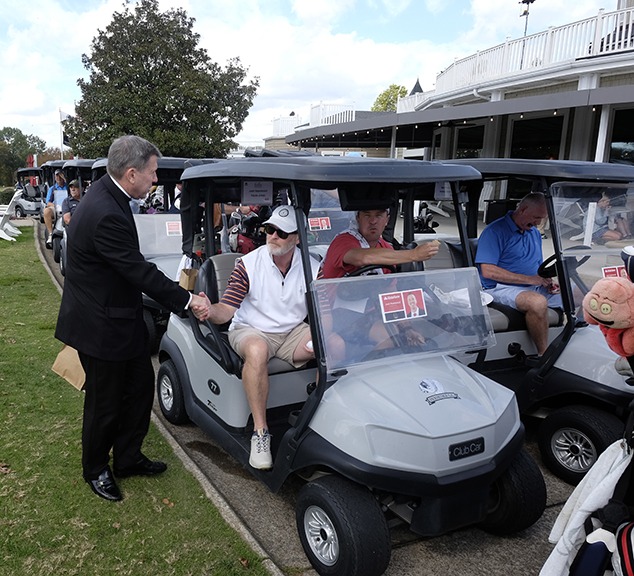 A host of golfers enjoyed a day of sunshine on the Hermitage Golf Course while playing in the second annual HIHO Classic golf tournament to benefit the Hand In Hand Options program on Thursday, Oct. 26.
"Thank you to everyone who came out to enjoy the day for a good cause," said Pam Eatman, interim executive director of exceptional learners for the Catholic Schools Office. "We had an incredible turnout."
Through the Hand In Hand Options program, students with intellectual disabilities can benefit from an inclusive, high-quality, Catholic education, Eatman said.
Four schools in the Diocese of Nashville have implemented the program: Pope John Paul II Preparatory School in Hendersonville, St. Ann and St. Henry in Nashville, and St. Matthew in Franklin. The Catholic Schools Office, through the program, also provides all the schools in the diocese resources to help educate all students with learning differences.
"The proceeds from the Classic will allow us to provide much-needed resources to serve all of our students," Eatman said.
Those who were unable to participate in the Classic but would still like to support the program can make a donation at dioceseofnashville.com/hiho/.
The presenting sponsor was Pinnacle Financial Partners. Other sponsors included: Ingram Express Services; Knights of Columbus Council 9282 and KIND Charities of Tennessee; Christ the King Church; Josh Hazlewood State Farm Insurance; Good People Roofing and Restoration; Kroeger Real Estate Co.; St. Patrick Church; Knights of Columbus Schachle Agency; Ironsmith Fire; IKON Construction; Pope John Paul II Preparatory School; Warner Partners, LP; Dr. Paul Heil and Old Harding Pediatric Associates; Meridian Law, PLLC; Father Ryan High School; Gavigan Family in Memory of Mollie Gavigan; Holy Family Church; Diocese of Nashville; Burgundy Group; Cathedral of the Incarnation; Wilson Realty Group; Barber Cabinets; Miracle Ford; Dr. Carolyn and Clark Baker; Epice Restaurant, Lola Restaurant, O'Reilly's Amish Furniture; Tennessee Titans; Nashville Predators; and Todd and Lindsey Burriello.