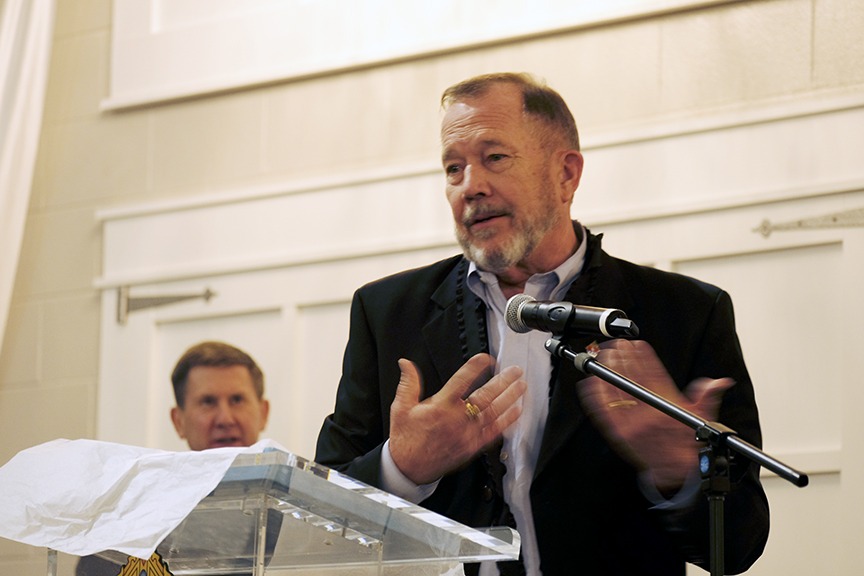 After 23 years of service to the Diocese of Nashville, Deacon Hans Toecker, director of clergy and pastoral support, gave his final farewell as he heads into retirement on Friday, Nov. 10.
To honor him, a reception, which was attended by dozens of priests, deacons, and laity, as well as Deacon Toecker's family, was held on Tuesday, Nov. 7, in Bishops Hall at the Catholic Pastoral Center.
"In Hans's time here with the diocese, he's helped everything mature, and he adds a great deal of institutional memory," said Most Reverend Bishop J. Mark Spalding, Bishop of Nashville, during the reception. "In many ways, Hans is part of the great history of this diocese, and he's given of his time and talent and all hours here to bring us, in so many ways, to where we are now.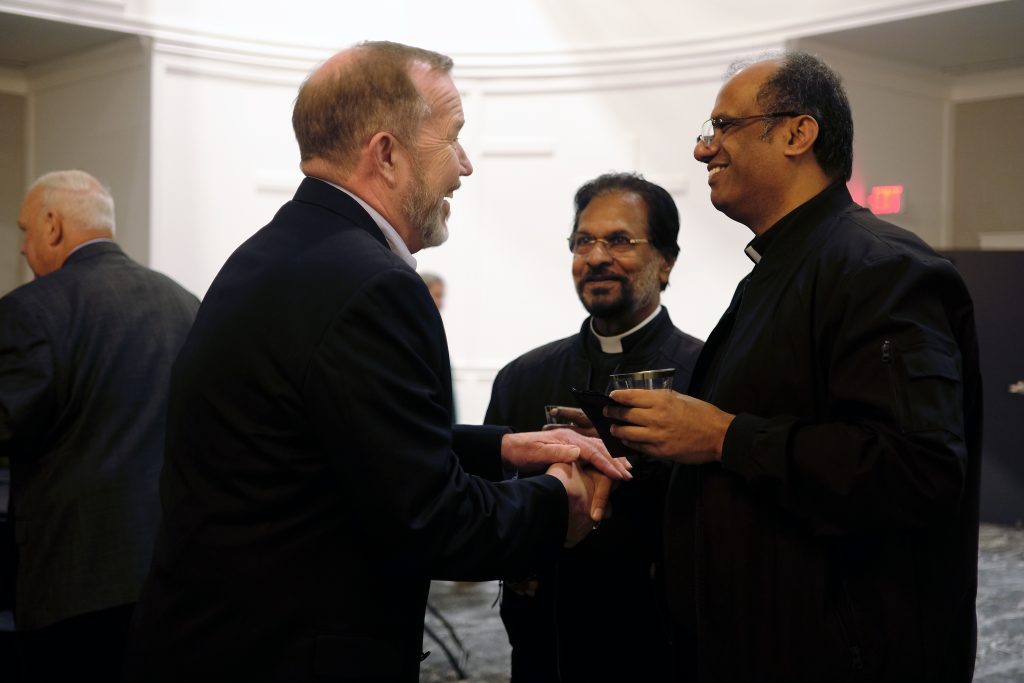 "When you look around the diocese as a whole, you see a lot of things Hans was a part of, whether out front or behind the scenes," the bishop continued. "He truly has been a person that dealt with people on various levels and in various ways."
Over the years, those various levels and ways have not only included as a deacon of St. Stephen Church in Old Hickory, following his ordination by Most Reverend Edward Kmiec, 10th Bishop of Nashville, on May 14, 1999, but also as chancellor of the diocese, the safe environment program coordinator, victims assistance coordinator, director of Catholic Relief Services, and more before taking on his current role in 2020.
Through all his roles, one thing has been clear: "Problem solving," Deacon Toecker said, noting his past experience with this throughout his 14 years as an active-duty Army officer and six years in the Army Reserves. "It's dynamic. It's changeable all the time, and it's very rewarding because, most of the time, you don't see the end result until the problem is solved, but you put into place a plan that just might help."
Father John Hammond, vicar general and judicial vicar for the Diocese of Nashville, had another word for it – fixer.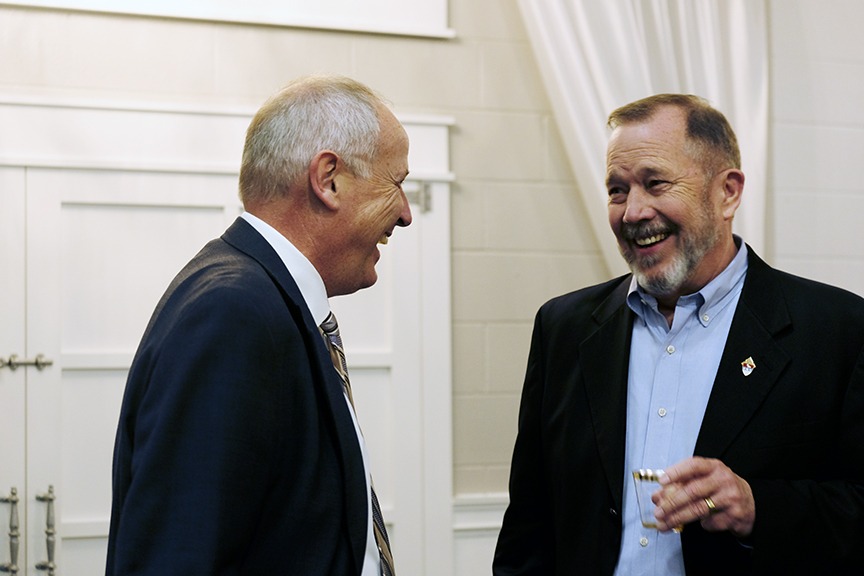 "People say that Hans is a 'fixer,' and he certainly is good at thinking through how to address complex issues that need to be worked on, but that term is too technocratic to describe who Hans is," Father Hammond said during his remarks at the reception. "Within the context of exceptional wisdom and technical competence, he is a pastoral minister, a Christian disciple, and a caregiver to those in need. And sometimes at a great personal cost.
"Just as his patron St. Stephen the Martyr found out, eventually, if you follow Christ closely enough, you are given the gate: sacrifice even to the point of death to self," he said. "St. Stephen's Gate: the greatest lesson you've taught me. I can honestly say that no single person has taught me more about what it means to be a minister of the Gospel, a giver of pastoral care, and a servant of the Church."
Deacon Toecker continued this example despite struggles, including serious health scares, Father Hammond noted. "I have had the honor of seeing close-up this life of heartfelt service to the entire diocese," he said. "Day in and day out, nights and weekends, even from his hospital bed. And always with calm, such calm and poise, and such gentle care and dignity for persons."
It's his role as deacon, which often means working behind-the-scenes that kept this mindset alive in his various employment positions, Deacon Toecker said.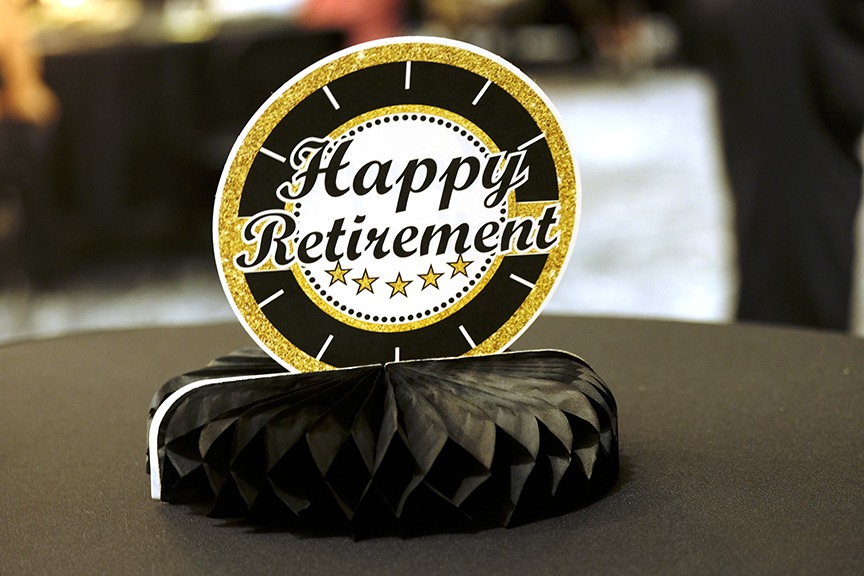 "I never claimed to be an administrator, although I had to do a lot of administrative things. I never really claimed to be a manager, even though I did a lot of managerial things," Deacon Toecker said. "What I did find was that Christ loves me, permitting me and those like me and their spouses and those who tirelessly serve the Church, the grace to serve one another.
"Thank you for all your encouragement throughout the years because, without your encouragement and prayers, 23 years working in the diocese is not common, and it's been a pleasure," he added. "It's all good."
Finally, looking around at the guests in attendance, he concluded, "Part of who we are as a Christian people are people who love Christ, love the Eucharist, love people, and I see that in every person here tonight. In public speaking, you're not supposed to say thank you, but I'm going to say thank you, thank you, thank you for you."
As remarks came to a close, Bishop Spalding added one more thought, as he gave an analogy of how love becomes truer between a man and a woman when they still love after the flaws and shortcomings are revealed.
"Hans knows this diocese as wide and as deep as anybody, and he still loves, and that's the wonderful relationship," Bishop Spalding said. "That's something that gives you hope in whatever vocation you have and so, Hans, just know that I see your love for us, I've experienced it, and I thank God for it.
"We're going to continue in a different way, but I thank you in the name of everybody and those who preceded me," he concluded. "Thank you for being a great example of what a true deacon is in the Church of service and humble in the ways of that service, too, so in the name of us all, we love you, we appreciate you, and we want God to always be with you and bless you every day of your retirement."
Deacon Toecker will continue his services as a deacon at St. Stephen, but he said now's the time to enjoy life with his family, while perhaps taking up some old hobbies like kayaking and artistry, simply "because I'm alive."