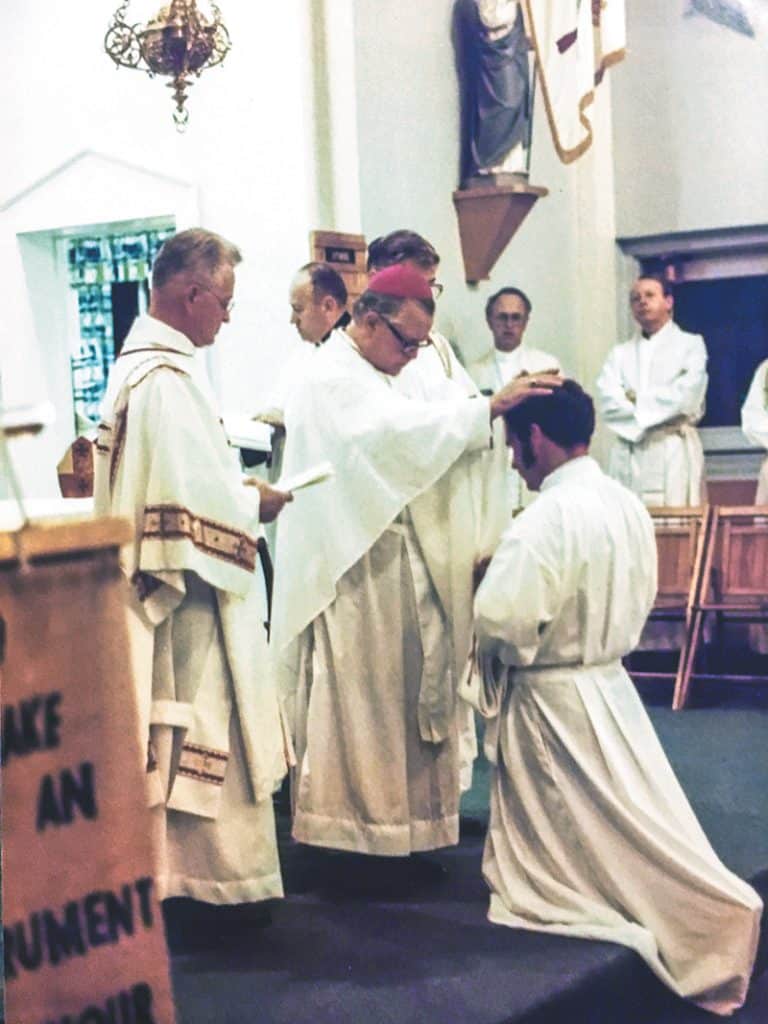 Long before Sam Beckman was ordained as a permanent deacon, he was a constant presence at Sacred Heart Church in Loretto and St. Joseph Church in St. Joseph.
"He helped at the church all the time," recalled his wife Joyce. But he wanted to do more, which led him to the diaconate. "He wanted to become a deacon so he could serve God, the Church and the community a lot better," said Mrs. Beckman.
Deacon Beckman, 81, died on Thursday, Sept. 17, 2020, from complications of Parkinson's Disease.
Visitation will be 6-8 p.m. Friday, Oct. 9, including a prayer service at 7:30 p.m., at Loretto Memorial Chapel. The funeral Mass will be at 11 a.m. Saturday, Oct. 10, at Sacred Heart Church in Loretto.
Deacon Beckman was born in Loretto, one of 14 children of Conrad and Teresa Neidert Beckman, and lived in the small Lawrence County town for all of his life, except for his service in the U.S. Navy from 1957 to 1960.
"I remember him as always being happy," recalled his younger sister Dianne McMasters. "He was always making us laugh."
The Beckman and Neidert families were among the first German Catholics who settled in Lawrence County in the 1870s and established several Catholic parishes, including Sacred Heart in Loretto and St. Joseph in St. Joseph. And the Catholic faith remained important to Deacon Beckman's family.
"We went to church whenever the doors were open," Mrs. McMasters said. "It was just a part of our lives. A big part of our lives."
"Our mom had a huge influence on Sam and all the kids" in developing their faith, Mrs. McMasters said. "She raised the 14 of us with very little money, very little support. Her faith is what got her through. She was an amazing, amazing woman."
Deacon Beckman married Joyce Kerstiens on Aug. 20, 1960, after leaving the Navy, and they raised six children together. "Before he went to the Navy, I can remember Sam being crazy in love with his future wife, Joyce," Mrs. McMasters said.
He followed in the footsteps of his father and brothers and became a carpenter, building homes throughout Lawrence County in the family business. He passed along his carpentry skills to his three sons as well.
"He was easy going, quiet," Mrs. Beckman said. "Everybody respected him. Everybody knew him."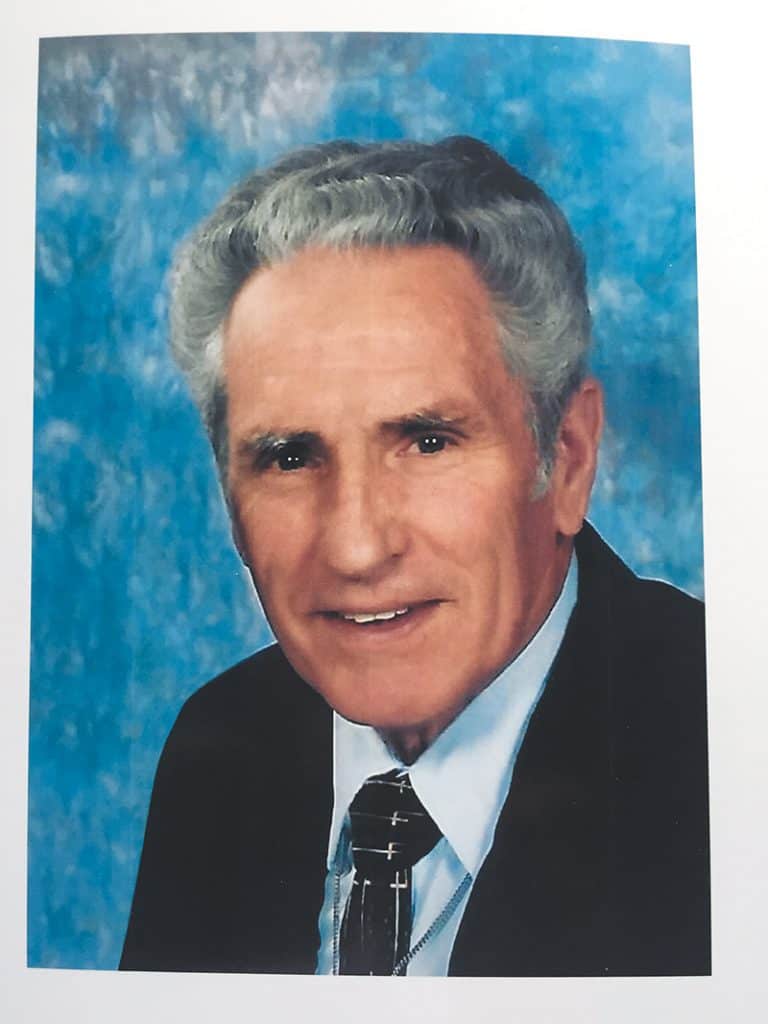 "He was a man of integrity," whom people came to for advice, added his son David Beckman.
His Catholic faith remained an important part of his life and led him to the deacon formation program for the Diocese of Nashville.
For three years, he made the weekly trip from Loretto to Nashville to attend classes, said Mrs. Beckman. "After he worked all day, he would go to Nashville, get home about 12 or 12:30. Then get up the next morning and go to work," she said.
"When Sam decided to study for the diaconate we were all so proud, especially our mother, she was just bursting with pride," Mrs. McMasters said. "Mom had always prayed to have a priest in the family. She was not disappointed at all that we had a permanent deacon in the family."
Deacon Beckman was ordained on Dec. 7, 1980, at Sacred Heart Church in Loretto by Bishop James Niedergeses, another Lawrence County native. "It's been just about 40 years," Mrs. Beckman said.
The rest of the class had been ordained the day before at the Cathedral of the Incarnation in Nashville, but Bishop Niedergeses allowed Deacon Beckman to be ordained at his home parish where his many relatives and friends could be on hand to witness it, Mrs. Beckman said.
Deacon Beckman was the first and only deacon assigned to Sacred Heart in Loretto and St. Joseph, said his daughter Brenda Burks.
He took on the responsibilities of a deacon with relish, presiding at baptisms, weddings, and funerals, conducting marriage preparation classes, Communion services, delivering Communion to the sick, setting up the church up for Mass, leading the Stations of the Cross during Lent, teaching teen religious classes, directing the RCIA program, training altar servers, and saying the blessing for meals at church functions and family gatherings.
"He liked going to the nursing homes and taking communion, just serving the community," Mrs. Beckman said. "He liked all of it."
He could even be found removing snow and ice from the church steps before Mass during the winter, she said. "No job was too big or small for him."
"We saw him many hours sitting at his desk getting ready for his homilies," said Mrs. Burks. "His sermons were a lot about forgiving others and loving each other."
"He liked doing homilies," said his daughter Ramona Milam. "He didn't just like doing homilies, he had a passion for it. He had a passion for everything he did."
"He was a good shepherd of the people and a man of the people," said Father Kevin Dowling, who served with Deacon Beckman when he was pastor of Sacred Heart and St. Joseph in the late 1980s. "The word service was right up his alley. He took it seriously and incardinated his life to it."
Deacon Beckman's prayer life was an inspiration to his family, said his son David, who learned to pray the Divine Office daily from his father. "He was the main inspiration supporting that," he said.
"All of my brothers and sisters are following his example of serving God and the Church, his example and Mama's too," Ms. Milam said.
Deacon Beckman was a humble man who didn't want recognition for all that he did for the parish and the community, said his son Philip Beckman.
Deacon Beckman was able to balance his responsibilities as a deacon with his family life, Father Dowling said.
"The well of spirituality he drew from was enough to provide for both in a wonderful way," Father Dowling said. "He was very well schooled in Christianity. Well prepared for the
diaconate. But he also had it in his bones too. His nature was that natural Christian spirit already."
Deacon Beckman also was a member of the Knights of Columbus and Lawrence County Right to Life.
He was preceded in death by his parents, Conrad and Teresa Neidert Beckman, his brother Al Beckman and his siser Roseann Carl.
Survivors include his wife, Joyce Kerstiens Beckman of Loretto; three sons, David Beckman of St. Joseph, Tennessee, Philip (Robin) Beckman of Loretto, and Matt (Jamie) Beckman of Westpoint, Tennessee; three daughters, Debbie (Reggie) Newton of Mt. Juliet, Tennessee, Brenda (Shayne) Burks of Loretto and Ramona Milam of Loretto; brothers William Beckman, Henry Beckman, Donald Beckman, Lloyd Beckman, Joseph Beckman, Richard Beckman and Wallace Beckman; sisters Lois Janke, Noreen Sandy, Dianne McMasters and Mary White; 12 grandchildren; and 17 great-grandchildren.
The Loretto Memorial Chapel was in charge of arrangements.