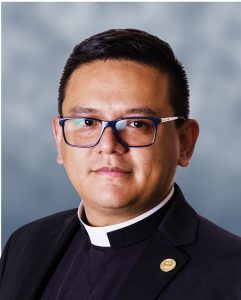 Since finishing his seminary studies at Notre Dame Seminary in New Orleans in April, Deacon Javier Suarez has been living in a sort of limbo waiting for his ordination as a priest on Saturday, Aug. 15, at the Cathedral of the Incarnation.
Deacon Suarez's first assignment after his ordination will be as Associate Pastor at Immaculate Conception Church in Clarksville. He's already moved to Clarksville, but his hands are "kind of tied" as he awaits his ordination, he said.
"They need me, but I have to wait until I get ordained," Deacon Suarez said. "What I'm waiting for is being with people. I can't wait to do more for them. Accompany those who are starting their life of faith, and helping people learning more about their faith, and helping others in their last moments of their life."
The COVID-19 pandemic forced the rescheduling of the ordination of Deacons Suarez and Juan Carlos Garcia from May to August. But Deacon Suarez has been waiting for his ordination since he first felt the call to the priesthood in his native Colombia in 2006.
At the time, he was 19 years old and working in his family's jewelry store in Bogota. He was Catholic, "but not really practicing," he said.
A friend asked Deacon Suarez to accompany him on a visit to a seminary in Colombia. "I went with him and I liked it," he said. "I felt peace. I felt the presence of God. That was something I never felt before."
He enrolled at the seminary and was there for two years before a knee injury while playing soccer forced him to go home, where he stayed for two more years. "I was thinking to come back," but unsure when, he said.
Then he met a priest from Atlanta who invited him to become a seminarian for the Archdiocese of Atlanta.
He started his studies as a seminarian for Atlanta in 2010 at the Pontifical College Josephinum in Columbus, Ohio, where a large group of seminarians from Nashville was also studying. "A couple of them were my classmates there," including Fathers Anthony Stewart and Rick Childress, he said.
After graduating from the Josephinum, he began his studies in graduate theology at Notre Dame Seminary. But he left in 2016.
"I was thinking about my future," Deacon Suarez said. "I kept feeling that call to the priesthood, but I knew I needed some time at home to really think about it. I wanted to be sure that I wanted to spend the rest of my life doing this."
That's when he started talking to Father Austin Gilstrap, the director of vocations for the Diocese of Nashville. The two had first met when both were studying at the Josephinum.
The conversations centered around how important it was for Deacon Suarez to continue to discern his vocation, and the gifts he could bring to Nashville as a priest who can speak both English and Spanish.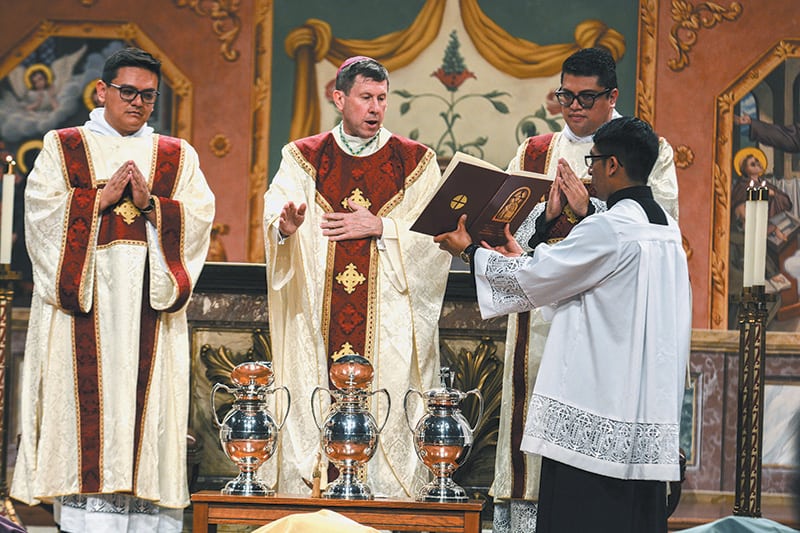 In 2018, Deacon Suarez made the move to the Diocese of Nashville, and he was assigned to Our Lady of the Lake Church in Hendersonville to do a pastoral year.
"They thought that would be a good place for me to start meeting the people of the diocese and start falling in love with the people I was going to be working with," Deacon Suarez said.
He learned a lot from the priests at Our Lady of the Lake, Father Eric Fowlkes and Father Thomas Kalam, C.M.I.
"They were very good leaders. They were really good preachers. They really love what they do," Deacon Suarez said. "From them I saw what I wanted to be, a good pastor, someone who spends their life in the priesthood and is happy."
Deacon Suarez returned to Notre Dame in the fall of 2018 to complete his seminary studies. After his ordination as a transitional deacon in April 2019, he spent the next summer working with the diocesan Hispanic Ministry.
"That was amazing," he said. He stayed busy traveling to the parishes the ministry supports, teaching in the religious education classes. "I baptized hundreds of babies, I don't even know how many," he said.
"It was beautiful. That assignment gave me the opportunity to see the whole diocese, to travel around the diocese and see the differences that every parish has," Deacon Suarez said. "Even with the diversity we have in Nashville, we're just like one family."
Deacon Suarez is now eagerly awaiting his ordination on Aug. 15. He will celebrate his first Mass that same day at 5 p.m. at Our Lady of the Lake Church in Hendersonville, with Father Mark Simpson as the homilist.
Then the newly ordained Father Suarez will get to work at Immaculate Conception.
"It's going to be a big challenge," he said, noting that the two associate pastors that had been at Immaculate Conception have left for new assignments and he will be the only associate serving with the pastor, Father Jacob Dio, M.S.F.S.
"He's a wonderful priest and he has a lot of experience," Deacon Suarez said. "With his help and guidance, I will not replace two priests, but empty myself for the parish ministry so together we can keep working for the people of Immaculate Conception here in Clarksville."
Editor's Note: Deacon Juan Carlos Garcia and Deacon Javier Suarez will be ordained to the priesthood on Saturday, August 15 at 10 a.m. at Cathedral of the Incarnation. Due to precautions in place to prevent the spread of COVID-19, this is an invitation-only, ticketed event. It will be livestreamed at the Diocese of Nashville's Facebook page, or listen on 100.5FM or at WBOU.org.