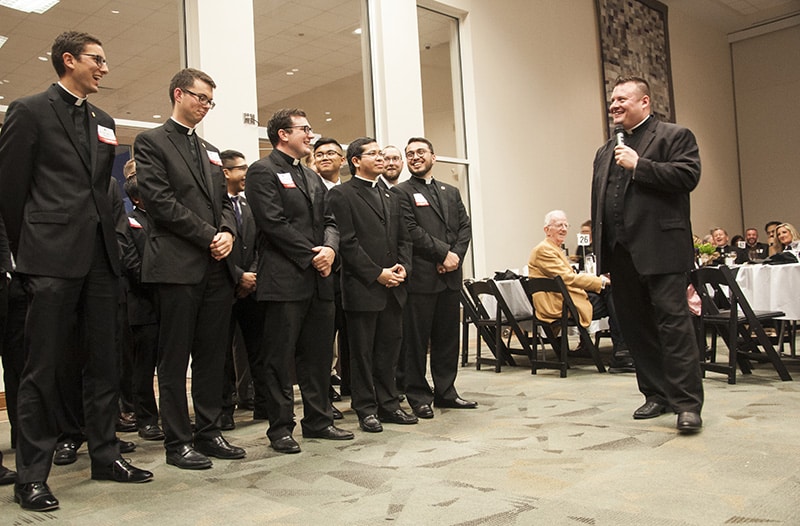 A dinner with Tennessee Titans Head Coach Mike Vrabel and his wife Jen and Bishop J. Mark Spalding will be one of the items highlighting the online auction for the Seminarian Education Mass, Event and Auction this year.
The annual fundraiser to help pay the cost of the education and formation of the future priests of the diocese will be an online event this year because of the restrictions on large gatherings during the COVID-19 pandemic. But the event, which will be held on Tuesday, July 28, will still feature the always popular auction.
Besides the dinner with the bishop and the Vrabels, other auction items this year will include:
• An alabaster Nativity set from St. Mary's Bookstore.
• A round for four at the Tennessee Grasslands Golf Club in Gallatin.
• Vacation at a house in Gulf Shores, Alabama, with five bedrooms and three baths.
• Bourbon tasting for eight people with Father John Hammond, judicial vicar and vicar general of the diocese and pastor of St. Patrick Church in Nashville, and Father Andrew Forsythe, chaplain at Pope John Paul II High School.
• A Brazilian dinner prepared by Father Gervan Menezes, the chaplain at University Catholic and a native of Brazil.
• Artwork by Nashville artist Phil Ponder, a parishioner at St. Stephen Church in Old Hickory.
• Gift certificate from Morris Orthodontics in Hendersonville.
• A dinner featuring wild game with Father Eric Fowlkes, the pastor of Our Lady of the Lake Church in Hendersonville who will begin a new assignment as pastor of the Cathedral of the Incarnation on July 27.
• Four Club Level seats for a Tennessee Titans game.
• An Italian barbecue dinner with Father Rhodes Bolster.
• A hamburger cookout with Deacon Javier Suarez, who will be ordained as a priest on Aug. 15.
• A handmade quilt.
A complete list of the auction items will be available at the event website, www.dioceseofnashville.com/SEDA, said Ashley Linville, stewardship director for the diocese.
The online auction will open at 6 p.m. July 22.
The 11th annual Virtual Seminarian Education Mass, Auction and Event will again be hosted by Bishop Spalding and sponsored by the Serra Clubs of Williamson County and Nashville and the Knights of Columbus.
The evening will begin with a livestreamed Mass at 6 p.m. immediately followed by the event, which will include videotaped presentations from Bishop Spalding, Deacon Javier Suarez, and several other priests and seminarians.
"Everything combined should be about an hour," Linville said.
People will be able to visit www.dioceseofnashville.com/SEDA to access the event, make a donation to support the education of the diocese's seminarians, or bid on an auction item. "Everything will be housed on that website," Linville said.
Sponsorship opportunities also are available online at the event website. Sponsorship levels include: Presenting Sponsor, $25,000 and above; Platinum Sponsor, $10,000 to $24,999; Gold Sponsor, $5,000 to $9,999; Silver Sponsor, $2,500 to $4,999; and Supporting Sponsor, $1,000 to $2,499.
So far, this year's sponsors include: Marina Manor East; Mary Queen of Angels Assisted Living Facility; Villa Maria Manor; St. Henry Property Development; Catholic Community Investment and Loan, Inc.; Wood Personnel Service; Carter Group; Taylor, Pigue, Marchetti and Blair Law Firm; Steier Group; Miracle Ford; Miracle Jeep/Eagle; Knights of Columbus Insurance; Athens Distributing; Prenger Solutions; Father Ryan High School; Pope John Paul II High School; and WBOU Radio.
In 2019, the Seminarian Education Dinner and Auction raised $325,000 for seminarian education, which costs the diocese a total of about $1.4 million a year.
For more information, visit www.dioceseofnashville.com/SEDA or contact Linville at 615-645-9768 or ashley.linville@dioceseofnashville.com or Anna Beth Godfrey at 615-783-0775 or annabeth.godfrey@dioceseofnashville.com.