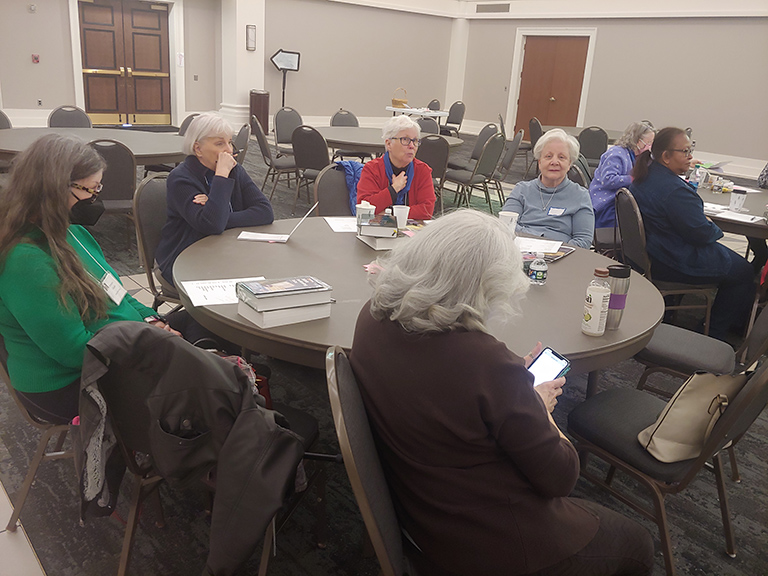 The Nashville Diocesan Council of Catholic Women recently hosted a weekend retreat that included a featured speaker, the celebration of the Eucharist, and the consecration of Ukraine and Russia to the Immaculate Heart of Mary. 
Gale Wheaton, a lay Dominican, was the featured speaker. She led her audience on a renewed pilgrimage through the Scriptures and the Catechism of the Catholic Church via the Camino de Santiago, also known as the Way of St. James.
"It is as difficult to get all the way through reading the Bible and Catechism as it is to walk the 800 kilometers of The Way of St. James," Wheaton told the women attending the audience. "The journey is not meant to be done alone. We are pilgrims on this journey together."
The retreat was held March 25-26 at the Cathedral of the Incarnation's Fleming Center. During the retreat, Bishop J. Mark Spalding joined Pope Francis and bishops and priests around the world in consecrating Ukraine and Russian to the Immaculate Heart of Marcy.
The prayer of consecration was part of the 12:10 p.m. Mass on Friday, March 25, at the Cathedral. The women attending the retreat participated in the consecration.
To find out more about the Nashville Diocesan Council of Catholic Women, visit its Facebook page at www.facebook.com/NashvilleDiocesanCatholicCouncilofWomen.