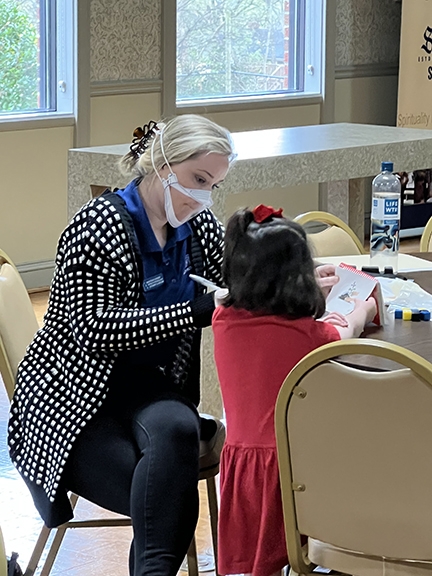 The Catholic Schools Office for the Diocese of Nashville and the Speech Pathology and Audiology Program at Tennessee State University are partnering to provide free speech-language and hearing screenings, testing and interventions to students in diocesan schools.
"The opportunity to partner with Tennessee State's exceptional professionals means we can identify speech, language or hearing deficits early and provide interventions, recommendations and resources to ensure students have every opportunity to be successful in and outside of the classroom," said Kathy Boles, director of exceptional learners for the diocesan schools office.
"We're very excited to be part of the collaboration," echoed Dr. Tina Smith, chair of the Department of Speech Pathology and Audiology at Tennessee State's College of Health Sciences.
Graduate students working toward their master's degree to become speech-language pathologists will provide the free screening, diagnostic and intervention services under the supervision of clinical educators with a Certificate of Clinical Competence, Smith said.
The TSU students are required to complete 400 hours in a clinical setting working with people of all ages, from children to adults. The work in the Catholic schools will help the students meet their requirement, Smith said.
"The wonderful thing is the program allows the graduate students to increase their clinical training, so they're learning how to serve children who may have communication disabilities," Smith said. "Our students are there to learn … but we're there to identify any children who may have speech and or language disabilities who may need services."
"The free screenings will benefit diocese students and TSU graduate students," said Boles, who is also a speech-language pathologist certified by the American Speech-Language and Hearing Association. "It's a win-win for everyone."
If the initial screenings by the Tennessee State students indicate the need for further testing, the students will be able to do that, and if the testing indicates the need for intervention services, they will be able to do that as well, all free of charge, Smith explained.
The first screenings were conducted at St. Ann School in Nashville. Tennessee State students screened 45 children in the pre-kindergarten and kindergarten classes, as well as some older students that the school's staff thought might benefit from the screening.
The Tennessee State students use standardized assessment tools to determine if a student's speech-language and hearing skills are within the appropriate range for their age, Boles said.
Identifying problems early can help students both in their social interactions and academically, Smith said.
"We want to be proactive," Boles said. "If a problem is identified early, the speech-language pathologists can provide an intervention to try to correct the problem."
For students to participate, parents must give permission. In addition, Tennessee State students will work collaboratively with a student's parents and teachers in providing any services. "It's not done in isolation," added Smith.
The Catholic Schools Office and Tennessee State have agreed to a five-year contract. Boles is working with diocesan schools to set up the next round of screenings.