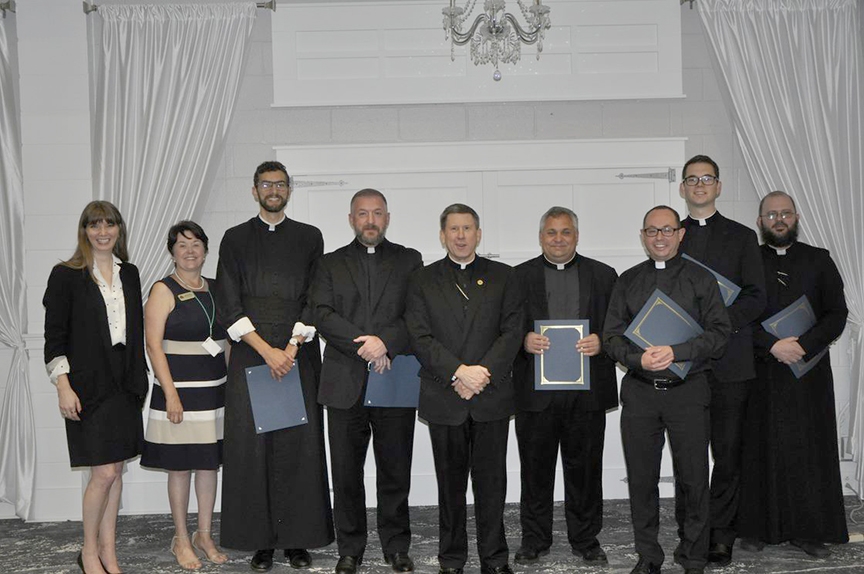 Six priests and one lay person became the first from the Diocese of Nashville to complete the Villanova University Certificate Program in church management, thanks to the newest partnership between Villanova, the Lilly Endowment's national initiative for pastoral leader development and the diocese.
On Tuesday, Sept. 13, Bishop J. Mark Spalding and Chesley Turner, director of the Center for Church Management of the Villanova School of Business, presented the recipients with their completion certificates.
The diocese's partnership with Villanova began in 2020 when Brian Cooper, chancellor and chief operating officer for the diocese, completed his master's degree in church management.
"As Church leaders and disciples of Christ, we are all called to be responsible stewards of human, financial and organizational resources that are entrusted to our care, yet many Church leaders haven't been ever taught the sound management techniques necessary to fulfill that responsibility," Cooper said. "Villanova was one of the very early adopters to recognize this issue, so the Diocese of Nashville has directly tried to address this through its partnership with Villanova.
"The Villanova School of Business is home to the world's first Center for Church Management founded in 2004," he continued, "and it is now a global resource for church management knowledge, dedicated to helping Christian faith-based organizations through higher education and research across the globe."
Since the partnership began, Bill Staley, diocesan director of New Media Evangelization, completed his master's degree in 2021, and Jason Liuzzi, diocesan safe environment coordinator, is currently enrolled.
But even with the success of the partnership, it was clear that the priests of the diocese that wanted to learn this information couldn't dedicate the same amount of time to the process, so with funding from the Lilly Foundation, a 12-month, 12-class online program was offered to the priests at no cost to them or their parishes, Cooper said.
The certificate program "still touches on all of these relevant areas of spirituality and proper administration of resources, human relations, budgeting, leadership, security, facility management, strategic planning, civil law and all the things that are very important to running a church, but are not traditionally taught in seminary," Cooper explained. "Our Church leaders are being schooled in the fundamentals of how to run a successful church organization both from a spiritual standpoint of religion and theology, but also from a practical, business, organizational and leadership characteristics standpoint because it takes all of those things put together to run a successful church organization."
Father Rhodes Bolster, chaplain of University Catholic/Nashville; Father Ben Butler, pastor of St. Martha Church in Ashland City; Father Phillip Halladay, pastor of St. Luke Church in Smyrna; Father Justin Raines, pastor of St. Matthew Church in Franklin; Father Luke Wilgenbusch, director of vocations; and Father Richard Childress, pastor of St. John Vianney Church in Gallatin, were the first priests to complete the program, along with Julie Perrey, vice chancellor chief mission integration officer for the diocese.
"Administration for a priest is an essential part of our vocation. We are ordained to teach, govern and sanctify and governance is part of that," said Father Bolster. "A lot of times, it's almost like a cliché that we enjoy complaining about the administrative side, but it is part of our job, and if we want to serve and administrate well with what God has given us as the priests, as the leaders of the churches, then we need to strive to have a level of competency in these areas."
"It was a very helpful overview of all the areas to be attentive to in administration," added Father Wilgenbusch. "I still have a lot of things I want to learn, but it signaled me to what I need to pay attention to as a start."
Father Childress said he would recommend the opportunity to his brother priests.
"There will always be some folks who know more than others in certain areas like business administration, finance, marketing, etc., and they won't get as much fruit out of it," Father Childress said. "But it is a very doable and rich track to study, and Villanova does a very good job of providing the information needed.
"With priests, there can be this idea of our personal lives and ministry being this life-giving stuff that we enjoy, and then the brass tacks stuff that we just have to take care of," he said. "But if we understand this stuff that we could be tempted to think of as 'the boring part of the job' then it is really one of the many ways that we express the mission of the Church and the Gospel."
As the partnership with Villanova continues both with the master's program and the certificate program, Cooper said he hopes more clergy and laity "are equipped with the skills to truly help them be successful in managing what is today a very complex world."
"The requirements in running successful church organizations, there are so many topics with challenges and practical things to balance," Cooper said. "The complexity to having a thriving, successful organization is sometimes daunting, but the hope is to give both clergy and lay people the tools they need to succeed and have the Diocese of Nashville prosper for present and future generations."
For more information about the Masters in Church Management Program or the certificate program, email Perrey at julie.perrey@dioceseofnashville.com.