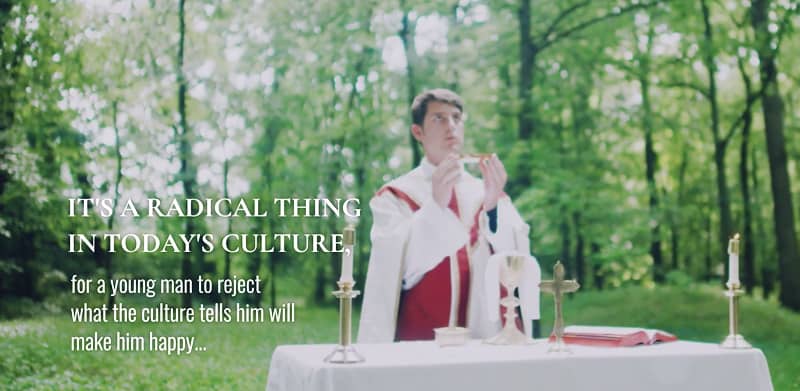 The Diocese of Nashville has won a prestigious Communicator "Award of Excellence" from the Academy of Interactive and Visual Arts, "the leading international awards program recognizing big ideas in marketing and communications."
The winning entry was the "Follow Me" video, spearheaded by the diocesan Office of Vocations and produced by Spirit Juice Studios of Chicago.
"We are setting a new standard on how to communicate and effectively reach people, which is what we need to do to stand out against the flood of other media competition in the marketplace," Chief Administrative Office and Vice Chancellor Brian Cooper wrote to diocesan staff members involved with the project. "Congrats to everyone!"
Founded nearly three decades ago, The Communicator Awards receives more than 6,000 entries from companies and agencies of all sizes, making it one of the largest awards of its kind in the world. The Communicator Awards "honors work that transcends innovation and craft – work that made a lasting impact, providing an equal chance of winning to all entrants regardless of company or agency size and project budget."
Cooper noted that "churches don't usually show up here" in an awards competition that has bestowed honors on corporate giants like Amazon, ESPN Films, Macy's and PepsiCo.
"Follow Me" was a winner in the online video, individual-non-profit category.
Of course, the video was not created to win an award, but as a tool for ongoing outreach to young men mulling over their vocation and possible call to the priesthood. It was originally released by the diocese on Oct. 25, 2019, ahead of Priesthood Sunday.
"'Follow Me' is what we describe as 'a real punch in the gut," for its emotional impact, said Jerilyn Rost, office coordinator for the Office of Vocations.
"We really wanted to plant the seed of the priesthood as a vocation in the minds of young people in particular," said Rost, who was heavily involved with the project. She worked on producing the series with Father Austin Gilstrap, director of vocations, and Father Mark Simpson, associate director of vocations.
The Vocations Office plans to release more videos in the future, which will include interviews with diocesan priests and individually-themed videos.
"I am really pleased with how the entire thing has turned out; Jerilyn has done a wonderful job," said Father Gilstrap. The "Follow Me" video series, "serves the added purpose of giving any young man more access to the discernment process," he said.
For more information, visit www.nashvocations.org.