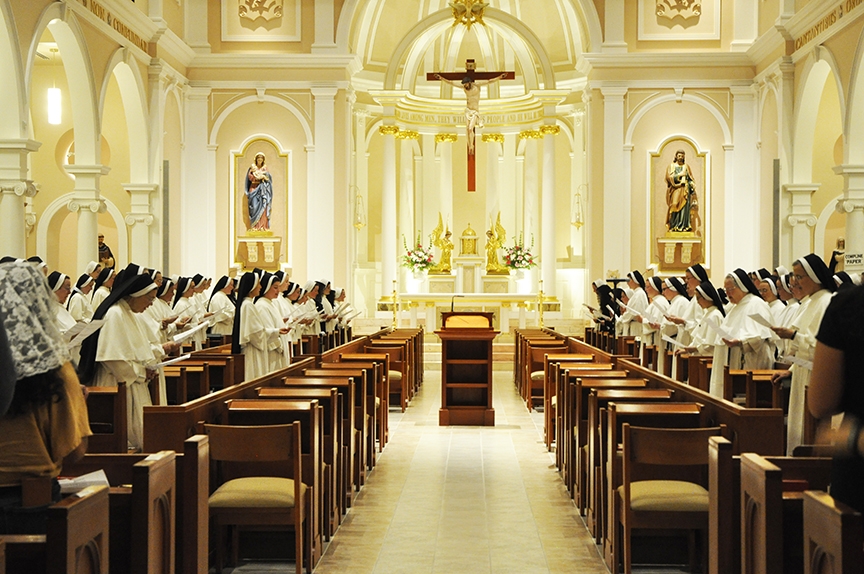 Dozens of young Catholic professionals experienced an evening of community, truth and worship at the inaugural "Steeped" presentation Tuesday, Sept. 20, at the Motherhouse of the Dominican Sisters of St. Cecilia Congregation. The topic: "Steeped in the Eucharist."
The presentation was the first in the "Steeped" program, which will hold an event with a new topic every semester and was developed because "our sisters seek to respond to the needs of the Church," said Sister Mara Grace, OP, vocations director.
"'Steeped' is for any young adults in the Nashville area. We have seen an increase of young Catholics over the past years, and desire to give them an opportunity for community, formation, and prayer. The hope is that by providing the space to encounter the Lord in these ways, they may be strengthened in their faith and encouraged to be the saints they are called to be.
"As human beings, we long for community, we long for truth, and we long to worship, and that is what this night is about," she added.
Sister Mary Rachel, OP, local prioress of the Motherhouse and head of the pilgrimage program at Aquinas College, led the session.
"The simple definition of 'steep' is to soak something in water or other liquid, so as to extract its flavor or to soften it. Another definition of 'steep' is to immerse in, saturate or imbue with some pervading or absorbing influence or agency," Sister Mary Rachel explained, as her talk began. "We thought this would be an appropriate title for a talk series, the first of which is to reflect together on what it means to be steeped in the Eucharist."
Sister Mary Rachel said the St. Cecilia Dominican community has been "steeped in the Eucharist" for 162 years, since its founders arrived in Nashville in 1860.
"Within the first week of their arrival, the Holy Sacrifice of the Mass was, and remains, the center of their lives and our lives," Sister Mary Rachel said. "One of our foundresses' recalls 'Since that day (of the first Mass at St. Cecilia) through weal and woe the Sacrament of the Altar has reposed in the Tabernacle, making all things bright and tolerable within, even while storms raged … outside'," she said, quoting historical recordings for the community, which were written by Mother Frances Walsh, OP.
"A relative of one sister … fondly likens the doors of the Motherhouse that you just entered, to the doors of the tabernacle," Sister Mary Rachel continued. "The Eucharist … has breathed life into this building for the last 162 years. By (God's) grace, it has withheld the test of time. It is into this space that we welcome you and desire that you find Jesus present here. This is our simple and profound hope for tonight."
Sister Mary Rachel said she first encountered the Real Presence of Jesus in the Eucharist as a child.
"My mom would pick me up from school and she would ask, 'Would you like to stop in and say hi to Jesus,'" she recalled. "This catechetical genius allowed me to understand, appropriate for my age, that Jesus is a person, one who waited for me, and also one whom I could visit."
From there, Sister Mary Rachel turned to several saints, such as St. Faustina and St. Thomas Aquinas, "the greatest author on the Eucharist, from whom we have received the Eucharistic hymns composed for the Feast of Corpus Christi, is a model of one who steeped his entire life in prayer and study of the Eucharist," and doctrines of the Church such as that of transubstantiation before posing a question to attendees.
"So, what does it mean to live a life steeped in the Eucharist?" she asked.
While she encouraged attendees to ponder that question for themselves, she did offer some ideas of her own.
"Being steeped in the Eucharist means that we are invited to imitate Christ's sacrificial love," Sister Mary Rachel said. "We are invited to offer all of our life with his, in the small acts of day-to-day life unto the end for love.
"As the bread and wine are changed into the body and blood of Christ, and we receive him, this necessarily means that he invites us into a transformative experience to be transformed by the love we have received," she continued. "Throughout each day, we can make acts of faith, by which we touch God. No matter where we are, we can make an act of faith and adoration of Jesus present in the nearest tabernacle.
"We must cultivate a disposition of silent adoration before our Lord in the Blessed Sacrament. To speak familiarly with him … and then to await his response, his healing power," Sister Mary Rachel added. "Time passes quickly, and eternity will be long, so we should strive to spend a little time each day adjusting to this reality; to become suited for glory. We can spend a little time each day in heaven. We are able to do this when we spend some time each day and certainly each week in the Presence of the Blessed Sacrament.
"This requires of us a transformation of desire … for heaven will not be boring, but rather the fulfillment of every desire," she concluded. "Pope John Paul II reminds us in Ecclesia de Eucharistia, 'The Eucharist is truly a glimpse of heaven appearing on earth. It is a glorious ray of the heavenly Jerusalem, which pierces the clouds of our history and lights up our journey.'"
Following Sister Mary Rachel's talk, attendees joined the sisters for Nightly Prayer in the Motherhouse Chapel.
For more information about Steeped, follow the Dominican Sisters of Saint Cecilia on Facebook for updates. The next session is planned for the spring.