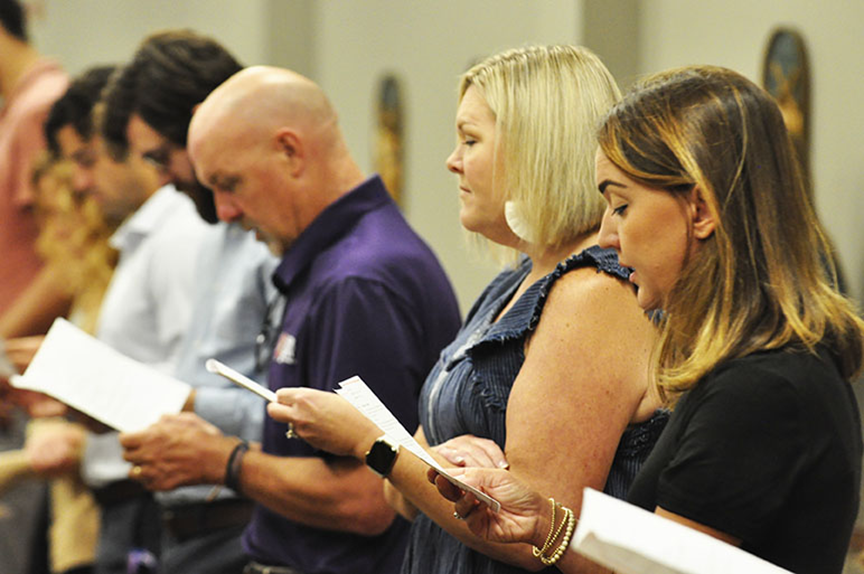 To be the bearer of good news just like St. Mary Magdalene is the prayer Bishop J. Mark Spalding offered up for the 70 new teachers joining the diocesan Catholic schools for the 2022-2023 school year as they gathered for Mass before their New Teacher Orientation Friday, July 22, in Sagrado Corazon Chapel.
During the Mass, the teachers heard the Gospel reading from John, in which Mary Magdalene becomes the first person to encounter the risen Christ.
"Because of this scene, Mary Magdalene is known in the Church as the apostle to the apostles," Bishop Spalding said. "She brings the great news of the Resurrection to Peter and John and to the rest of the apostles.
"The next scene is the great apostolic foot race" of Peter and John, he said. But even though John arrived at the open tomb first, he waited, allowing Peter to go inside first because "John had great respect for Peter," Bishop Spalding said, and respect is something he said, as teachers, they'll pass on to their students.
"Over and over … there are all these little things you're going to teach your children and these children of ours in the Church that we have care of in the classroom. Just by little things, you're going to teach them great values and one is respect," he said. "Teach them respect, you teach them a lot and that's what happened in that scene.
"Mary Magdalene started this whole thing by taking the good news that Jesus had been raised to the apostles," Bishop Spalding continued. "We're still working that good news. We're still sharing it and trying to encourage people to come and know the Lord Jesus."
And more than anything, the Mass is where they will come to know Jesus the most, he said.
"Mass is going to be part of your life in the Church. It should be. This is the center of what we're all about," Bishop Spalding said. "Word and Sacrament, understanding the very presence of Christ given to us. In this Word and this Sacrament, we are challenged and comforted, we are encouraged and sent forth, we are nourished at the table of the body, blood, soul, and divinity of Jesus Christ.
"We receive him, so that we are strengthened and go and do what we must do in the world to make it into what Jesus wanted it to be," he said. "He lived and died for the vision of a world transformed and converted to a just, loving, compassionate, courageous place, and you're going to be a part of that and that's a wonderful thing."
That doesn't mean it will always be easy, he said.
"Teaching has never been easy. … You won't make it on your own. God didn't make us that way. He made us and created us in such a way that we're on this earth with and for each other. Period," Bishop Spalding said. "That is a foundational aspect of Catholic Social Teaching. You're on this earth to be with and for others. You're going to have to teach that.
"A lot in our world and society makes us turn in on ourselves. The problem is, when we turn too far in our ourselves, it destroys us. … We're crushed by it," he said. "But every time you come to Mass, whether you know it or not … we come back here because we need the strength and the comfort and the encouragement of the Word. We need the nourishment and the appreciation of one another on the journey.
"Every time you attend (Mass), you're being formed anew into Christ," Bishop Spalding concluded. "My prayer is for you to be a bearer of this good news just like Mary Magdalene. Take it out and give it to others and share it with everyone you meet."
Following Mass with Bishop Spalding, during which he also bestowed a blessing upon them, the new teachers gathered in Bishop's Hall at the Catholic Pastoral Center where they were introduced to the leaders of the diocese, went through safe environment training and more. But, most importantly, in keeping with the theme of the morning's homily, they learned what it means to teach in a Catholic school.
"Our teachers have one of the most important jobs in our Church and that is leading children through the faith," said Dr. Rebecca Hammel, superintendent of schools. "For (Bishop Spalding) to articulate the messages that he did today through the homily and his stories, he hits that home of how important this is, and … we as Catholic school teachers have this opportunity to imbed our Catholic faith in every moment of a student's day and that's our truest job."
The new teachers agreed.
Christina Brown, who will be teaching theater and music at Pope John Paul II Preparatory School in Hendersonville, said she appreciated how Bishop Spalding spoke about the nourishment that comes with the Eucharist and regularly attending Mass.
"That was so powerful, because that's what I want," Brown said. "I want to start my classes with prayer, and I want to engage in Mass with my students, and I want to experience that and bring the love of my job and the love of my faith and who I am at my core together.
"He hit the nail on the head of exactly what I wanted," she said. "It was like God whispering, 'you're where you're supposed to be.'"
Brown comes to Pope Prep with four years of prior teaching experience at a small public school in central Illinois. Along with the opportunity of sharing her love of music and theater, this job also allows her the opportunity to share her faith, she said.
"I just hope to bring (the students) joy and the sense of community because I feel like that's my favorite part of the Catholic faith is just getting to spread the joy and spread God's love," Brown said. "I feel I'm lucky because I get to do that through music and theater. Those are two beautiful artforms that almost everyone can connect with. I really hope that I can just spread the joy and help my students spread joy to others and continue to share God's love."
Even as a non-Catholic, Ethan Abner, who will be an instructor in Pope Prep's Hand-in-Hand Options Program as well as coach boys' basketball, said he appreciates the ability of the Mass to help a person reset.
"I like the weekly Mass because it always gives you a chance to reset and go forth with a brand-new week," Abner said.
Abner comes to the diocese after two years teaching at a public middle school in Gallatin, but it marks his return to Pope Prep after completing his student teaching there while he completed his Masters in Special Education at Grand Canyon University in Phoenix.
"With me, my biggest attribute as a teacher is my relationships that I build with my students. I'm huge on getting to know them outside of school, … and I do the same with my players," Abner said. "If I can gain their trust and gain their friendship, I know that they will give me everything that they've got in the classroom as well. That's a huge aspect of teaching."
For Becca Lewis, who will teach fourth grade at St. Henry, it was the idea that they are Catholic teachers first.
"That's one of the primary things that identifies us as people, not just as teachers," Lewis said. "Growing up Catholic has really influenced me to share those values with children no matter what religion they practice because having those values to live like Christ is so important, and I see that every day in the classroom."
Lewis is a first-time teacher, having recently graduated from Belmont University with her Bachelor of Science Degree in Secondary Education and History. While a student at Belmont, she worked at St. Henry in the after-care program and quickly knew its where she wanted to begin her teaching career.
"It was the first school I interviewed with and the first school I was offered a job at. It was the only school I really wanted to work at, so it worked out perfect," she said. "It's a really strong community, there is a lot of great parent involvement, which really helps with accountability with the students, and its just such a healthy environment for both teachers and students."
Diocesan schools will return for the fall semester Aug. 1-8.