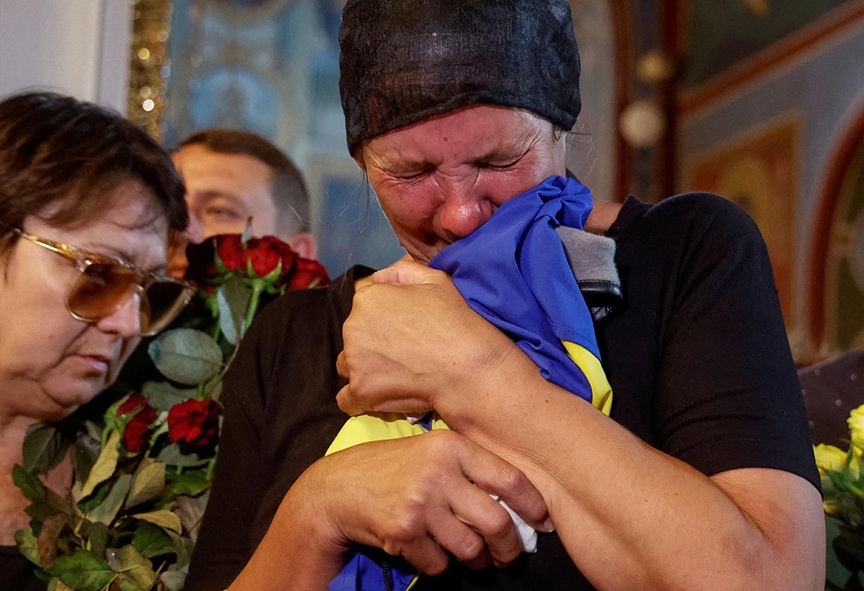 The world has looked on with horror and dread as Russia has showered Ukraine with new missile attacks in recent days after making veiled threats to use nuclear weapons in the conflict.
With its military reeling from a long series of setbacks as Ukrainian forces continue to advance and retake territory, Russian leaders have become desperate to turn the tide. After the Kerch Bridge, which connects the Crimean Peninsula with Russia and is a key supply line for Russian troops, was damaged in an explosion, Russian President Vladimir Putin responded with a barrage of missiles striking throughout Ukraine.
The result of this latest attack, adding to the thousands of people who have been killed, wounded or displaced after nearly nine months of fighting, has been nearly 20 people killed, more than 100 wounded, and a world nervously wondering whether this war will lead us to a nuclear armageddon.
Pope Francis and the Catholic Church have been begging for an end to the conflict in Ukraine since it began in February. Before reciting the Angelus prayer on Oct. 2, the pope once again addressed the war in Ukraine and the "terrible and inconceivable wound" it is inflicting on humanity.
"My appeal is addressed first of all to the president of the Russian Federation, begging him to stop this spiral of violence and death," said the pope, who also acknowledged the deep suffering of the Ukrainian people and asked Ukrainian President Volodymyr Zelenskyy to be open to any serious peace proposals.
"It's distressing that the world is learning the geography of Ukraine through names like Bucha, Irpin, Mariupol, Izium, Zaporizhzhia and other towns that have become places of suffering and indescribable fear," the pope said, referring to cities previously occupied by Russian troops and where mass graves were found once the areas were liberated.
"How much blood still must flow before we understand that war is never a solution, only destruction?" the pope asked.
Pope Francis has not only called for an end to the suffering in Ukraine but in other places around the world that are suffering the wounds of armed conflict, including Syria, Myanmar, Cameroon, Yemen and others. For war anywhere wounds the human soul everywhere.
His calls for peace echo those of his predecessors in the Chair of St. Peter. During a 1981 visit to the Peace Memorial in Hiroshima, Japan, the site of first use of an atomic bomb, St. John Paul II appealed for the abolition of nuclear weapons and an end to all wars: "Let us embark upon the steep and difficult path of peace, the only path that befits human dignity, the only path that leads to the true fulfillment of the human destiny, the only path to a future in which equity, justice and solidarity are realities and not just distant dreams."
Building a lasting peace that lifts up the dignity of all God's children is the work of every person, Catholic or not, Christian or not, a person of any faith or not. As Pope Francis recently told a group of young people visiting Vatican City from Belgium, "Be artisans of peace around you and within you; ambassadors of peace, so that the world rediscovers the beauty of love, of living together, of fraternity and solidarity."
We don't have to wait for the leaders of the world's great powers to give us peace. We must begin in our homes, at our jobs, in our classrooms, in our communities, building a world of peace with one act of mercy, kindness, justice, understanding and love at a time. Just as Christ taught us.