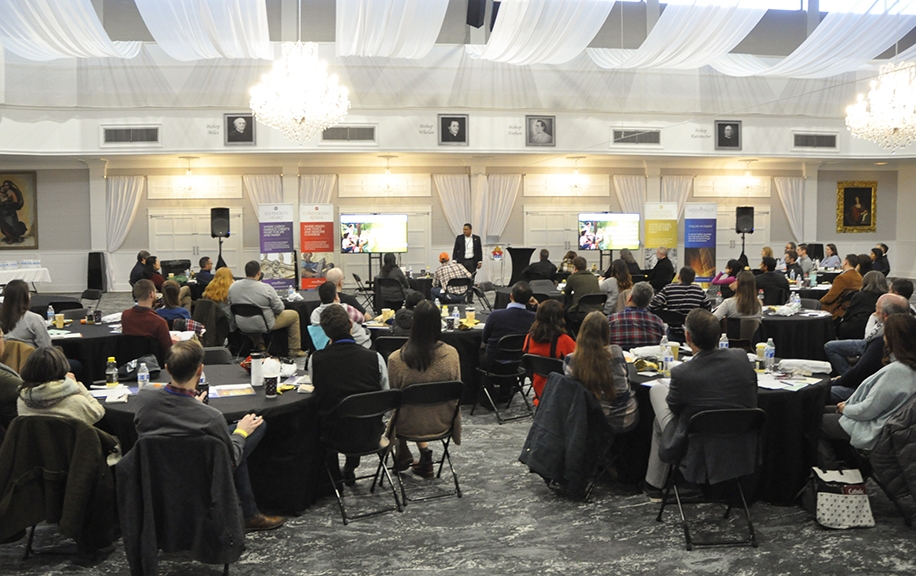 At the beginning of February, Kimberly Cunningham had no reason to believe she'd be attending the Together in Holiness retreat for couples put on by the Diocese of Nashville's Office of Faith Formation and the St. John Paul II Foundation coming up later in the month. But her boyfriend, Gabriel Heidbreder, director of faith formation for Our Lady of the Lake Church in Hendersonville, had other plans.
In January, "I saw this come across my desk as something to suggest to our parents for all the kids that we have there, and I'd seen it on all our bulletin boards," Heidbreder said. "So it was in my mind, and I suggested it to (Cunningham), and she said, 'No, this is for engaged or married couples.'"
But just a few weeks later, on Feb. 7, they became an engaged couple when Heidbreder asked for her hand in marriage.
They joined 49 other couples throughout the diocese for the one-day retreat Saturday, Feb. 19, at the Catholic Pastoral Center.
Couples ranged from engaged to those who had been married nearly 40 years.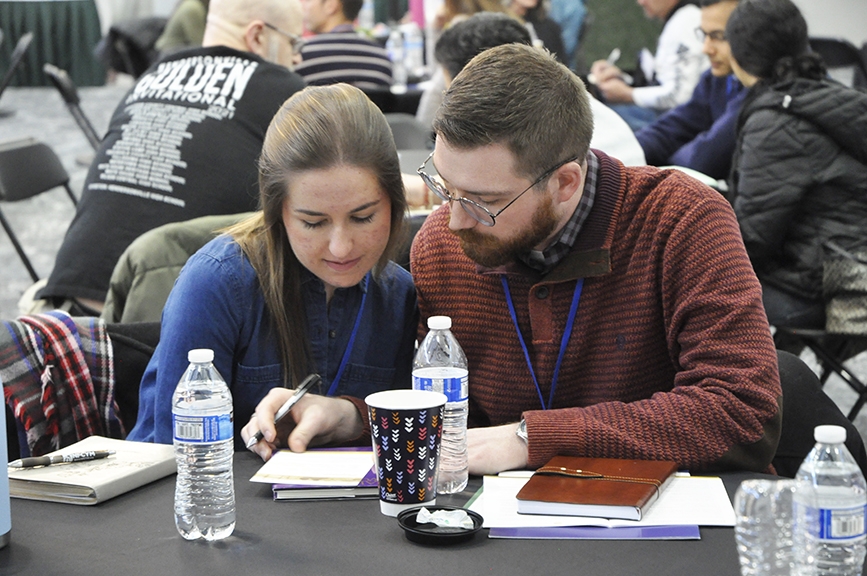 The day began with Mass in Ascension Auditorium celebrated by Bishop J. Mark Spalding.
"As you come here today and celebrate and ponder being a couple who walks through life together and makes the promise of marriage, the Eucharist is profound for you," Bishop Spalding said during his homily. "In Holy Mass, we hear the prayer, we experience the ritual, we receive Christ himself who gave himself totally for others. You do the same in marriage.
"There is sacrifice, there is even at times suffering, and that's alright. Life is made up of that," he continued. "And actually, when you take on sacrifices and sufferings in this life, you make the dream that God has for you come true. We give of ourselves for another, and a greater thing comes about."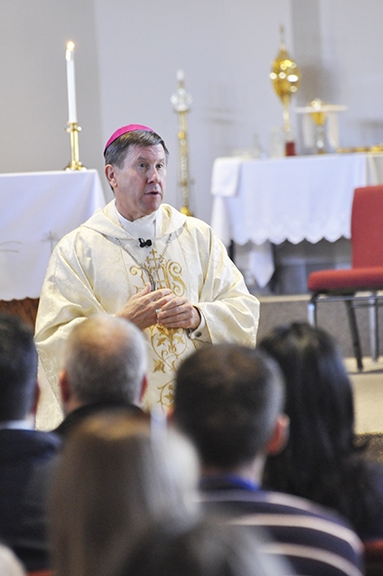 It's a "leap of faith," he said, as each work to help the other get into heaven.
Marriage "is one of the greatest adventures God can give us, and it's a wonderful one, but like every adventure, there are mountaintops and valleys," Bishop Spalding said. "It's an adventure, and in it you grow up and you grow together. You open yourself up to life. Certain days there will be tears and other days laughter and joy, but in the end, you helped save each other, and in it you save the world around you as well.
"You've given yourself a gift today," he concluded. "Take it, receive it, rejoice in it."
Following the Mass, which also included married couples renewing their vows, the group settled into Bishop's Hall for the first speaker of the day, Dr. Ryan Hanning, fellow at the San Juan Diego Institute, who spoke about "Educating in Christ: Parents as Primary Teachers of Their Children in the Faith."
"The truth is we live in a world that's very, very confused about what it means to make a gift of oneself, what it means to be a mother or a father," Hanning said. "But the Church has this incredible vision of the family despite that brokenness.
"The family is still central to the mission of evangelization, the family is still central in God's preferred method to bring new life into the world and to bring new souls into heaven," Hanning said. "The Church says these amazing things about the role of the family. It says the family is the Bible cell, the first school of Christian faith, the first experience of the Good News to where love is learned, where faith is made concrete. In all the bumps and brokenness and failings and wounds this world has, God still works through the family."
As parents, this includes nourishing the physical and spiritual well-being of their children by helping them understand who they are and their place within the world, Hanning said. This includes letting them know that "sin does not define them."
"The project of parents being the first and best educators of their children and forming them in Christ is really about making saints," he said. "Saints are not born, they are made. … If you look at the lives of the saints, you'll find this one remarkable thing in common. All the saints, they receive a model of what it means to be alive in Christ and very often they receive this model from their parents."
Following Hanning's talk, couples had the opportunity to receive the Sacrament of Reconciliation and pray before the Blessed Sacrament during Eucharistic Adoration.
"Having time to pray together in front of the Blessed Sacrament is something we don't have the chance to do often anymore," Heidbreder said. "Having the space and time to pray together was really a blessing."
In the afternoon, the couples came back together in Bishop's Hall to hear from Dominican Sister Elizabeth Anne Allen, director of the Center for Catholic Education at Aquinas College in Nashville, who spoke about "Enkindling and Fanning the Flame: How to Pass on the Faith to Your Children."
"Our job as teachers it to get our children to heaven," Sister Elizabeth Anne said. "The Church trusts you with its future in your homes. … What happens in your family matters in the whole Church.
"Never underestimate the power of your example," she said. "How your children experience faith matters."
That's an idea that resonated with Michele Russell, parishioner of St. Rose of Lima Church in Murfreesboro, who attended the retreat with her husband Bill Russell.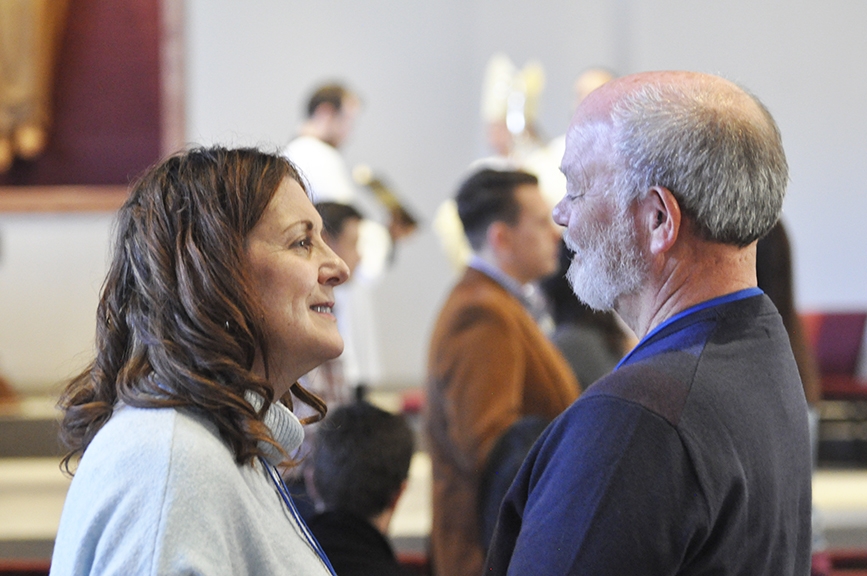 "My son, as he's grown and gotten married, I have less one-on-one time with him, but not too long after he was married, he said to me, 'I want to have a marriage like you and dad,'" Michele Russell recalled, as she and Bill approach their 40th wedding anniversary this year. "That was a great compliment to us and our marriage."
She said marriage is about "love and friendship" and, as Bishop Spalding said, getting each other into heaven.
"That's so engrained in my heart now, which I think marriage sets you up to do anyways because it teaches you to be more selfless," she said. "It's not always easy, but it is about caring about someone other than yourself."
"You need to persevere in your goal, and you need to be patient with one another," Bill Russell added. "You also need to have fun. Look for ways to have fun with one another."
The final speaker, Damon Owens, founder of the non-profit Joyful Ever After, spoke about "The Saints, Families and Evangelization."
Attending the retreat proved to be the right choice for Heidbreder and Cunningham as they continue to prepare for their upcoming Oct. 8 wedding at the Cathedral of the Incarnation.
"It was just a time to pull away from all the planning. It's almost a joke when they say, 'you're preparing for a marriage, not a wedding' but it's so true," Heidbreder said. "You get wrapped up in all the necessary things that you have to get done that you lose sight of the sacramental dimension, the emotional dimension, the just coming together as a couple aspect of the whole thing.
"This has been a really nice time to forget all the planning and just take a day to pull away a little bit and come together around our Lord and our faith and just refocus on what is really the end goal," he said.
Within marriage, the goal is "to cultivate a life of faith with each other because at the end of the day, we're entering into this sacrament to get each other to heaven," Cunningham added. "To make that a pillar of our marriage because we're not going to be able to do it alone."