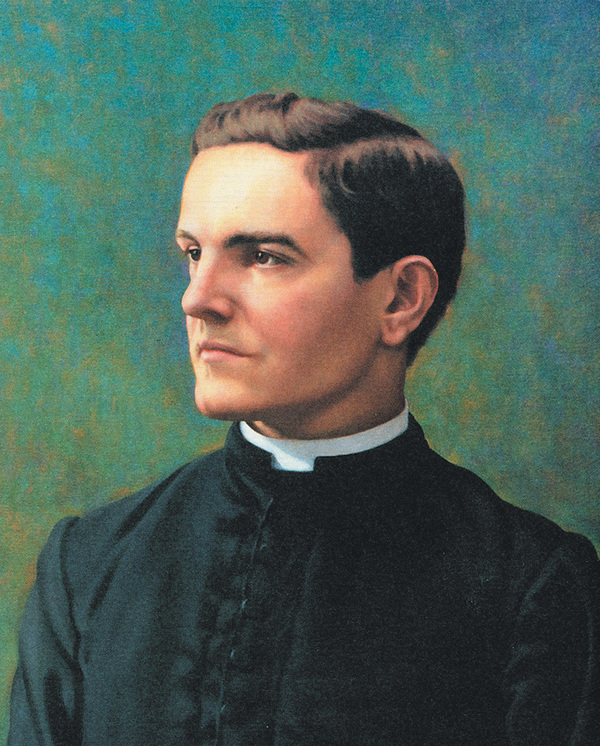 Father Michael J. McGivney daily looked upon the challenges of his parishioners in the America of the 1870s and 1880s.
Anti-Catholic prejudice was an obstacle in the path of their dreams of advancement in American society. The lures of life in an age of growing industrialization threatened to pull them away from their faith. And most painful of all, families all too often were devastated and left with no income and few prospects after the death of the breadwinner.
Father McGivney responded to all these challenges with his characteristic energy, foresight, leadership and devotion to the Catholic faith.
His answer was to establish, with a group of Catholic laymen, the Knights of Columbus, a Catholic fraternal benefit society with the goals of helping men keep and develop their faith, answer the anti-Catholic sentiment in the country by making the case that one could be a good Catholic and a good American, and provide financial help to keep members' families together and their faith strong.
Today, with more than 2 million members across the globe, the Knights are one of the largest Catholic organizations in the world.
Father McGivney's vision, his commitment to charity and his devotion to his faith has placed him on the path toward sainthood.
He took another step forward on that path on May 27 when Pope Francis approved the promulgation of a decree recognizing the cure of 5-year-old Michael McGivney Schachle of Dickson, Tennessee, from a deadly case of fetal hydrops while still in his mother's womb, as a miracle attributed to the intercession of Venerable Father McGivney.
With the approval of the miracle, Father McGivney's cause for sainthood moves to the next step, beatification, when he will receive the title "Blessed." Plans for the beatification are not yet set, but the Knights hope to schedule it this fall in Connecticut.
"This is an awesome event for the Church," said Nashville Bishop J. Mark Spalding. "For it to be in the Diocese of Nashville, it's truly a joy-filled moment."
The miracle shows that God is active in our lives, Bishop Spalding said. "With the troubles our world is going through, we can focus on what is dark, what is sinful, what is evil. But in this moment of a recognition of a miracle we can see God at work with love and compassion."
"We've been praying for years for this to occur, and finally this day has arrived," Knights of Columbus Supreme Knight Carl Anderson told Catholic News Service.
"Father McGivney has inspired generations of Catholic men to roll up their sleeves and put their faith into action," Anderson said in a statement released by the Knights. "He was decades ahead of his time in giving the laity an important role within the Church. Today, his spirit continues to shape the extraordinary charitable work of Knights as they continue to serve those on the margins of society as he served widows and orphans in the 1880s. Father McGivney also remains an important role model for parish priests around the world and left us a transformative legacy of effective cooperation between the laity and clergy."
An early call to the priesthood
Father McGivney was born in 1852 in Waterbury, Connecticut, the firstborn of Patrick and Mary Lynch McGivney, two immigrants from Ireland who met and married in the United States. His mother would give birth to 12 more children, six of whom would die young.
Father McGivney was a devout youngster who felt a call to the priesthood early in life. After graduating from high school at age 13, three years early, he worked in a factory for three years before finally pursuing his dream of becoming a priest.
He attended several seminaries during his studies, including in Canada, upstate New York and Baltimore before his ordination in December of 1877.
Father McGivney dove into his first assignment as the assistant pastor at St. Mary's Church in New Haven, Connecticut, with his characteristic zeal, celebrating the sacraments for his parishioners, leading Sunday school classes, working with the teens and young adults of the parish, offering instruction to converts to the Church, and organizing plays and parish fairs, always trying to keep his people close to their faith.
He was worried about the young men who were being pulled away from their faith when they joined secret societies, or lodges, such as the Forresters and the Elks and Moose, to find a sense of brotherhood they weren't finding in their parish.
"Father McGivney did not want religion to be a banished subject from any part of the lives of Catholic men, least of all something as crucial to them as their fraternal societies," Douglas Brinkley and Julie Fenster wrote in their biography of Father McGivney, "Parish Priest."
He was also haunted by the families who came to him for help after the death of a loved one left them vulnerable.
"Even though he was only a young man, he was filled with a lifetime of anger and frustration at the sense of doom that settled over nearly every family that lost its wage earner," Brinkley and Fenster wrote. "Long before, he had watched firsthand, when it fell over his own family."
Father McGivney's seminary studies were interrupted when he returned home to help his mother care for the family after his father died. The Bishop of Hartford was able to provide some assistance that allowed Father McGivney to return to the seminary and complete his formation.
In the faces and lives of his mostly Irish, working-class parishioners, he saw his own experience and set out to find a way help them.
"The special strengths of Catholicism could be planted in men, he thought, especially husbands and fathers, to grow with them through their lives. And beyond, as well, with widows having a place to turn and children keeping hold of the future that their fathers intended," Brinkley and Fenster wrote. "Michael McGivney had an understanding of them all: the fathers, the mothers, the children, an everyday trinity more fragile in modern life than anyone else seemed to realize."
Early in 1882, Father McGivney invited the leading Catholic men of New Haven to a meeting in the basement of St. Mary's to discuss the formation of a Catholic fraternal society. In short order, the Knights of Columbus was founded.
"The Knights of Columbus could not be expected to remedy every case, but the organization was Father McGivney's best response to the scenes he witnessed every day," Brinkley and Fenster wrote. "It would be his weapon against the threat of sudden poverty for families already bereaved."
After a slow start, the order began to spread beyond St. Mary's and New Haven, bringing to fruition Father McGivney's vision of a society of Catholic men supporting their Church, their families and their communities.
Father McGivney left St. Mary's in November 1884 when he was named pastor of St. Thomas Church in Thomaston, Connecticut, a factory town more than 30 miles from New Haven. There he continued to build strong relationships with his parishioners tending to their spiritual, social and material needs.
Father McGivney fell ill during the Russian Flu pandemic of 1898-90, and contracted a severe case of pneumonia in January 1890, that left him so weak, he eventually was confined to his bed in the rectory. He died on Aug. 14, 1890, just two days past his 38th birthday.
"He basically worked himself to death by 38 years old trying to take care of Catholic families," said Dan Schachle, whose son Michael experienced the miracle cure that was attributed to Father McGivney's intercession.
At Father McGivney's funeral Mass, mourners filled St. Thomas Church and spilled out into the street. The funeral procession in his hometown of Waterbury included Catholics from across Connecticut, the Bishop of Hartford, more than 70 fellow priests, and a host of civic leaders.
'Involved in the world'
"Throughout his life he was known as a holy priest. But just not holy as in removed from the world. He was a man very involved in the world," said Brian Caulfield of the Knights' Supreme Council staff in New Haven and the vice postulator of Father McGivney's cause for sainthood.
The Knights, with the approval of the Archbishop of Hartford, launched the sainthood cause for Father McGivney in 1997.
"Since he was a simple parish priest, and since most of the priests we know are simple parish priests, he seems accessible," said Caulfield, who has served as vice postulator since 2011. "Father McGivney is so close in a way. The next Father McGivney could be my pastor today."
Caulfield has always had a devotion to Father McGivney, but since becoming vice postulator, "I feel like he's a friend. I feel Father McGivney is walking with me."
Schachle, who is the general agent for the Knights of Columbus insurance program in Tennessee, Kentucky, the eastern half of Arkansas and a small sliver of Virginia, overseeing the work of 16 agents, and his family, have long had a devotion to Father McGivney.
"What's a better way to spend my life, supporting my family, than taking care of widows and orphans," who benefit from the life insurance available to Knights of Columbus. "I latched onto that aspect of Father McGivney."
With the approval of the miracle, Schachle is hopeful more Catholic men will follow the example of Father McGivney.
"The family is under attack. Masculinity under attack. Father McGivney speaks to all of that," Schachle said. "We've got to step up to the plate as men to take care of our families."
Father McGivney will join two other American priests who have been beatified, Father Solanus Casey, OFM, a mystic and miracle worker, and Father Stanley Rother, a missionary in Guatemala who was martyred. Father McGivney would be the first to be beatified who spent his whole priesthood as a parish priest, Caulfield noted.
The beatification of Father McGivney "will be a huge boost in the morale and spirituality of the priesthood in America," Caulfield said. "I'm already hearing that from priests I know."