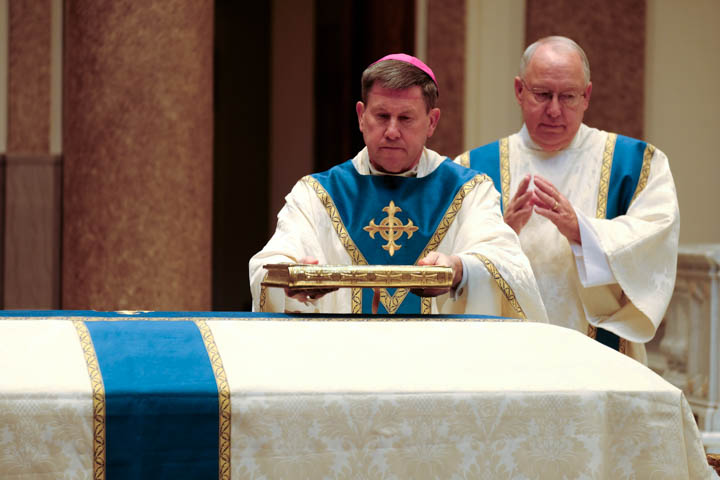 Father Paul Altman Hostettler, who served as a priest of the Diocese of Nashville for the last 73 years, was laid to rest following a funeral Mass on Tuesday, Oct. 24, at the Cathedral of the Incarnation in Nashville.
Bishop J. Mark Spalding celebrated the Mass, which was concelebrated by many priests of the diocese, and attended by several deacons, including Deacon Sean Smith of the Diocese of Knoxville.
Father Dan Steiner, associate pastor of the Cathedral of the Incarnation, served as the homilist for the funeral. Throughout the homily, Father Steiner noted Father Hostettler's lifelong devotion to the Blessed Mother, which he said he believed stemmed from the latter's early loss of his own mother.
Father Steiner even shared Father Hostettler's own words about Mary, found in his many writings while a resident at Mary, Queen of Angels Assisted Living Facility.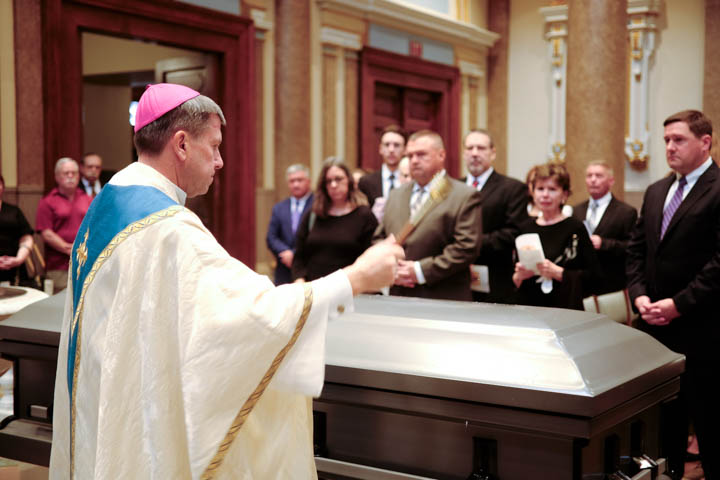 "'Our Blessed Mother. If we had known Eve before the fall, we would have loved her because she was beautiful and good, but especially because she is our mother,'" Father Hostettler wrote. "How much more should we love Mary! She is more beautiful, she is holier, too. And she is not only our mother. She is the Mother of God. O most beautiful, O most holy, O most wonderful mother!"
Father Hostettler was ordained a priest of the Diocese of Nashville, which then included all of Tennessee, by Bishop William L. Adrian on June 3, 1950, at the Cathedral of the Incarnation. Since his ordination, he has served at multiple parishes throughout the diocese, including Sacred Heart Church in Memphis, St. Joseph Church in Jackson, and Church of the Resurrection in Cleveland, and St. Mary Church in Athens.
As pastor of St. Therese of Lisieux Church in Cleveland, he led efforts to build a church there and, when the Diocese of Knoxville was established in 1988, Father Hostettler became a priest of that diocese.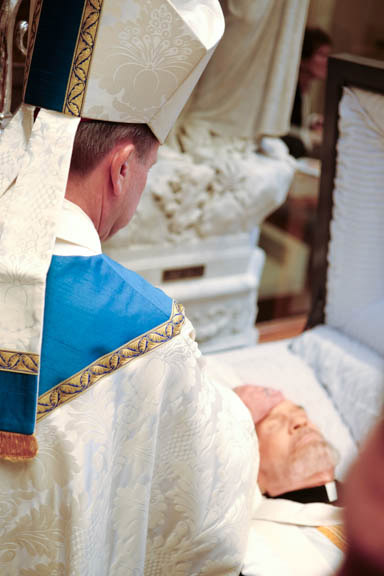 Father Hostettler initially retired from the priesthood on July 15, 1993, and moved to St. Catherine Laboure Church in Copperhill, where he served for 13 years. He later retired again in the mid-2000s and moved back to Nashville, where he served as chaplain of Mary, Queen of Angels, before eventually becoming a resident there himself.
Throughout all his assignments, Father Hostettler became a friend to many. In his homily, Father Steiner read what Father Hostettler wrote about true friends: "A true friend is one, as our Lord said, who will lay down his life for you. You are his true friend only if you are ready to lay down your life for Him. One wonders if there are many true friends. Christians know one thing, Christ died for them. He is their true friend."
"Father Paul's priesthood has led thousands and thousands of souls to Christ, and he brought Christ to thousands and thousands of souls," Father Steiner said.
"As a priest, how many sins has he absolved in 73 years? How many Masses did he offer? How many baptisms? How many souls has he brought into the church? How many funerals? How many times has he prepared souls for that final journey?" Father Steiner asked. "He bragged and truly loved going on sick calls and being there with the sick. How many times did he perform the sacrament of the last rites or even marriages and first communions?
"He continues to show each of us how we should be centered on Christ at all times, knowing that, whatever the Lord is going to ask you and I to do, just as he asked Father Paul, if we trust the Lord and receive what He gives us, we will be able to do it only by His grace," Father Steiner concluded, before quoting Father Hostettler one more time.
"Faith is what we believe, how we believe, and why we believe. There is a crisis in the faith today," Father Hostettler wrote in 1973. "'Many no longer believe the old truths taught by the Church (the what and the why) and the reason has to be either because they never had the gift of faith (the how), or because they lost it.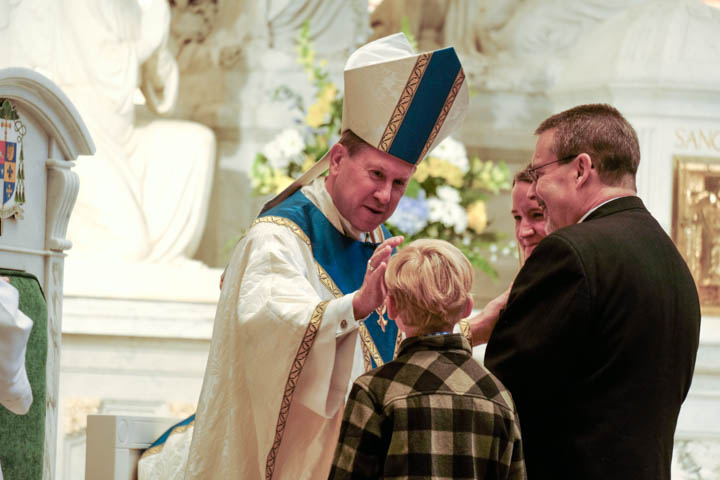 "In either case, the crisis in faith will not be ended until those who have the name Catholic believe all that the Catholic Church teaches, professes, and believes herself.'"
"We love you Father Paul and entrust you into Our Blessed Mother's tender loving hands, so that she may intercede for your salvation now, and as she did at the hour of his death."
Following the funeral Mass, Father Hostettler was laid to rest in the Priests Circle at Calvary Cemetery.
"He was a wonderful man," said Paul Anthony Hostettler, Father Hostettler's nephew. "He was so special to our family."
"He was so loved, and we knew he loved us so much," added Connie Radford, Father Hostettler's niece. "It was so special to have a priest in the family."
Reflecting on Father Hostettler's 100 years of life, she added, "It was as it should've been in the divine order."
Father Hostettler was preceded in death by his parents, George Frederick Hostettler and Mary (Griffith) Hostettler, and his stepmother Delia Eileen (Flynn) Hostettler; his brothers George F. Hostettler Jr., and Phillip Joseph Hostettler Sr.; and his niece Barbara (Hostettler) Rowland.
He is survived by his niece and nephews Connie (Hostettler) Radford, Phillip Hostettler, Jr., Paul A. Hostettler, John L. Hostettler, George F. Hostettler, and Jeff Hostettler, along with 16 great-nieces and great-nephews, and six great-great-nieces and great-great-nephews.
Father Hostettler was a graduate of Cathedral Elementary School and Father Ryan High School.
To view the full funeral Mass, visit the Diocese of Nashville Facebook page.
Marshall Donnelly Combs Funeral Home was in charge of arrangements.