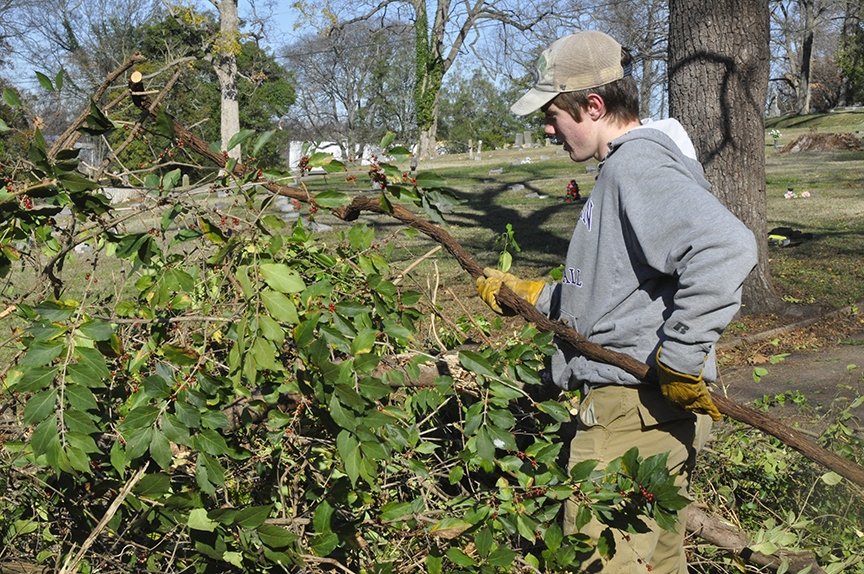 Keeping with their school motto of "a tradition of faith, knowledge, and service," dozens of Father Ryan High School students, faculty, and staff spent Saturday, Nov. 19, at Calvary Cemetery, cleaning up an overgrown grotto down the hill from the main office.
"One of the things that we've been trying to do is partner with the (Diocese of Nashville) wherever we can," said Paul Davis, Father Ryan president. "We have so many of our community laid to rest out here, so when there was found to be a grotto here that was overgrown … it was an immediate 'yes.' We look to our Blessed Mother as an intercessor and support, especially in terms of loss.
"We value and appreciate our grotto on campus, so it is nice that we can help recreate a similar space for our faithful departed and their families," he added. "Our service learning engages students in the Corporal Works of Mercy and Catholic social teaching. While we're not burying the dead, we are taking care of the space where many of the Catholic community, laypersons as well as clergy, are laid to rest. We felt like this was a great way to serve and show devotion to our Blessed Mother."
Referring to the third session of the three-part Grief Series at St. Edward Church that featured Father John Hammond, vicar general and judicial vicar for the diocese, Davis said, "Father Hammond talked about grace in dealing with grief. One of the things he emphasized is praying for the dead. So, here we are, through service, praying for the dead and hopefully creating a place where people will feel comfortable to come out and pray for intercession from Our Lady."
Throughout the day of service, the group cleaned up fallen limbs, trimmed bushes, raked debris and more, as the space became more and more uncovered and visible again. It's one of the many projects recently to clean up the cemetery.
"Most of the problems before stemmed from labor or equipment issues regarding the contractor used for managing the grounds for the cemetery," explained Deacon Mike Wilkins, director of operations, sales and marketing for the cemetery. "We've since established a relationship with a different company, so that particular problem is resolved."
As for the grotto, "this area had been abandoned for quite a while," he explained. "There was historically a little grotto with a statue of Mary, and out in front of it there was a little pond area that has since been filled in."
Then, after the statue of Mary was relocated, the area just hadn't been kept up, Deacon Wilkins said, but he's pleased with the work Father Ryan did to change that.
"They did fabulously. I just couldn't be more pleased," Deacon Wilkins said. "This is an area that I had wanted addressed ever since I started here eight years ago but it was always something beyond budgetary constraints. The fact that we were able to get so much done with volunteers was a fabulous achievement."
Father Ryan's involvement in cleaning up the grotto came after Deacon Wilkins spoke to David Glascoe, special projects advisor for the diocese, about it; the latter then brought it up to Davis.
"We have an obligation to maintain the cemetery so that it's attractive to family members whose loved ones are buried there. It's a source of pride for the diocese and for the Catholic community," Glascoe said. "It's important to connect Catholic groups to the cemetery, and it's an opportunity to keep the cemetery in the minds of Catholics in our diocese and particularly those who might want to volunteer to lend a hand."
Keeping the cemetery and those buried there in their minds is something Davis encouraged students to do throughout the day, especially the many buried who played a part in Father Ryan's history. It's a message that stuck with Sanjeeth George, Father Ryan junior and chaplain of Elliston House.
"We owe it to them for how much they've done for Father Ryan and Catholic education" to keep up the area, George said. "We want to honor them the best way we can, and while we can never fully repay what they did for us, we can at least try to strive and be better examples.
"Getting more people to engage in community projects that benefit the wider society, it will strengthen people's faith, and it will strengthen the bond that everyone in this community will have," he added. "Cleanup projects and any kind of service toward the wider community are things that bring us closer to God."
Henry Braeuner, Father Ryan junior and chaplain of Immaculata House, agreed.
"When people come back and see their loved ones, we want them to have a nice, prayerful time, and we owe it to the people and their families to keep it clean," he said. "Even though they've already been buried, you still have to keep up the cemetery and make it a nice place for them to rest."