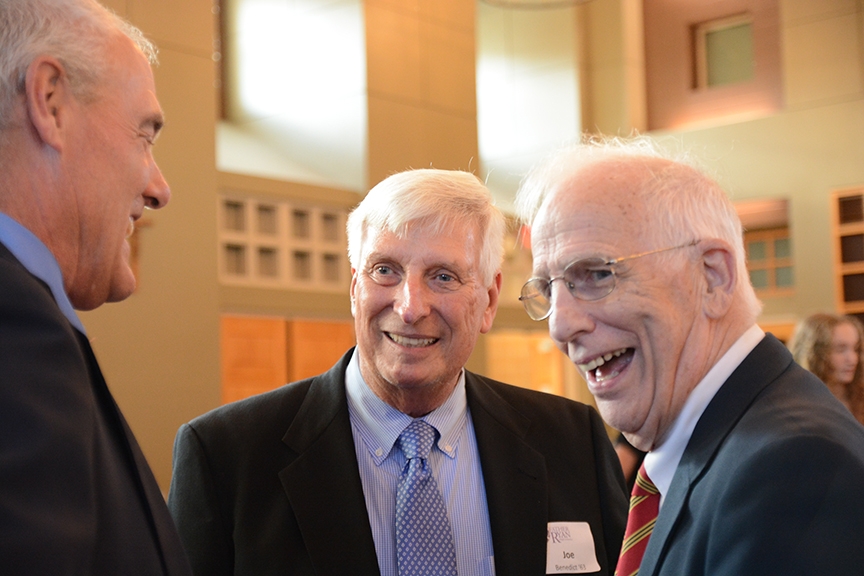 Father Ryan High School added eight athletes, one coach, three contributors and one team to its Athletics Hall of Fame during ceremonies on Thursday, Sept. 1.
Members of the Hall of Fame Class of 2002 included: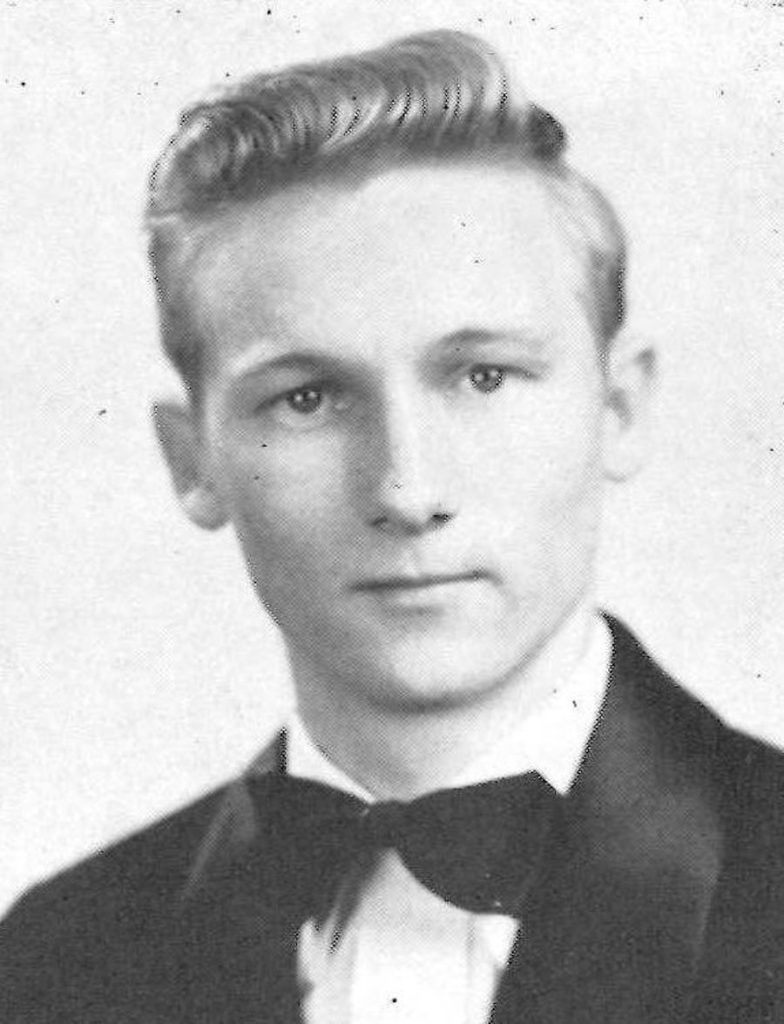 • Paul Barnard, Class of 1950, Baseball, Basketball.
Gritty and persistent, Paul Barnard was the typical mid-20th century Father Ryan athlete, fitting in well with the style of play Leo Long preferred on the field and court.
A 130-pound starting point guard, Barnard fearlessly battled other Nashville athletes, including Mt. Juliet star and future NBA player Tom Marshall.
A star on the baseball diamond as well, Barnard was named All-Nashville Interscholastic League as an infielder, leading the Irish at first base and on the mound to a regular season Western Division Championship.
After serving aboard a Navy destroyer ship in Korea, Barnard was an active participant in athletics at both Father Ryan and at Catholic schools in Nashville. He served as the boys basketball coach at Holy Rosary Academy in Donelson and stayed an active supporter of Father Ryan athletics until his death in 2011.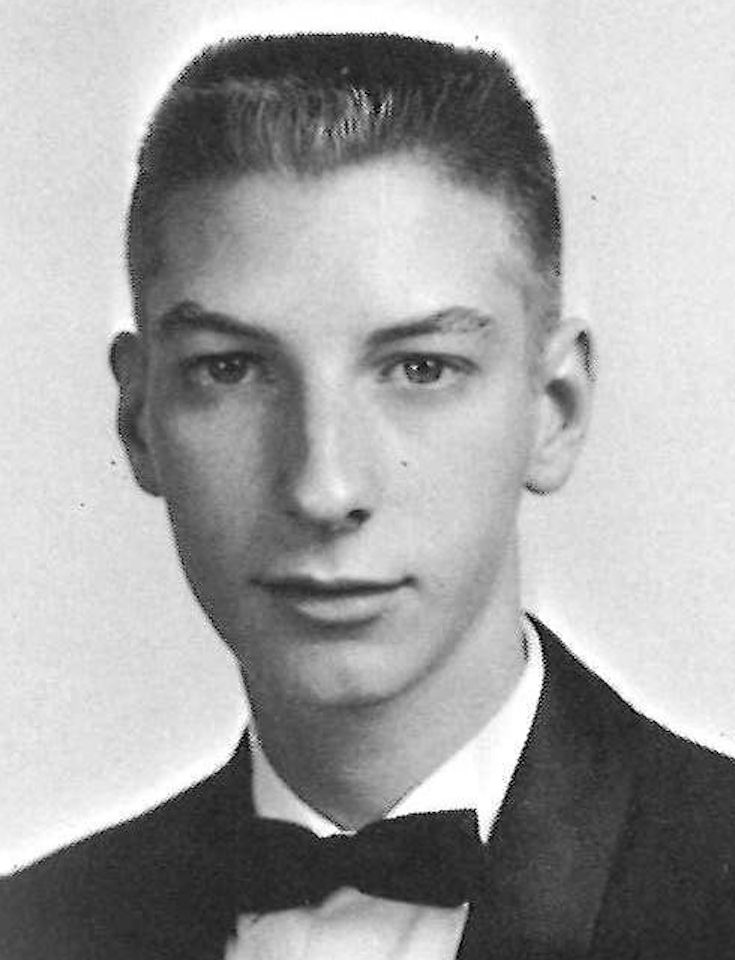 • Joe Benedict, 1963, Baseball, Basketball.
Joe Benedict was a member of the baseball and basketball teams during his four years at Father Ryan. He was the sixth man on the 1962-1963 NIL Co-Championship Basketball Team, was selected to the 1963 All-City Baseball Team, and was the second-leading hitter in the NIL.
Benedict was recruited to play baseball at Vanderbilt University, and he was a four-year starter for the Commodores, winning MVP honors his senior year of college.
After college, Benedict enjoyed a more than 40-year career with the Tennessee Valley Authority and participated on the company's recreation teams in basketball, volleyball and softball. Now retired, Benedict currently competes as a 75+ basketball player in the National Senior Olympics.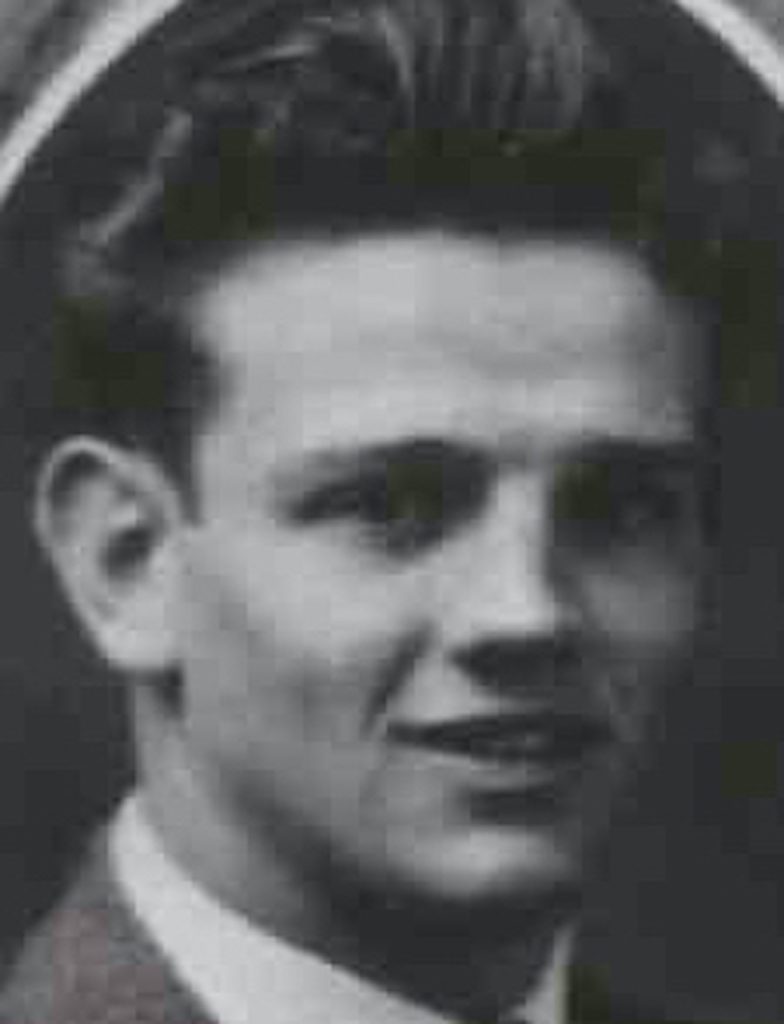 • Robert L. "Bobby" Berry, 1942, Basketball, Football.
Bobby Berry was a two-sport star for Father Ryan, leading the football and basketball teams to fantastic seasons in his junior and senior years, just as war was engulfing the world.
As a fullback on the football team, Berry was an anchor of the offense and a tough man to bring down, earning All-City honors and leading the NIL in scoring. On the basketball court, he was a key member of the squad, their valuable sixth man. He also played baseball and ran track for the Irish and was voted Most Athletic in the Class of 1942.
He went on from Father Ryan to serve in WWII as a corporal in the U.S. Marine Corps. He passed away in 2004.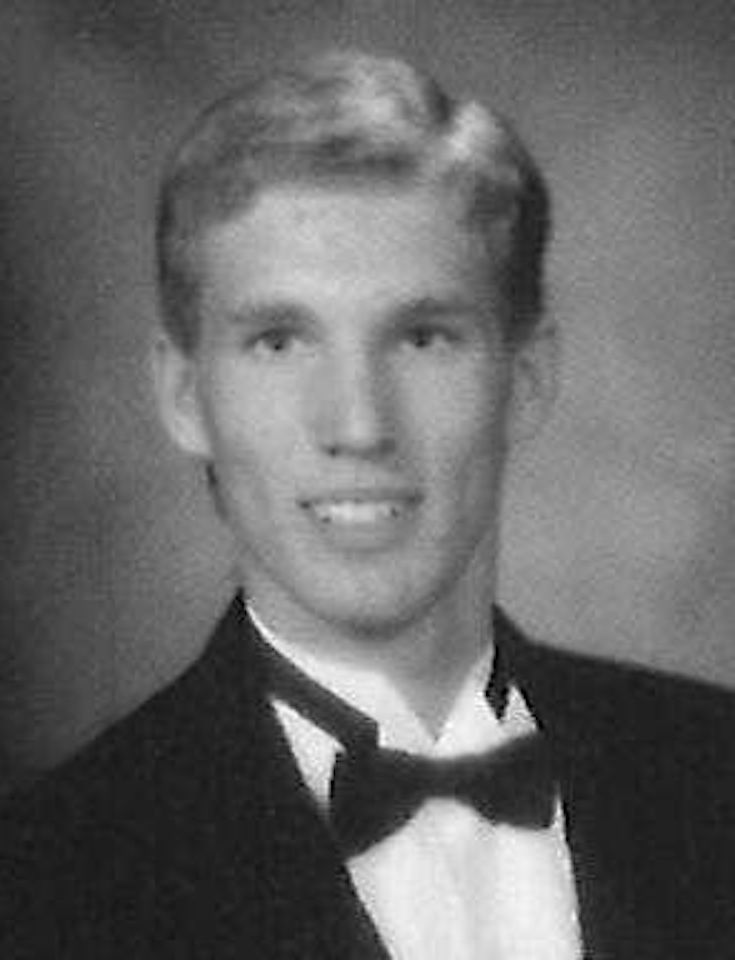 • Joe Crumby, 1995, Basketball.
As a student at Father Ryan, Joe Crumby was hard to miss. Not only is he a friend to all, but he stands at 6'7″.
Crumby put his height to good use during his Irish years, racking up more than 1,000 career points and leading the Irish boys basketball team to the state playoffs in 1994-1995, the first time the Irish had been to the postseason since 1974.
Crumby averaged 17.4 points and eight rebounds per game, and was a fan favorite for his ability to throw down some big-time dunks with ease.
After high school, Crumby played at UT-Martin and overseas in Ireland before transferring to Middle Tennessee State University and focusing on a career in education. He currently is Father Ryan's Dean of Students.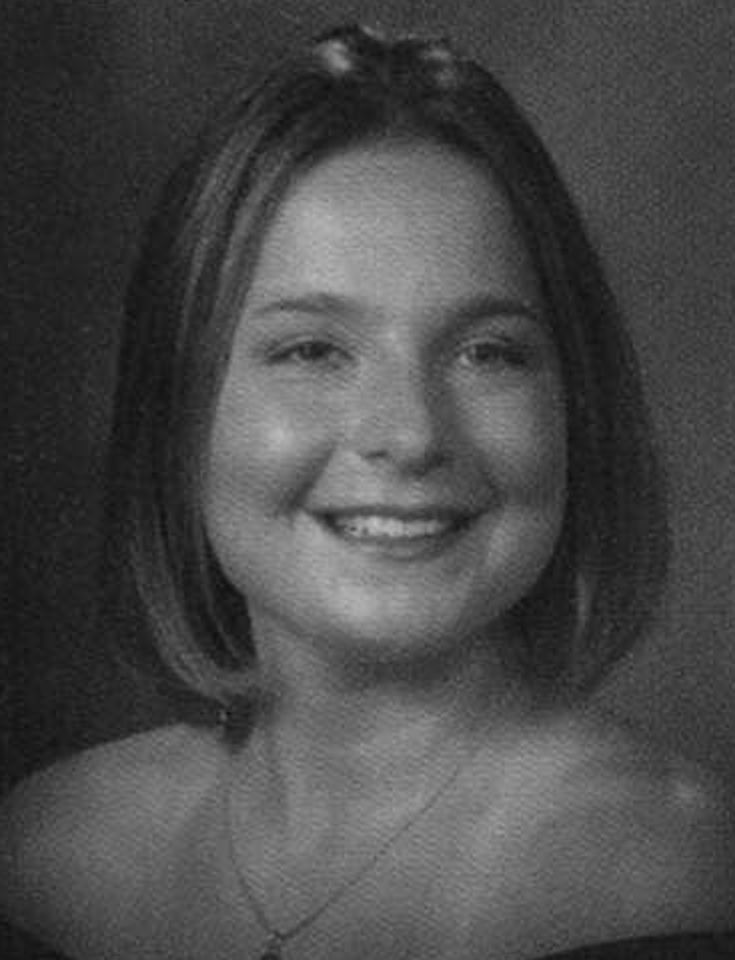 • Christy Csorna, 1999, Cross Country and Track and Field.
Perhaps the most dominant runner in Father Ryan history, Christy Csorna graduated as one of the most decorated athletes in school history. A 1998 Cross Country State Champion and a 1999 Track State Champion in both the 3200 and 1600 meter runs, Csorna was named the 1999 Girls Track Athlete of the Year by The Tennessean.
Csorna competed for Belmont University in college, where she continued her excellent career in both cross country and track, before graduating with a degree in nursing.
In the early and very uncertain days of the COVID-19 pandemic, Csorna selflessly served as a frontline healthcare hero on the COVID-19 wing of Vanderbilt University Medical Center, long before vaccines were developed and made available.
Csorna was named to the Belmont University Hall of Fame in 2020.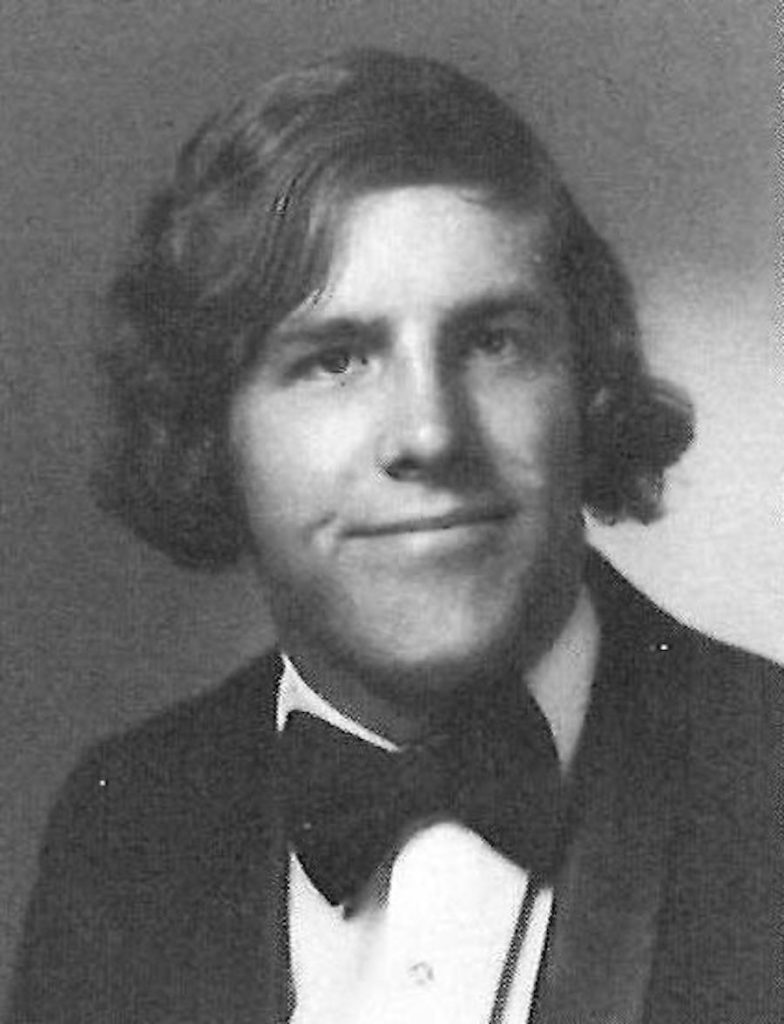 • Michael Hooker, 1974, Football, Track and Field, Wrestling.
Michael Hooker truly fit the bill as "big man on campus," both in stature and personality. Athletically, Hooker was extremely gifted, excelling in football, wrestling and track and field, where he threw the shot put and held the Father Ryan record for 38 years … until it was bested by his nephew, Jim Wilson, Class of 2012.
Off the field, Hooker was known as a leader and a friend to all. He found love at Father Ryan, dating and eventually marrying his high school sweetheart Mary (Rotoni) Hooker, Class of 1974.
Today, the Hookers are the proud parents of nine children, grandparents of four, and dedicate their free time to mission trips and volunteer work.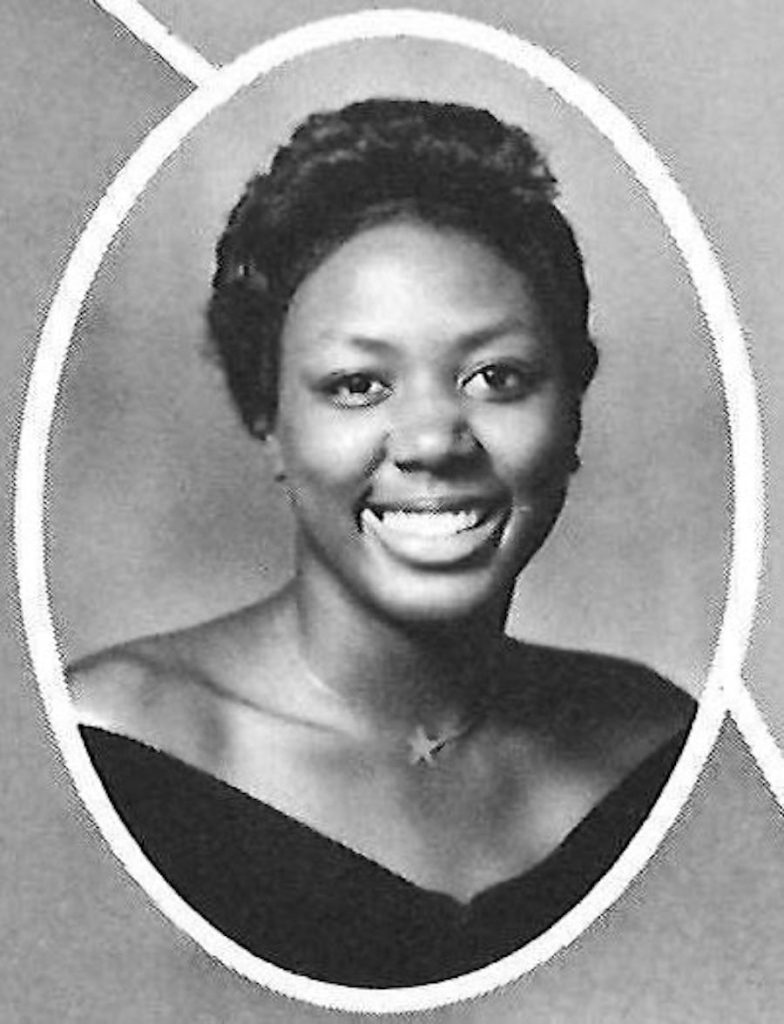 • Jocelyn P. Robertson, 1976, Basketball.
The anchor of the Lady Irish Basketball Team during her years at Father Ryan, Jocelyn Robertson Thomas played the center spot and was known for her rebounding prowess and leadership both on and off the court.
Robertson finished her Irish career with more than 1,000 points and was named Most Athletic in her senior yearbook. In 1976, her senior season, she led the NIL in scoring.
She graduated from MTSU in 1980, and after 40 years working at Tennessee State University, retired in 2020.
Robertson remains involved in the Nashville community today. She volunteers with Helping Hands Ministry, New Life SDA Church, EBT Single Mom's Ministry, and Nursing Home Ministry.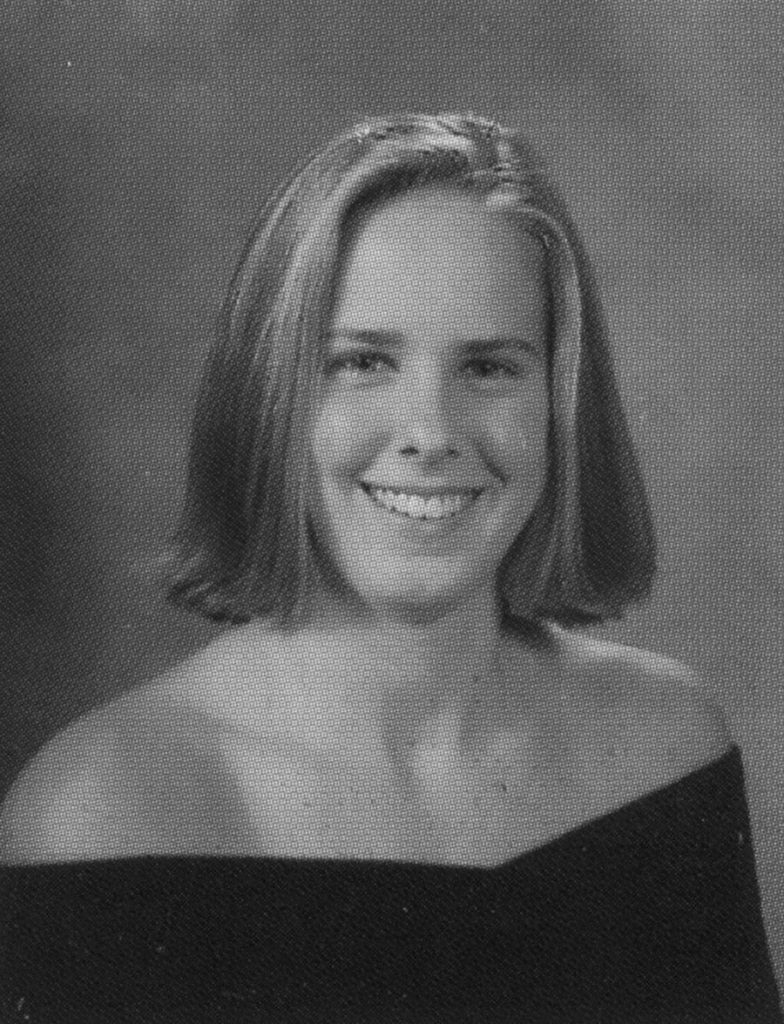 • Christina "Whit" Whitley, 2000, Basketball, Volleyball.
A two-sport Irish athlete in the latter half of the 1990s, Christina Whitley was "an undersized, yet dynamite" athlete, according to her former coach and fellow Father Ryan Athletics Hall of Famer Jinx Cockerham.
Whitley excelled in both volleyball and girls basketball and was renowned for her relentless nature, competitive spirit, and Irish pride.
After high school, Whitley went to MTSU. She is now a physical therapist and is passionate about volunteer work. She can be found donating her free time to help the elderly or assist with animal rescues in the Nashville area.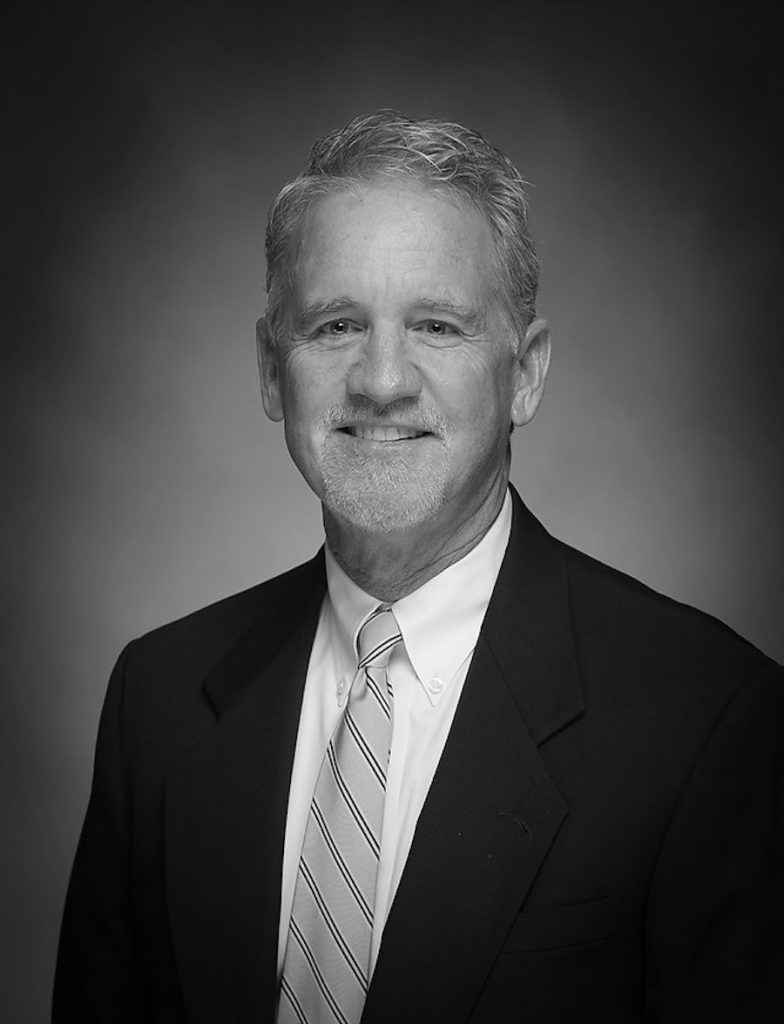 • Bill Brunner, 1977, Coach
"All Irish" since his days as a student on the Elliston Place campus, Bill Brunner has worn just about every hat there is to wear for Father Ryan. After graduating from MTSU with a degree in economics, Brunner returned to his alma mater to teach and coach.
In 2002, as head coach, Brunner led the Irish baseball team to its first-ever state championship.
He now works as the Athletics Fields Manager for Father Ryan and continues his work in the classroom. A lifelong educator and "numbers guy," Brunner teaches math and AP microeconomics, and was selected as the Bishop Smith Teacher of the Year in 2021.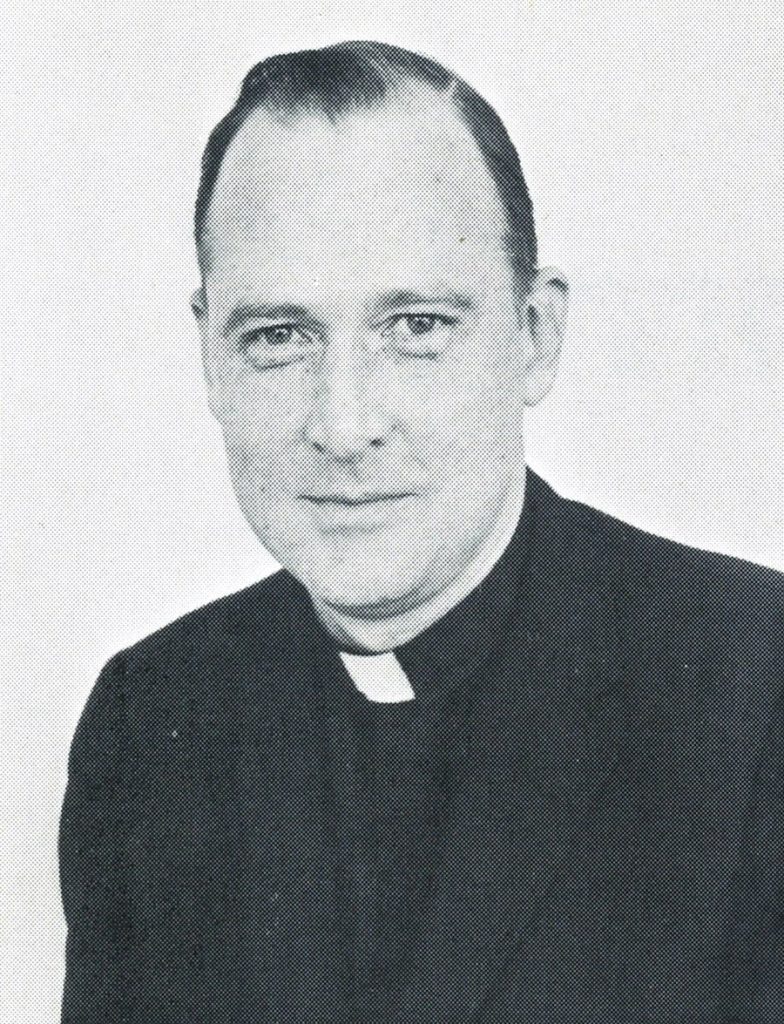 • Father Bill Fleming, 1949, Contributor
An active supporter of Father Ryan during his high school days, Father William Fleming became one of the Irish's most devoted, vocal, and supportive fans during his tenure as religion and history teacher from 1958-1971 and as principal from 1971-1974. In addition, he served as the head tennis coach for the Irish from 1961-1964.
Father Fleming made one of the largest gifts of funds to Father Ryan High School upon his death in the late 1990s, creating two scholarships at Father Ryan for those needing assistance in order to enjoy and benefit from a Catholic education. While not specified for athletes, the scholarship proceeds have served to make Father Ryan accessible to numerous student-athletes. To date, those funds have provided more than $1 million in financial assistance to students at Father Ryan.
For his lifetime of support and his engagement with students across his 15-year teaching career, the Father William Fleming awards are presented each year to the top athletes – male and female – for their achievements in athletics and their accomplishments in and out of the classroom.
Father Fleming passed away in 1999.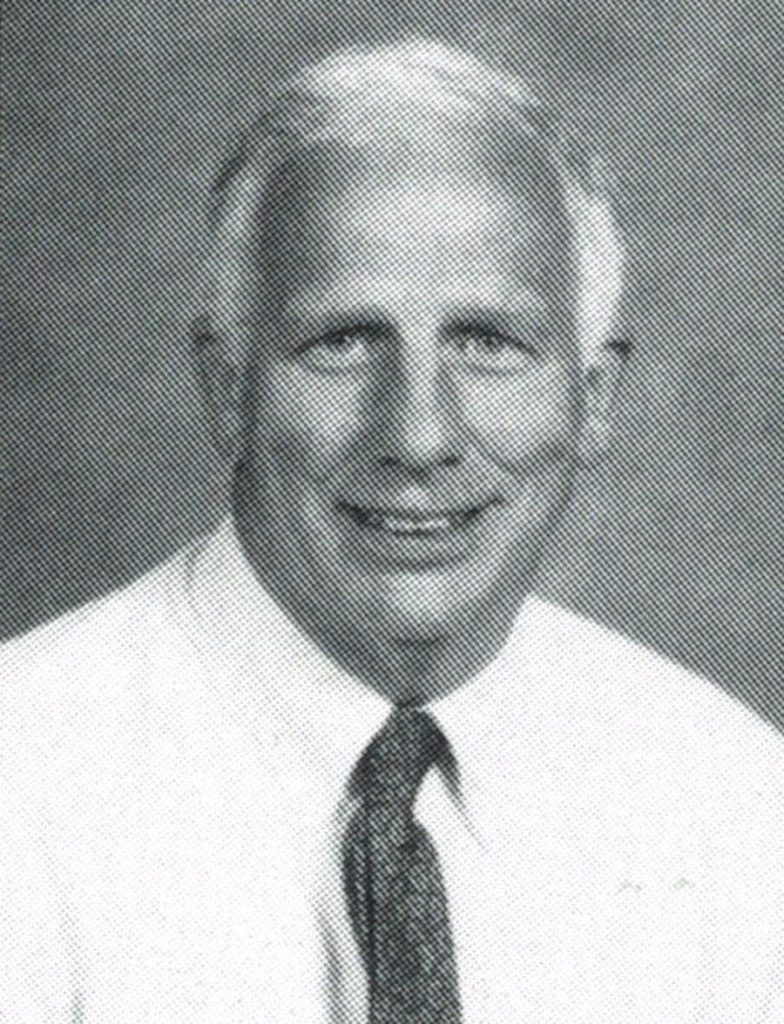 • Everett "Hosey" Holzapfel, 1959, Contributor
From 1955 to 2009, with the exception of just a few years, Everett "Hosey" Holzapfel could be found at Father Ryan. He was the starting quarterback and captain for the football team and point guard for the basketball team.
After graduating from college, Holzapfel returned to his alma mater and spent two decades as a teacher in the Math Department, with a focus on statistics. During this time, he was the official statistician for the Father Ryan athletics, and rain or shine, Holzapfel was on the sideline at every game, recording stats and keeping notes in his trademark trench coat and fedora. At a time before computers, when analytical breakdown of sports was still in its infancy, Holzapfel was ahead of his time.
In the early 2000s, Holzapfel was named the school's Athletic Director, leading the department during an exciting time that culminated in the construction and opening of Giacosa Stadium. Holzapfel retired in 2009 and remains a passionate fan and supporter of the Irish.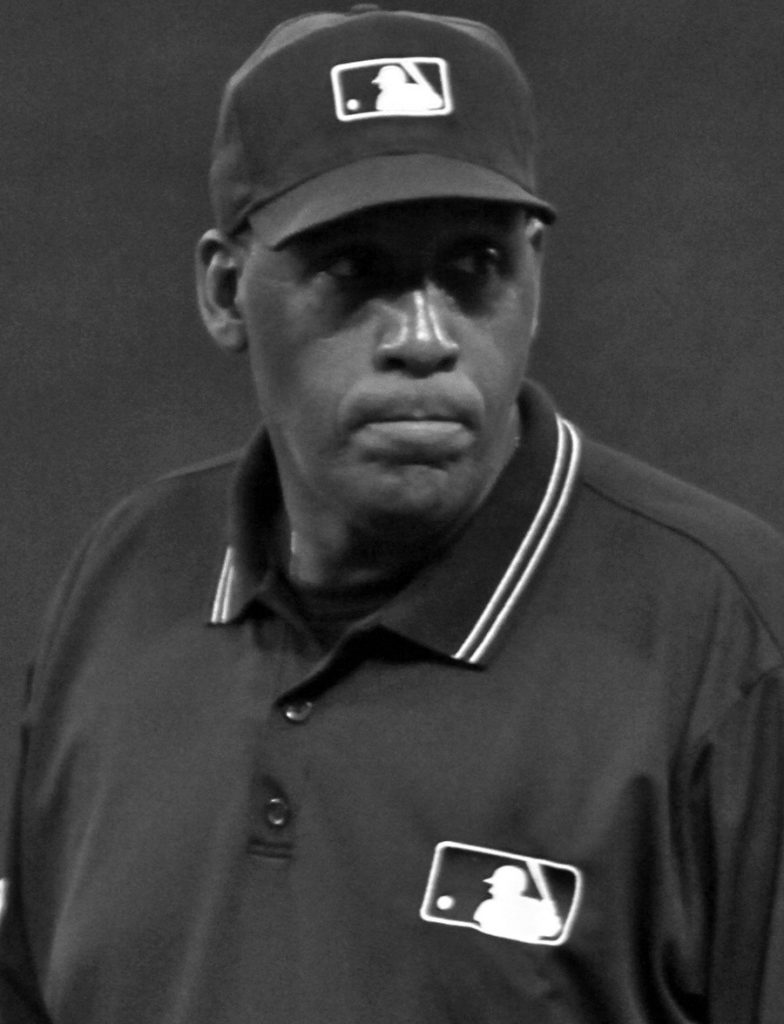 • Chuck Meriwether, 1974, Contributor
From his days as a student to his service as a member of the Hall of Fame selection committee, Julius "Chuck" Meriwether was an ambassador for Father Ryan athletics and the entire Irish community.
A baseball player throughout his youth, Meriwether's passion for the game led him to pursue perhaps the hardest job in America's pastime: umpire. After years spent working his way up the ranks at the local and college levels, Meriwether became a Major League Baseball umpire in 1987, just the fifth African American umpire in league history at the time.
He enjoyed an illustrious career on the diamond, and was behind the plate for the final game of the 2004 and 2007 World Series and umpired two perfect games.
Meriwether passed away from cancer on Oct. 26, 2019; that evening, MLB held a moment of silence for him before the start of Game 4 of the World Series at Nationals Park in Washington, D.C.
• 1973-74 Girls Basketball Team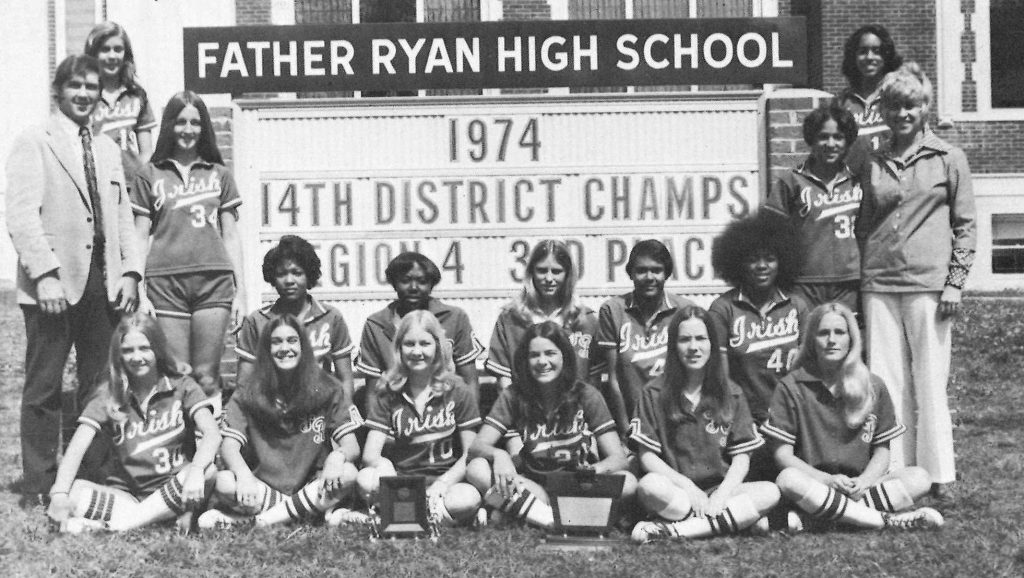 In just its fourth season as a sport at Father Ryan, and playing in one of the largest and most competitive divisions at the time, the 1973-1974 girls basketball team advanced the Irish girls athletics program in a significant way. The team's performance introduced Father Ryan to the state's powerhouse programs, and produced a memorable season that established its longstanding record of basketball excellence.
Coached by Father Ryan Athletics Hall of Famers John Gorham, Class of 1954, and Jinx Cockerham, and featuring Hall of Famers Karen Harris Russell, 1974, Kay Batey, 1974, Paula Holloran, 1975 and fellow 2022 inductee Jocelyn Robertson Thomas 1976, this squad was truly an Irish "dream team" and the result of a serendipitous assembly of talent, determination, and grit. They were District Champions and finished third in the TSSAA State Playoffs, losing to eventual runner-up Warren County, who fell to Shelbyville, a longtime girls basketball powerhouse.
The season was a major milestone for the Irish, as Father Ryan represented one of the smallest schools in its division and held its own against large city- and county-wide schools. The Lady Irish finished with a 23-7 record.
Gallery photos by Andy Telli