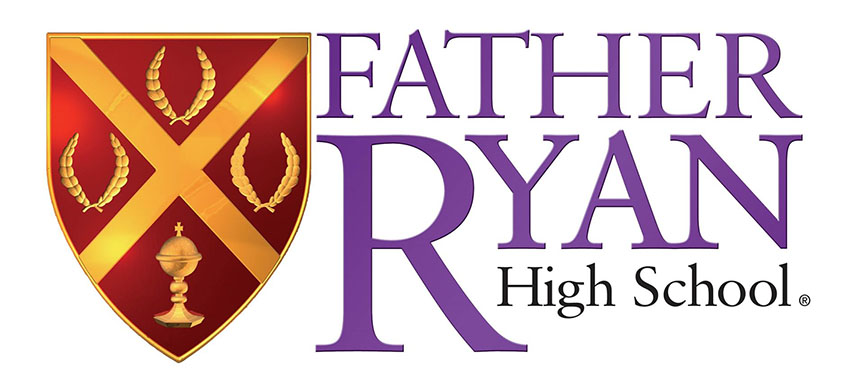 Father Ryan High School has announced the introduction of the Hayes Scholars Program, created for incoming students to promote personal integrity, intellectual curiosity, an unyielding pursuit of excellence, and a kind and generous spirit.

Named in honor of Father Ryan's late Academic Dean Sara Hayes, Hayes Scholars will receive access to valuable benefits, such as an exclusive lecture series and a dedicated advisor, to challenge students to reach their highest academic potential while providing individualized support. This new program will be available first to the Class of 2026, Father Ryan's 100th graduating class.

"Father Ryan strives to serve the unique needs of students of all levels. The implementation of this program will continue to support and develop our high-achieving students in all academic endeavors," said Academic Dean Jennifer Anton. "We look forward to honoring Sara's commitment to Catholic education through the Hayes Scholars Program."
Students in the top tier of composite scores in the placement test for Father Ryan will be invited to participate in the program. Students not invited to apply, but who wish to be considered, may request an application from the Director of Admissions at admissions@fatherryan.org.
Additional criteria that will be reviewed by the selection committee include: a complete file review, a personal interview with the applicant, and a written personal statement.
Accepted Hayes Scholars will receive the following benefits during their time as a Father Ryan student:  
A dedicated advisor to help in navigating the academic journey at Father Ryan. 
College Planning and Guidance in preparing for highly selective college admissions and merit-based scholarships. 
Guidance in creating a four-year course plan and individualized course selection advising. 
A lecture series featuring community members on specific topics related to individual areas of expertise.  
Hayes Scholars will receive information through a quarterly newsletter with pertinent school and community content. 
In order to maintain Hayes Scholar status throughout a student's time at Father Ryan, scholars must: 
Maintain a 93 cumulative weighted GPA each semester. 
Enroll in three CORE courses at the honors, high honors, or AP level annually. 
Earn at least 15 credits in CORE courses at the honors, high honors, or AP level in total by graduation. 
Be involved in at least three school-sponsored activities annually, exclusive of House membership, which is required of all students. 
Participate annually in an academic survey with a focus on the student's academic experience and community impact.
Complete service hour requirements on time.
Have no integrity code violations.
Over a 30-year educational career, Hayes served at many Catholic schools, including as the academic dean and assistant principal at Father Ryan. As a result of extended illness, she stepped down from both positions in 2017.
Hayes began her education career in elementary school classrooms and subsequently taught every age of student, from kindergarteners through sophomores in college.
For more than 18 years she called Father Ryan her beloved home. She began teaching at the school in 1998, educating students in theology, Latin, American literature, and Spanish.
As Father Ryan's Academic Dean, she led the school through the introduction of block scheduling and acquiring Dual Accreditation, oversaw the expansion of Advanced Placement courses from 15 to 25, and enhanced the accreditation of Father Ryan through the introduction of a Cum Laude Honor Society chapter.
During this time the school saw more than 80 students honored by the National Merit Scholarship Corporation.
Hayes held a bachelor's degree from Notre Dame College of Ohio and a master's from Middle Tennessee State University. In addition to this, she earned more than 30 hours of master's level course work in curriculum design, instruction, and administration and supervision.
"Sara Hayes loved our students, our faculty, Catholic education, and Father Ryan," said Jim McIntyre, the school's president who worked with Hayes for more than a dozen years. "Hayes Scholars will continue her legacy to seek truth through the formation of the total person in their faith, knowledge, and service."
More information about the Hayes Scholars Program is available at FatherRyan.org/admissions.