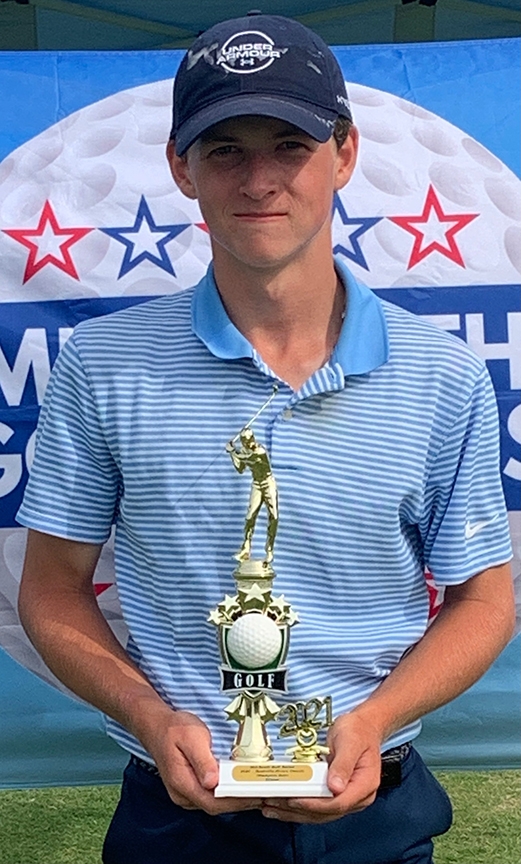 A 16-year-old from Father Ryan High School, who suffers from a serious neurological impairment, came in 14th place at the first annual U.S. Adaptive Open July 18-20.
Luke Carroll, a parishioner of St. Joseph Church in Madison, has been a competitive golfer for nearly the past five years and has worked his way into becoming a skilled nationally renowned athlete, despite still being a teenager and struggling with serious physical handicaps. He's competed in several local tournaments and was recently able to travel with his family to Pinehurst, North Carolina to compete in the first ever U.S. Adaptive Open, hosted by the United States Golf Association. The U.S. Adaptive Open is a national championship, which showcases the world's best golfers with disabilities.
"The first day we got there, and we practiced," said Duane Carroll, Luke's father. "Next day, Luke went out and shot a 70, did another practice round, and then he went out and played again. First score was 79 due to an out of bounds ball, and then on the par fives, we didn't do as well as we thought. Our goal is a 75, his normal par.
"The next day he had a good front nine, six pars in a row and then on the back it was such a long day. It was a six-hour round. He got tired and short an 82, 42 putts when normally his average is 32. He was just barely missing," he said. "We went home and talked about it, and he said he'd been pressing himself to get a good score. We relaxed and then the next day he came out and shot 74, two over. He came in fourth in his division, seventh in the Men's U.S. Division and 14th in the world."
USGA lists his scores as 79, 82 and 74 for a total of 235 points. Playoff winner Simon Lee won internationally with a total of 213 points.
Luke Carroll lives with Transverse Myelitis, an immune disorder that causes inflammation and nerve damage in the spine. Most people who develop the condition at least partially recover. According to his father, when he was 10 years old, Luke complained of back pain one day, and suddenly couldn't feel his legs the next. He would spend two weeks recovering at Vanderbilt University Medical Center before he regained feeling in his toes. He subsequently spent another eight weeks at Nationwide Children's Hospital in Columbus, Ohio, before returning home with a walker. He still struggles with balance and walking and requires frequent physical therapy.
He initially wanted to get back into sports, as he had been a baseball player. It quickly became clear though that he could no longer play at the level he did before. The following year, he joined his father in a round of golf and enjoyed it. He ended up signing up for Junior PGA at Hermitage Golf Course when he was 12.
"I'd go golfing once or twice a week with my friends and he'd always see me and say, 'I'd like to try golf,'" Duane Carroll said. "I took him out one day and he wanted to sign up for the Junior PGA at the Hermitage Golf Course. They had some good teachers, and it took off from there. He made the little league All-star team, went to the state tournament at Jackson Country Club, played junior high golf, and then he started signing up for more tournaments."
Greg Thompson, an English teacher and golf instructor at Father Ryan High School, said he remembers how incredible it has been watching his student grow from a struggling freshman to a national-level competitive golfer over the past two years.
"I first met him when he started at Father Ryan two years ago," Thompson said. "When I first met him, he had only been playing golf for three years or so. He just dedicated to turn himself into a player. He didn't hit the ball very far, but his short game was unbelievable. He kept getting better and better. He's a special kid; great attitude. He was very quiet and shy when I met him, and now he's really turned into a great young man whose doing things to inspire others."
Thompson attended the second and third round of the U.S. Adaptive Open and spoke highly of Luke Carroll's performance and attitude on the green.
"The tournament was amazing, and the people involved in it, it was a life-changing experience," Thompson said. "The competitors all supported each other, all had different things to deal with, and Luke became a rockstar there because he was younger and still really good, … and he's going to keep getting better."
Luke Carroll said he loves golf because when he gets "out there, it makes everything go away and allows me to indulge my competitive side." His goal, he said, is to compete professionally, to make it to Division 1 and to win next year's U.S. Adaptive Open.
He credits his faith for helping him "stay humble and to learn how to be appreciate of what I have, to give everything to God and make sure he is first and know he has got me."
On his Twitter profile, he prominently displays Proverbs 24:16: "For though the righteous fall seven times, they rise again, but the wicked stumble when calamity strikes." He said he works hard to live out that Proverb and to keep getting up despite his struggles.
Luke Carroll thanked his brother, parents, doctors, coaches, teachers, friends and family for being supportive and helping him to get where he is now.