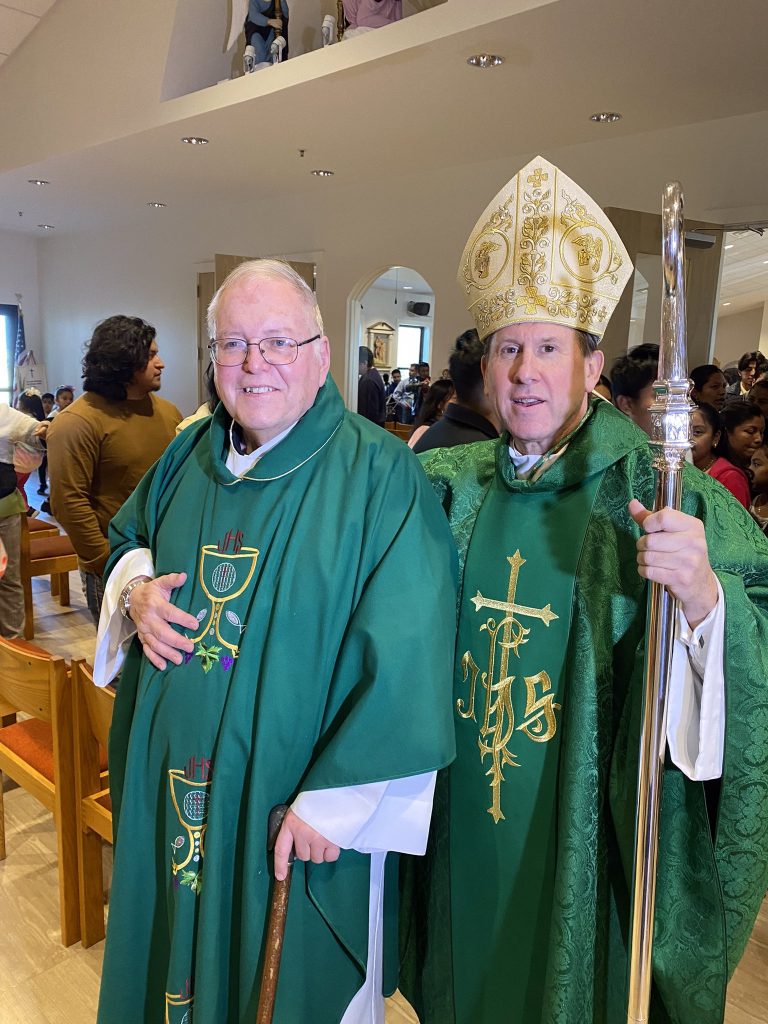 When Glenmary Father Vic Subb arrived at Holy Family Church in Lafayette as its new pastor in September 2012, the people's long-held dream of building a new church had stalled.
He set about helping the parishioners to finally reach their goal. "We all had to pitch in and work for one common cause," Father Subb said. "People realized to get this built, we had to work together."
In September 2019, the new church was dedicated. "It was an effort of so many people," Father Subb said.
Father Subb celebrated his last Mass in the new church as pastor of Holy Family on Sunday, Jan. 23. Bishop J. Mark Spalding was there to help the parishioners give a joyous sendoff to Father Subb, who is returning to the Glenmary Home Missioners headquarters in Cincinnati as he prepares for retirement when he reaches 70 years old next August.
"He has always been warm, his door has always been open," said Holy Family Parish Council Chair Joan Callis said. "He has a twinkle in his eye all the time. He's got a great sense of humor.
"He's there for you no matter or what," she added, "always trying to see what needs to be done."
The work of ministry is often about connecting people to the help they need, said Father Subb, who also served as pastor of Divine Savior Mission in Celina. "I find people in ministry need to be a lifeline."
He finds inspiration in Jesus' words in the Gospel of Matthew, "Whatever you did for one of these least brothers of mine, you did for me."
"There is so much spirituality in that. We are called to surrender ourselves in so many ways to the Lord," Father Subb said. "We have to be the hands of the Lord, we have to be the feet of the Lord, the eyes of the Lord. Our main goal is to evangelize. Our job is to give people the awareness of the presence of the Lord."
Father Subb brought that same spirit to Divine Savior in Celina, a mission of Holy Family Church. "It's a small place, but it's a wonderful place, a lot of good people willing to serve and help others," he said. "The people are involved in a lot of things in the community. They're a good group. A very good group."
'You have to be welcoming'
During his time at Holy Family, the church has experienced a lot of growth, particularly among the Hispanic community. When he first arrived, about 30 people would attend the Spanish Mass at Holy Family. Today, that Mass draws between 220 and 250 people, Father Subb said.
Between 90 and 100 people attend the Sunday English Masses, he added.
"You have to be welcoming, you have to be loving," Father Subb said. "The word 'I' needs to be replaced with 'we.'"
Some of the growth is a result of the general growth of the area around Lafayette, and some of the growth has been encouraged by the building of the new church, which includes offices, classrooms, a parish hall, and a kitchen.
"We needed a building to build ourselves up," Father Subb said.
'A good fit for me'
Father Subb, who grew up in the Philadelphia area, originally hoped to be a foreign missionary. But as a student at Mount St. Mary's University in Emmitsburg, Maryland, he learned about the great need for missionaries here in the United States. That led him to the Glenmary Home Missioners, whose charism is to serve in rural areas of the South where the Catholic Church has a small presence.
"I found it to be a good fit for me," he said of Glenmary. "It's been a good community. They've been very supportive of me."
Father Subb worked as a special education teacher for several years before joining the Glenmary order and being ordained in 1987. During his priesthood, he has served in Georgia, Kentucky, Arkansas and Tennessee.
"I love being in a small town," he said. "It's an exciting ministry. People should be lining up to work in small towns. They're full of life and there's so much to do."
Though he is stepping down as a pastor, "I would really like to continue ministry," Father Subb said, helping out by filling in for other priests, helping people get to their doctor appointments, working with migrant workers, and in other ways. "I love that," he said.
"I have to be open," Father Subb said, "to what the Holy Spirit has asked me to do."