Catholic Charities, Diocese of Nashville celebrated its roots during its annual fundraiser El Festival de Esperanza presented by First Horizon on Wednesday, April 27.
The event had a Cuban theme to highlight the founding of Catholic Charities 60 years ago to resettle children refugees from Cuba as part of Operation Pedro Pan.
On hand were the three Fernandez brothers, Pablo, Carlos and Luis, who lived with the Rowan family when they arrived in Nashville in August 1962. It was a call from Carlos to Judy Orr, executive director of Catholic Charities, that sparked the idea of using the annual fundraiser to highlight the agency's first efforts resettling the Cuban children who arrived in the United States without their parents.
Orr thought it would be wonderful to have a reunion of an original Catholic Charities client and an original volunteer family, she told the crowd.
"This celebration should be for the Rowan family," said Pablo Fernandez. "They gave us all the love we were hoping for."
"They were like little brothers," said Kathleen Rowan Carlton, whose parents took in the Fernandez brothers. "We enjoyed them so much."
On behalf of Operation Pedro Pan Group Inc., which was founded by former unaccompanied Cuban children resettled through the program, the Fernandez family presented to Carlton a commemorative plate engraved with a message of appreciation for the Rowan family's "loving guidance, support and generosity. Their assistance and inspiration were fundamental in shaping our lives."
They also presented a plaque from Operation Pedro Pan Group Inc. to Catholic Charities with a similar message expressing gratitude "for their loving guidance, support and generosity to the Pedro Pan children."
Carlton, an artist, gave the Fernandez family her painting depicting her parents and their home.
The Fernandez brothers and the Rowan family weren't the only Cuban child refugees and host families at the fundraiser. Anna Warner, who now lives in Gallatin, attended with Kitty Webster Holmes, whose family welcomed Warner into their home when she arrived in Nashville in August 1962, a month after her 13th birthday.
"Good people took me in," Warner said. "I'm still pestering them after 60 years," she added with a laugh.
Warner and the members of the Webster family have remained close for the last 60 years, she said.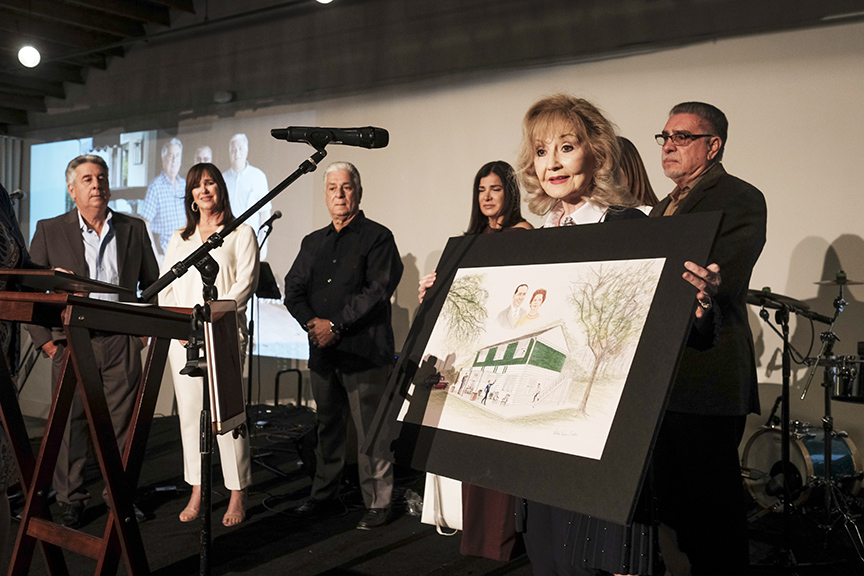 The fundraiser included the showing of a clip of a video about the Cuban children resettled by Catholic Charities. The video, "When Pedro Pan Came to Nashville," can be seen on Catholic Charities' website, cctenn.org.
The evening also included Cuban music, dance and food at the Saint Elle event venue on Third Avenue South in Nashville. Orr said she wanted an event that reflected the people who work for and are served by Catholic Charities and their various cultures, as well as the work they do.
Proceeds from the event are used to fund the area of greatest need, Orr said. Because the use of the funds is unrestricted, they provide Catholic Charities flexibility in addressing needs in the community, she explained.
"It's good we are here to celebrate 60 years of Catholic Charities and all the good work they have done over the years," said Bishop J. Mark Spalding.
God calls each of us "to make things better" in the world, Bishop Spalding said. To add meaning to your life, work to reduce suffering in the world, he added. "That is a life worth living," Bishop Spalding said.
Catholic Charities is a leading provider of social services in the area, serving people regardless of their faith tradition. More than 25,000 people throughout Middle Tennessee are served each year through Catholic Charities' programs, which include disaster recovery, emergency assistance, emotional support, Family Resource Centers, housing stability, hunger relief, job training, and refugee resettlement.
Each guest and donor at the fundraiser received a copy of the Commemorative 60th Anniversary Book, featuring full-page portraits of 35 "graduates" of the many programs of Catholic Charities as well as essays about the various programs and the people served.