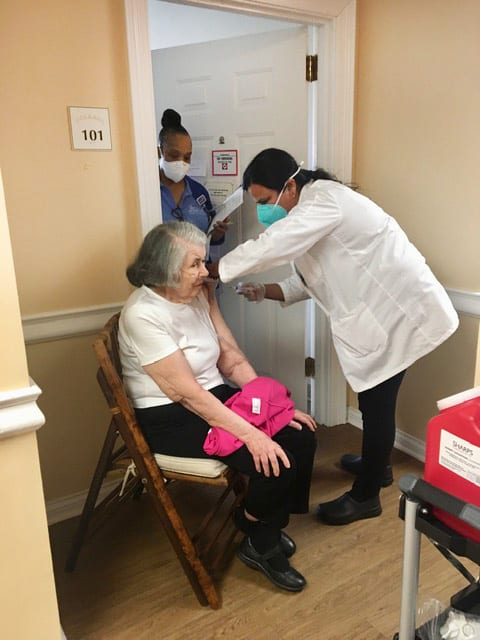 Residents and staff at the senior care facilities Mary, Queen of Angels Assisted Living Facility and Villa Maria Manor have received vaccinations against the COVID-19 virus, injecting another layer of protection for them.
The vaccinations were administered at Villa Maria Manor, the independent living facility, on Jan. 10, and at Mary, Queen of Angels on Jan. 27.
The families of the residents at the facilities were getting anxious waiting for the vaccinations to be available, said Rick Borofski, chief executive officer of Mary Queen of Angels and Villa Maria Manor.
Understanding isolation can lead to depression during these unprecedented times, the team at Mary, Queen of Angels used their creativity to establish 'Walking Programs," hallway exercises and activities, Zoom calls with families, and also resident-to-resident calls. Outdoor visits continue with "window" visits with children.
"The team has looked at every possible angle to ensure quality care and services continued despite the barriers that COVID-19 has laid before us," Borofski said. "We are very fortunate to have Mary, Queen of Angels Executive Director Lyndsey Gower's leadership and calm during this storm."
The residents and staffs of long-term care facilities, such as Mary, Queen of Angels and Villa Maria Manor, were included in the Centers for Disease Control and Prevention's recommended Phase 1a for distributing the vaccines.
Villa Maria Manor and Mary, Queen of Angels registered with the state as soon as the registration portal opened in November in order to schedule vaccinations, Borofski said. "We partnered with CVS Pharmacy as they had a contract with the federal government to vaccinate our residents. The state was responsible for determining vaccination dates in the facilities.
"Given Lyndsey Gower's and Villa Maria Manor Executive Director Iris Rilea's leadership, timeliness of registration, and persistence, we were able to start our vaccination programs in January," he added.
"Other senior living communities in Tennessee are still awaiting their first doses and we already have our second doses scheduled at each location," Borofski said.
When the CVS vaccination team came to Villa Maria Manor they administered 170 first doses of the vaccine. Ninety-three percent of the staff and 72 percent of the residents received vaccinations that day, Borofski said.
At Mary Queen of Angels, 95 percent of the residents were vaccinated and 42 percent of the employees received the first dose. Second doses are scheduled at both facilities in February.
The staff at both facilities will be communicating reminders to people about the dates for the second doses, Borofski said.
CVS staffers will return to Villa Maria Manor on March 10 and Mary, Queen of Angels on March 27 to vaccinate anyone who missed the earlier dates, Borofski said.
CVS employees administered the vaccines, taking the burden off the staffs at Villa Maria Manor and Mary, Queen of Angels, Borofski said. "They were really a huge, huge help for us to get this done," he said of the CVS employees. "We appreciated their professionalism and their caring, compassionate approach to all of our residents. They did a super job."
After the vaccines have been administered, Rilea and her staff at Villa Maria Manor will be watching the number of cases still active in Davidson County before deciding whether to loosen the restrictions on visitors, Borofski said. "My hope is the curve will flatten as more people get vaccines. We need to use data to make good decisions in order to continue to provide a safe environment."
As a facility licensed by the state, Mary, Queen of Angels is required to follow CDC and state regulations governing visitation policies, Borofski said. "We can't make that decision on our own," he said.
The COVID-19 pandemic has had an impact on other aspects of the operation at Mary, Queen of Angels, Borofski said.
"Our dedicated staff are working diligently to keep residents and families safe requiring face coverings, handwashing and social distancing," Borofski said. In this time of high unemployment, Borofski encouraged people to visit the Mary, Queen of Angels website to apply "to be part of this incredible team.