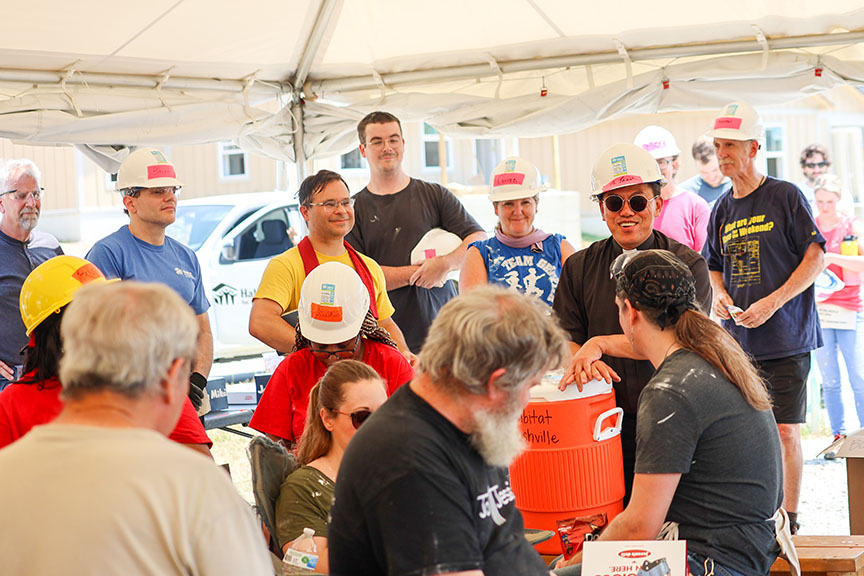 Parishioners from five Catholic parishes came together to help provide a new home for a woman and her grandson through the Habitat for Humanity program.
St. Henry Church, Christ the King Church, and the Cathedral of the Incarnation in Nashville, St. Matthew Church in Franklin, and Holy Rosary Church in Donelson contributed volunteers and funds for a Catholic build. A total of 150 volunteers, including Deacon Christopher Hoover and Seminarian Griffin Brewster from Holy Rosary, participated in the build June 24-25 and worked on six different homes in the Village by the Creek neighborhood in North Nashville.
Father Tien Tran, associate pastor of St. Matthew, toured and blessed the site on Saturday, June 24.
The volunteers installed insulation, hung doors, painted and installed baseboards, raised trusses, and painted.
Habitat for Humanity of Greater Nashville builds new, quality, affordable homes in Davidson, Wilson, Cheatham, Dickson and Robertson counties for families that meet income qualifications, attend education classes, and contribute volunteer hours to help build their homes.
Businesses, churches and other organizations serve as sponsors providing volunteers to build the homes as well as funds to finance the construction. The total sponsorship amount was $66,000. The homeowners pay for the home through an affordable zero-percent interest mortgage.
Parishes have been combining for a Catholic build for Habitat for Humanity since 2013, and some parishes have participated individually for more than two decades.