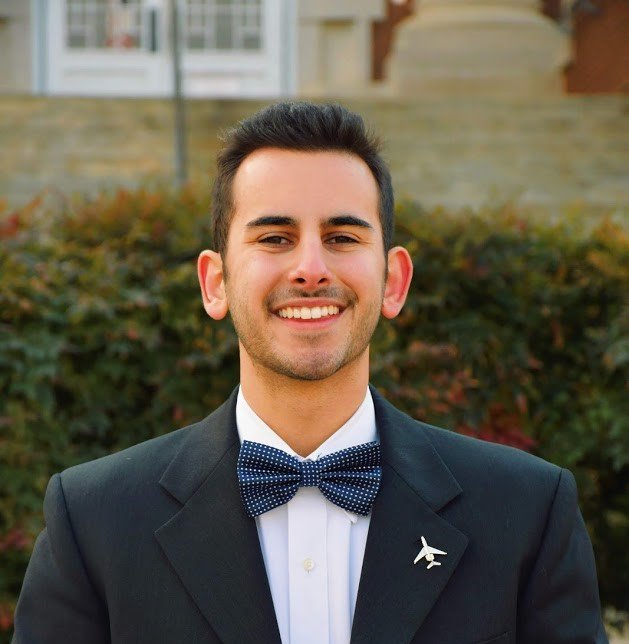 When St. Philip parishioner Domenic DiStefano was a student at Mississippi State University, his relationship with Jesus became very important to him. "I didn't just want to know things about Jesus, I wanted to know Jesus," he said.
His senior year, missionaries from the Fellowship of Catholic University Students (FOCUS) set up shop on his campus. Through getting to know them and participating in their Bible studies and other activities, DiStefano began to know Jesus in a brand-new way.
"By building friendships with these missionaries, I feel like I really started to see what it really looked like to be a disciple of Jesus," he said.
Now, after having graduated from Mississippi State this past spring, he is following in their footsteps and is beginning his first year as a FOCUS missionary at Clemson University in South Carolina.
Founded at Benedictine College in Kansas in 1998, FOCUS does not intend to be the primary form of campus ministry for Catholic college students. Rather, they partner with established campus ministries and reach out to the students through friendship and mentoring. Through their friendship, they introduce the students to Bible studies and formation activities so they can be prepared to share the Gospel message on and off campus.
The campus culture at Mississippi State wasn't necessarily hostile to Christianity, DiStefano said. "I had a lot of friends there who weren't Catholic, and many of them were open to learning about my faith. They asked me a lot of questions and I was happy to have those conversations with them," he said.
Still, he found his friendships with the FOCUS missionaries to be life changing. "Whether it was attending Mass together, having lunch or coffee between Masses, or just having them check in on me, those friendships just meant a lot to me and were a huge blessing for my faith life," he said.
He had majored in mechanical engineering and was interviewing for jobs in that field when he felt called to continue his involvement with FOCUS.
"I don't regret getting my engineering degree, and I know I'll definitely pursue that later on down the road," DiStefano said. "But as I got closer to graduation, the time I spent with FOCUS prompted me to reconsider so many things. Where could I best serve others at this point in my life? What is success?
"I just felt like God was calling me to something different for the time being," he added. "I signed up with FOCUS for a two-year commitment, but I'm staying open to wherever God calls me next."
Because FOCUS doesn't pay their missionaries a salary, they have to raise funds for their own living expenses. DiStefano has been very busy lately asking people to support him financially and otherwise. In addition to money, he says supporting him and his fellow missionaries through prayer is also very important.
"I would like to ask everyone to pray for me, my fellow missionaries, and the students we're reaching out to this year as we embark on this journey together," he said.
He mainly has been spreading the word about his mission through word of mouth. "I've been reaching out to friends and family. Additionally, I've been reaching out to people I've known from church and have been able to make announcements at Mass and in the bulletin."
The response he's received from his fellow St. Philip parishioners has been very generous so far, he added. "I've been reaching out to people I've known from there for years and meeting others I've seen at church but just haven't met before," he said. "They've been very helpful."
DiStefano appreciates any support he receives for his journey. "I was able to have a strong faith life in college," he said. "I stayed actively involved with church and campus ministry. I had an awesome experience with FOCUS. But I know other people in this stage of life don't have that same experience. Many former Catholics leave their faith behind by the time they're 23. If you visit an average Catholic church on a weekend, an entire generation is missing from the pews. I'm on a mission to help change that."
Those wanting to donate to DiStefano can do so at https://www.focus.org/missionaries/domenic-distefano. They can also email him at domenic.distefano@focus.org.