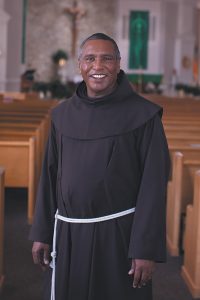 As Father Bala Marneni Showraiah was growing up, he was surrounded by bishops, priests and religious sisters who set an example for him, feeding his interest in becoming a priest.
"The desire grew in the course of my high school due to different reasons," said Father Showraiah, who recently celebrated the 30th anniversary of his ordination as a priest. "Every evening, I used to see seminarians walking through a street saying the Rosary along with their rector. The bishop who lived in the town where I was studying often used to come and speak to us casually in the evenings. His friendly attitude and his stories, his love for the poor impressed me.
"In my extended family … my father's older sister was a Franciscan nun," he added. "She used to take me to different towns in the summer to raise food donations for an orphanage. She inspired me a lot. Apart from that I had two cousin brothers from my town who were priests. They have played a great role for my priesthood."
Father Showraiah, known as Father Bala to his parishioners, entered the Franciscan order to begin his studies for the priesthood when he was just a teenager.
"After a long 13 years of different studies, I was ordained a priest on May 29, 1990, in my home town" of Dharmaram in South Central India.
"That evening of the ordination, the bishop and I were taken in a procession on a decorated tractor trailer," Father Showraiah said. "The procession was a mile long from the entrance of the town to the church, with dancing, fireworks and loud speakers.
"On the way people, Hindus, Muslims and Christians, gave us flower garlands in an Indian tradition," he said. "It was a great feast for the whole town. After the Ordination Holy Mass, food was served for almost 3,000 people of the town and hundreds of nuns and priests."
Father Showraiah's journey to the priesthood and the Franciscan order began when he was a teenager.
"My Franciscan vocation started working with my aunt who cultivated a love for the poor," Father Showraiah said.
"One day, a poor Franciscan brother came for vocation promotion and attracted me to the Franciscan way of life by giving me a chocolate," he said. "In that sweetness of chocolate I realized how sweet the Franciscan Order was. Soon after my 10th grade, I embraced Franciscan life at the age of 15."
He left his hometown, his parents, who were farmers, and his six siblings to travel nearly 400 miles to a seminary. There he learned to speak English. "It was not that easy," he said. "Often, I felt like leaving seminary due to English."
But Father Showraiah persevered and received his Franciscan garb when he made his simple profession of vows and entered the novitiate. After a year, he moved to a seminary in Bangalore, India, to study philosophy and theology.
After his ordination, he was assigned to work with the tribal groups in North India, "where I had to learn different languages," Father Showraiah said.
He also was involved in a wide variety of ministries and projects, including the construction of schools, colleges, orphanages, churches, rectories and a seminary. He also served his flock by laying roads, digging water pools for farmers to harvest rain water for cultivation and growing fish, leveling agricultural lands, providing health care for mothers and their children, and running an orphanage, "as well as working in parishes with a lot of substations."
In 2008, he came to the Diocese of Nashville, where he was appointed associate pastor at St. Philip Church in Franklin in October of that year. Fourteen months later, he was named pastor of the parish.
During his time at St. Philip, the number of ministries has grown to 105, Father Showraiah said. "This parish never sleeps," he said.
He also worked to bring together the parish's Anglo and Spanish-speaking communities and helped the Latino community "feel at home and grow in their ministries," he said. "We saw that everyone has a place and is welcomed. There are no strangers at St. Philip."
During the COVID-19 pandemic, the parish organized nearly 250 people to reach out to every family in the parish to check how they were doing and providing whatever help they needed, financially, spiritually, emotionally and materially, Father Showraiah said.
His time at St. Philip is coming to a close. He has been assigned as the new pastor at St. Catherine Church in McMinnville, effective July 27.
As a pastor, "I enjoy visiting hospitals, visiting and saying Masses at nursing homes and for home-bound people, performing the sacraments and being a shepherd available to people always," Father Showraiah said.
His priesthood has been guided, he said, by his ordination theme: "Lord, let your life flow through me to others."
---
Priests mark ordination anniversaries
In the spring of 2020, several priests serving and living in the Diocese of Nashville are marking significant anniversaries of their ordination.
Among them are:
• Father Alfred Wilder, O.P., chaplain at the Motherhouse of the Dominican Sisters of St. Cecilia in Nashville. He was ordained in 1965 and celebrated the 55th anniversary of his ordination on June 5.
• Father Michael Roark is a retired priest of the Diocese of Wilmington, Delaware. He now lives in Smyrna. He was ordained in 1970 and celebrated the 50th anniversary of his ordination on May 2.
• Father John Kirk is a retired priest of the Diocese of Nashville. He was ordained in 1970 and celebrated the 50th anniversary of his ordination on May 9. Father Kirk is a native of Knoxville and was ordained by Bishop Joseph Durick at his home parish of Sacred Heart Church in Knoxville. During his years as a priest he served as pastor of Sacred Heart Church in Lawrenceburg, Our Lady of Lourdes Church in Springfield and St. Michael Mission in Cedar Hill, St. Luke Church in Smyrna, St. Patrick Church in McEwen, St. Paul the Apostle Church in Tullahoma, and as the founding pastor of the Church of the Nativity in Thompsons Station.