Bishop Edward U. Kmiec, who served as bishop of the Diocese of Nashville from 1992-2004, died Saturday, July 11, 2020, at age 84 following a brief illness. 
He was living in Buffalo, New York, at the time of his death. He had served as bishop of the Diocese of Buffalo after Nashville, from late October 2004 until his retirement in 2012.
"We commend to our loving and merciful Lord the devoted soul of our brother, Bishop Edward Kmiec. He served long and faithfully the Church which he loved greatly as a priest and bishop, and as one whose kindness, warm and pastoral spirit guided, comforted, and revealed Christ to so many throughout his nearly 60 years of priesthood," Bishop Edward B. Scharfenberger, Apostolic Administrator of Buffalo, said in a statement. "We mourn his passing but are also joyous in the sure knowledge that he is now with the one who motivated his life's purpose and who has called this good and faithful servant home."
Bishop Kmiec lay in state at St. Joseph Cathedral in Buffalo on Thursday, July 16, and a Mass of Christian Burial was celebrated on Friday, July 17, in St. Joseph. Msgr. Salvatore Manganello, vicar general and judicial vicar for the Diocese of Buffalo, served as the main celebrant of the Mass. Burial followed in the Bishops Crypt at St. Joseph Cathedral.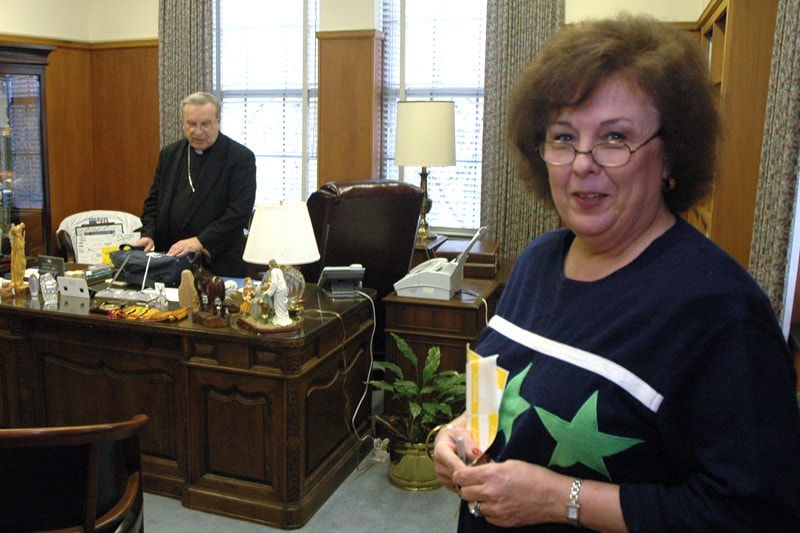 "We pray that the glory of God will be revealed to him and that he will have a place at the heavenly banquet feast in heaven," Msgr. Manganello said at the funeral Mass.
In his homily, Msgr. Manganello painted his former shepherd as a model disciple, noting that he answered the call to build and plant God's kingdom as Jeremiah did. He proclaimed the Word as Timothy was asked. And he became a fisher of men as St. Paul had.
Bishop Kmiec's whole life was a journey to follow the Lord's call wherever it took him, Msgr. Manganello said. His only goal was to serve the Lord and the Church wherever that may be.
"Even in his retirement, Bishop Kmiec maintained a love of Nashville and is fondly remembered by many in the diocese," said Bishop J. Mark Spalding, who celebrated a Memorial Mass for Bishop Kmiec at the Cathedral of the Incarnation in Nashville on July 17.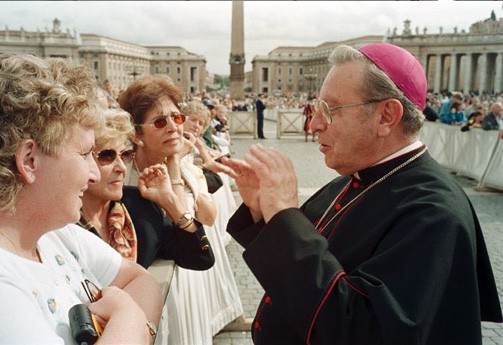 Bishop Spalding and representatives from the Diocese of Nashville were unable to travel to Bishop Kmiec's funeral due to COVID-19 related travel restrictions.
"My only true interaction with Bishop Kmiec came the day before my ordination and installation," Bishop Spalding said. Bishop Kmiec was unable to travel back to Nashville for the ordination in early 2018, but, "he spent over an hour telling me about his fondness for the diocese," Bishop Spalding said. "He congratulated me on the appointment that he hoped would give me the same blessings as he had received."
Bishop Spalding asks for prayers for the repose of Bishop Kmiec's soul, and the souls of all the faithful departed.
Remembered for concern and kindness
Bishop Kmiec's tenure as bishop of Nashville was a time of growth for the Catholic community in Middle Tennessee, which saw not only an increase in the Catholic population, but the establishment of new parishes and schools, including Pope John Paul II High School in Hendersonville.
Mary Margaret Lambert, who served as Bishop Kmiec's secretary in Nashville, said that former colleagues were quick to share fond memories of him. A common refrain that came up time and again was: "'He was so good to me.' Everyone had kind things to say, and genuinely appreciated his concern and kindness," Lambert said.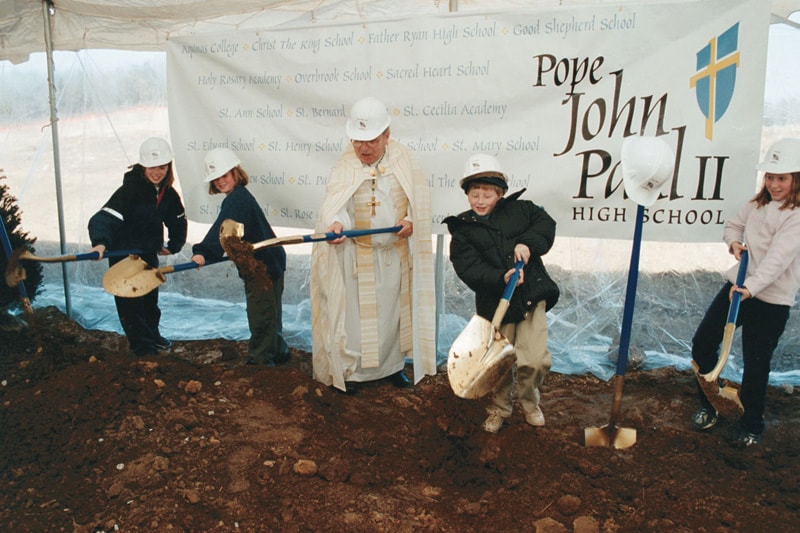 Lambert got to know Bishop Kmiec when she was working for Mike Nolan, former diocesan chief financial officer. When Bishop Kmiec's secretary moved away, he recruited Lambert for the job. "I was thrown into the deep end of the pool," taking the job as the bishop's secretary, she said. "But he was very kind and patient."
Lambert recalls Bishop Kmiec joining the staff in the old Catholic Center breakroom for lunch. "He joked, he told stories, he asked about people's families." He made a commitment to baptizing staff members' children or marrying any staff members who requested it, Lambert said. Her own family became especially close with him. "Anything that went on in our family, he was a part of it," she said.
"He was quite a gentleman."
Bishop Kmiec always made priests of the diocese a priority, Lambert said, and he encouraged her to always make room on his calendar to meet with them.
"Bishop Kmiec loved the priesthood, the Catholic Church, and, was wholeheartedly dedicated to promoting the welfare of the Diocese of Nashville," said Father David Perkin, a retired priest of the diocese who served as Vicar General under Bishop Kmiec.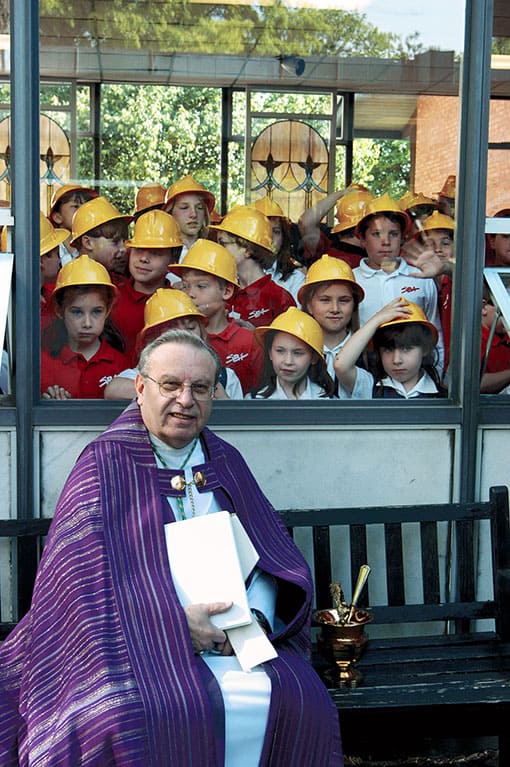 "He was blessed to have both efficient administrative and pastoral skills. Being an extrovert, he was never at a loss for words," Father Perkin said. "The Nashville Diocese definitely benefited during the years he served as our bishop."
Building boom for schools, churches
During Bishop Kmiec's 12 years in Nashville, he oversaw a building boom of Catholic schools, churches, and other facilities, brought to fruition through the diocese's strategic planning, and funded in part through the $35 million Growing in Faith for Tomorrow capital campaign, still the largest fundraising effort ever undertaken by the diocese.
As an administrative leader, Bishop Kmiec "believed in and utilized collaboration and delegation," Father Perkin said. Bishop Kmiec created a diocesan strategic planning commission composed of laity, religious, clergy, and the directors of the various diocesan departments.
"He brought in an outside professional facilitator to aid the commission in the development, routine review, implementation, and repeated revision of five-year strategic plans that addressed all areas of diocesan life and ministry," Father Perkin said.
During Bishop Kmiec's tenure, the diocese opened Mary, Queen of Angels Assisted Living Facility. A new parish with a new church, St. Mark, was established in Manchester. New churches were built at St. Catherine in Columbia, Our Lady of the Lake in Hendersonville, St. Philip in Franklin and St. Andrew in Sparta. A new church for St. Thomas Aquinas Parish in Cookeville got under way and plans progressed for new churches for St. William Parish in Shelbyville and St. Henry in Nashville.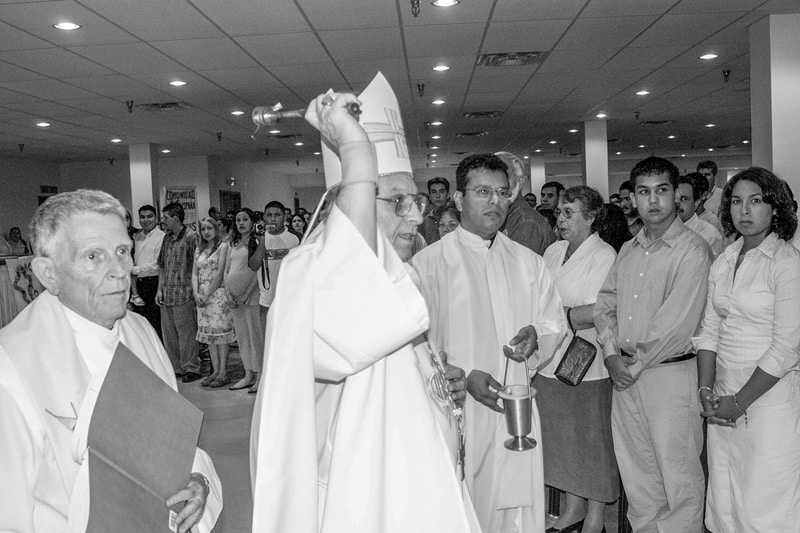 Four elementary schools were opened, or re-opened: St. Rose of Lima in Murfreesboro, Immaculate Conception in Clarksville, St. Matthew in Franklin, and St. John Vianney in Gallatin.
Bishop Kmiec's crowning achievement was the establishment of a new Catholic high school in Hendersonville, Pope John Paul II.
"From our perspective, he is the founder of our school, and the real reason behind it," founding JPII Headmaster Hans Broekman said of Bishop Kmiec in 2004. "He took a very decisive leadership position on the fact that we needed to found the school, where it should be located, the fact that the school would be a diverse one, embracing everyone – a genuinely Catholic high school," Broekman said. "His vision has become a reality and we are beyond grateful, for without him taking that lead this school would never have existed."
Reflecting on his time in Nashville ahead of his move to Buffalo in 2004, Bishop Kmiec told the Tennessee Register that a legacy of Catholic education "would be something very special because that was something very close to my heart."
In addition to overseeing the growth of Catholic schools in the diocese, Bishop Kmiec also expanded the diocese's Hispanic Ministry office and urged greater lay leadership in the diocese.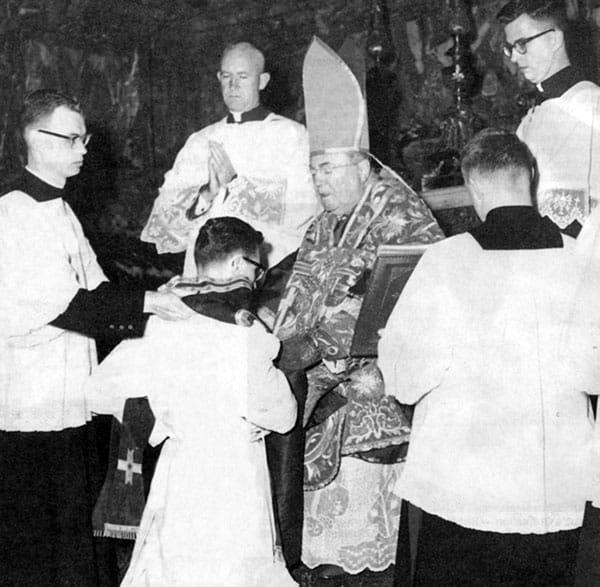 He encouraged vocations to the permanent diaconate and the priesthood.
In 1999, Bishop Kmiec ordained 25 men as permanent deacons, nearly doubling the number of active deacons in the diocese at the time, and he welcomed a new class of 19 men to be ordained in 2006. He also ushered in a new era of priestly vocations, which his successor, the late Bishop David Choby, made his own hallmark.
Protecting Youth
Bishop Kmiec did face some difficult times coping with the clergy sex abuse scandal. "It was very awful and despicable things that happened," Bishop Kmiec said in 2004. "It was very difficult for the people to suffer through this."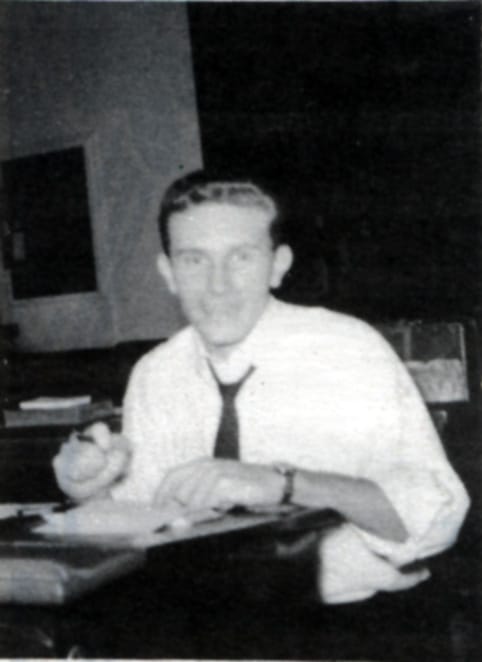 Even before the scandal hit, and stretching back to the tenure of his predecessor, Bishop James Niedergeses, the diocese took steps to address cases of sexual abuse by the clergy and other diocesan employees, Bishop Kmiec said.
Those efforts have continued since the U.S. Conference of Catholic Bishops adopted the Charter for the Protection of Children and Young People in 2002. In an audit following the USCCB's adoption of the Charter, the Diocese of Nashville was found in full compliance with it, with no deficiencies.
"In responding to this crisis, we've done many new things to protect our young," Bishop Kmiec said. Despite the scandal, he said, "The Church continues to grow and grew throughout this period."
Vocation and Service
Born June 4, 1936, in Trenton, New Jersey, Edward U. Kmiec was the fifth of five children, all born in the United States, to Thecla Czupta Kmiec and John Kmiec, who immigrated to the United States from Poland before World War I. In 1954, Edward Kmiec left the Trenton area to attend St. Charles' College in Catonsville, Maryland, and later St. Mary's Seminary in Baltimore, where he received his B.A. degree in 1958.
He was then sent to Rome for his theological studies, residing at the North American College and attending the Gregorian University. He was ordained to the priesthood on Dec. 20, 1961, at St. Peter's Basilica in Rome, and his first Mass was celebrated at St. Peter's in the Chapel of Our Lady of Czestochowa. He continued his studies and received his S.T.L. degree in 1962 from the Gregorian University.
Upon returning to the United States in the summer of 1962, Bishop Kmiec served as associate pastor of St. Rose Parish in Belmar, New Jersey. In 1965, he was appointed Secretary and Master of Ceremonies to His Excellency, Bishop George W. Ahr, whom he served in that capacity through 1980.
Bishop Kmiec was named Prelate of Honor (Monsignor) by His Holiness Pope Paul VI in 1977. On Nov. 3, 1982, he was ordained to the Episcopacy. He served as auxiliary bishop of the Diocese of Trenton from 1982 until he was named 10th bishop of Nashville by His Holiness Pope John Paul II and was subsequently installed to that office on Dec. 3, 1992.
On Aug. 12, 2004, Pope John Paul II named Bishop Kmiec the 13th Bishop of Buffalo. He was installed as the 13th bishop of Buffalo on Oct. 28, 2004. On May 29, 2012, Pope Benedict XVI accepted Bishop Kmiec's resignation. Upon Bishop Richard J. Malone's installation as the 14th bishop of Buffalo on Aug. 10, 2012, Bishop Kmiec became Bishop Emeritus of Buffalo. After his retirement, Bishop Kmiec resided at the St. Joseph Cathedral rectory in Buffalo.
All of Bishop Kmiec's siblings preceded him in death. He is survived by several nieces and nephews, as well as several grand nieces and nephews.
Memorial contributions may be made to the Most Rev. Edward U. Kmiec Scholarship Fund for Catholic Education or The Bishop Edward U. Kmiec Seminarian Formation Endowment Fund in care of The Foundation of the Roman Catholic Diocese of Buffalo, 795 Main St., Buffalo, NY 14203 or Catholic Charities of Buffalo, 741 Delaware Ave., Buffalo, NY 14209.
Arrangements are under the direction of Amigone Funeral Home. Share condolences at www.AMIGONE.com.