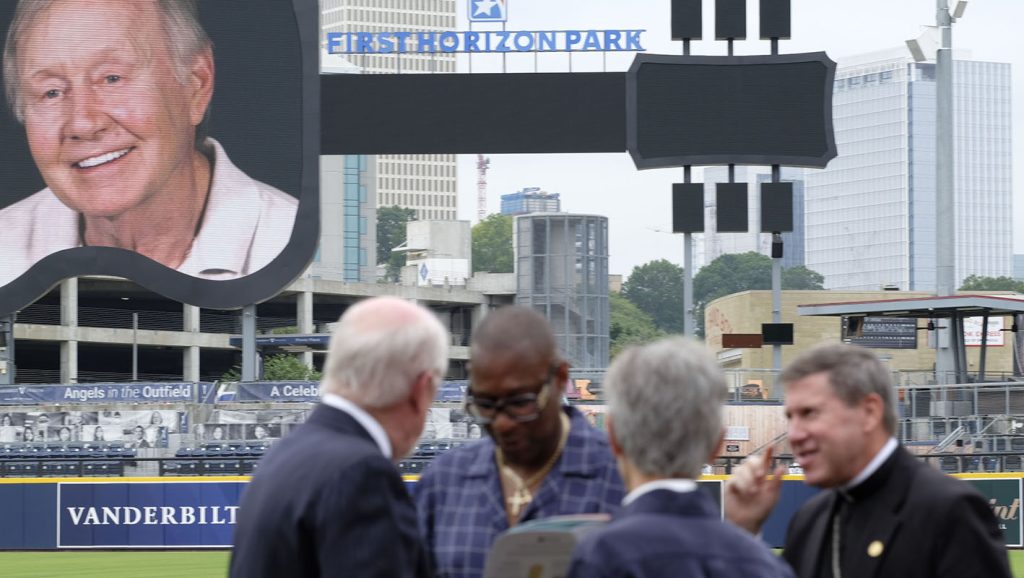 Father Charles Strobel often said it was the homeless men and women that he founded Room In The Inn to care for who saved his life when he fell into a depression after his mother was kidnapped and murdered.
But at the community celebration of his life on Friday, Aug. 11, the people whom he helped rescue from homelessness said Father Strobel more than returned the favor, saving their lives.
"He was an archangel," said Howard Allen, a friend of Father Strobel's for more than four decades who was homeless for 17 years before becoming an advocate for Nashville's homeless. "He saved many lives."
Father Strobel, who died on Aug. 6, was remembered during a community celebration held at First Horizon Park, the home of the Triple-A Nashville Sounds baseball team, in a nod to his lifelong love of America's pastime.
The celebration drew more than 1,500 people, including dignitaries such as Nashville Mayor John Cooper, an ecumenical collection of clergy, and his many friends. Among those friends were the homeless men and women Father Strobel dedicated his life to serving.
"He was great," recalled Debo Burns, a Room In The Inn Ambassador who greeted people as they arrived for the celebration. "He treated everybody the same. If you were from Yale or jail it didn't matter. You were the same."
Like so many, Burns found his way off the streets and into stability with help from Room In The Inn. For the last 12 years, he has lived in an apartment at Room In The Inn's Campus for Human Development. "I've loved every minute of it."
Burns has experienced first-hand the many ways Room In The Inn helps the homeless.
"You can come into Room In The Inn and they help you get an ID. They help you get a Social Security card. They help you get a birth certificate. … ," all things most people take for granted but are important to help a homeless person get off the streets, Burns said. "You can have your mail sent there. Three-fourths of the homeless in Nashville have their mail sent there."
When someone who is homeless is ready to look for help, Room In The Inn is there, Burns said. "If you want help, here's your opportunity. If you don't want help, you can come back next week and maybe you'll want help then."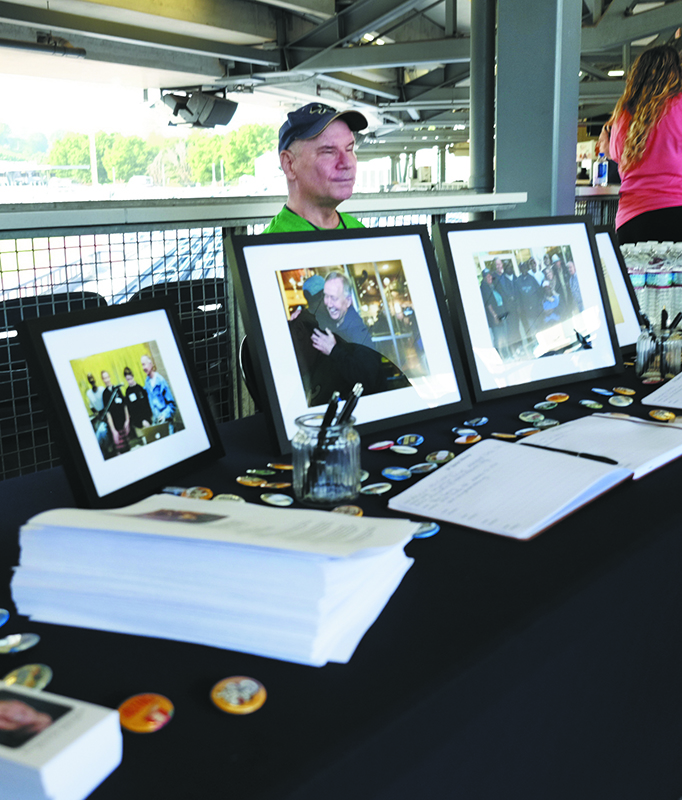 James Mayo is one of those people who found the help they needed at Room In The Inn.
After a series of life changes, Mayo descended into substance abuse and homelessness. "I couldn't see my way out of my situation," he said. "I just thought that was going to be the rest of my life."
About 15 months ago, Mayo sought help at Room In The Inn. "I tried the program, and I enjoyed it."
Mayo, who was another of the Room In The Inn guests welcoming people to the community celebration, has been living in an apartment at the Campus for Human Development for about five months.
"Room In the Inn drastically changed my life," Mayo said. "I feel like a human being again."
"I give a lot of credit to the program and (Father Strobel) especially," Mayo added. "One of the best guys I ever met. A great heart."
Father Strobel launched Room In The Inn when he was pastor of Holy Name Church in East Nashville. Deacon Bob Mahoney was one of his parishioners then.
"He was a great pastor," said Deacon Mahoney, who was part of the crowd on hand to pay tribute to Father Strobel. "He was a leader for those who wanted to be socially active. … He was a good people person. I don't think he really liked being on stage that much; he was more one-to-one. He was good at energizing other people to get things done."
'I'm keeping that promise'
Father Strobel was well-known for his love of baseball, and he played in senior men's leagues into his 70s.
On hand for the celebration, wearing his full umpire's uniform, was Mike Ipsen, who befriended Father Strobel on the baseball field. About 30 years ago, Ipsen was umpiring a game and Father Strobel was playing shortstop. "He took about five shots off his chest on ground balls, but he didn't blink an eye, got up, kept playing," Ipsen recalled.
"From that game on, we connected," Ipsen said. "We became great friends."
Father Strobel played on two or three teams, getting on the field any way he could, Ipsen said. "He loved it. … He played in one season every position. He caught, he pitched, every position on the field because if someone didn't show up he would take that spot."
"He was actually pretty good," Ipsen said. "He could hit the ball. He had a good eye. He always complained to me, 'That was a bad call, Mike.'"
Ipsen and his wife, Marilyn, drove down from South Bend, Indiana, to attend the community celebration.
On a visit a few years ago, the Ipsens were at dinner with Father Strobel. "He said, 'Mike, if I die before you, you better come to my funeral in an umpire's uniform," Ipsen said. "So I'm keeping that promise."
'He inspired us'
During the community celebration, the crowd heard from several of Father Strobel's friends, family, and co-workers.
"We gather to celebrate no doubt, but we also come to acknowledge the tremendous loss that we all feel and that our community feels," said the Rev. Gene Manning, the chair of the Room In The Inn board of directors. "We are here because we love Charlie and because he touched each and every one of us to the very core of who we are. He inspired us, he loved us, he taught us, and he challenged us to respect the dignity of every human being and to see the gift and the worth of our brothers and sisters."
The eulogy was delivered by Father Strobel's friend, the Rev. Becca Stevens, the chaplain at St. Augustine's Episcopal Chapel and the founder of Thistle Farms, a nonprofit dedicated to helping women survivors of trafficking, prostitution, and addiction.
"All I want to say today is we remember. We remember Charlie what you preached not just with your lips but through your life of radical hospitality," Rev. Stevens said. "You preached with stunning, memorable talent how to comfort the sorrowful, tend the sick, visit the prisoners, and bury the dead through a lifetime of service, protesting, serving on boards, and a million other small and olympian acts of justice you offered us with grace and generosity and love."
Father Strobel "didn't need a collar or an altar to exercise his priestly duties," she said. "His authority to preach and organize came from a deep longing for truth."
Phil Bredesen, the former governor of Tennessee and mayor of Nashville, remembered that Father Strobel "reached out to what he believed was the essential goodness in each of us because we're created in God's image. And he asked us to express that. He found that goodness everywhere but nowhere more than the homeless men and women he called his friends.
"The way to honor Charles Strobel is to continue the journey he invited us on, but now without him," Bredesen said.
In his last months of life, Father Strobel surely looked back and thought about how he had used his gifts from God, Bredesen told the crowd.
"I hope God afforded him just a glimpse of how extraordinary his life had been, just how well he had done with his years," Bredesen said. "It was a life of Christian compassion, and service, and humility, and friendship. … I've never met anyone who's done it better."
Katie Seigenthaler, one of Father Strobel's nieces, talked about working with him on his memoir. In the prologue for the memoir, Father Strobel wrote, "Let me tell you about the people who gave me a passion for loving the poor in body and spirit. We are all poor, we are all worthy of love. This is the heart of my simple stories, each one a story of God."
In the book, Father Strobel explained that "it is a snapshot of a life that evolved through reflection on the Sermon on the Mount, which is introduced by the beatitudes, the moral framework through which I have tried to live my life."
Seigenthaler explained that Father Strobel wanted "people to believe the beatitudes are relevant in their own lives, to recognize beatitude moments of pure grace."
Bishop J. Mark Spalding delivered the benediction at the end of the celebration. He read the Prayer of St. Francis of Assisi.
"Charlie made this prayer come to life for us," Bishop Spalding said. "Let us be mindful of Charlie, let us be mindful of his commitment to serving others in this world."